'Sex Education' Season 2 Ending Explained: What Happened at the End and What It Means for Season 3
For its Season 2 finale, Sex Education takes the route of a number of Netflix shows before it (like the epic Disclosure-themed finale of Big Mouth) and puts on a big musical for its last episode. That does not mean, however, that Season 2, Episode 8 jazz hands over its major plot lines. Eric (played by Ncuti Gatwa) has his love triangle come to a head, Maeve (Emma Mackey) discovers that her mother (Anne-Marie Duff) may be back on drugs and Jean (Gillian Anderson) is either going into the menopause or suffering from a broken heart.
What happened at the end of Sex Education Season 2?
Most of Sex Education Season 2 plots reach their climax (pun intended) during Romeo and Juliet: The Musical, the hyper-sexual glam rock take on the Shakespeare play directed by Lily (Tanya Reynolds). The musical gets interrupted twice, by two members of the Groff family: Adam (Connor Swindells) and then the headmaster Mr. Groff (Alistair Petrie).
Adam has been on a process of self-discovery ever since he got kicked out of military school earlier in the season. Part of this is realizing that he is bisexual, and that he has proper feelings for Eric. After talking to his mother (Samantha Spiro), who tells him that his dad cannot come back to the house as he should have fought for them a long time ago, Adam realizes he has to tell Eric how he feels. Interrupting the play, he tells Eric he wants to hold his hand, and Eric agrees.
This, of course, means that he has chosen Adam, after his mother warned him earlier that Rahim did not seem right for him. Rahim (Sami Outalbali), walks out of the school hall, and when Eric goes to talk to him later, he warns him that Adam may not be emotionally ready to love him. Or, as he puts it: "He can hold your hand, but I'm not sure he can catch you."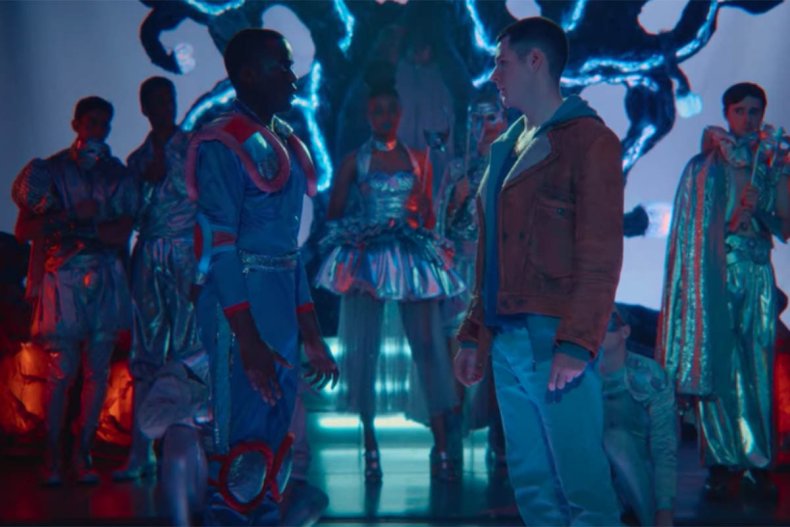 Though this love triangle seems to be settled for now, it will surely rear its head again in any potential Season 3: after all, though Adam has made huge emotional progress in the season, Rahim is right about him. However, Adam beginning to adapt to his new bisexual identity and learning how to be properly intimate with another person are sure to be big parts of Season 3.
The second interruption of the musical then comes from Mr. Groff, who wants to call off the performance for being absurd filth (which honestly he has a point about). However, the school inspector (T'Nia Miller) sees his overreaction as evidence that he might need a break from his job, especially as she knows he has been sleeping in the school since breaking up with Adam's mom, and she suspends him from his position. This surely means that Moordale will have a new headteacher in Season 3, who is sure to cause a massive shake-up of the school and its students.
The Groff family's drama, however, is not the only drama going on at the end of Sex Education Season 2's musical. After a season where he hated his swimming schedule so much that he self-harmed to stop it, Jackson (Kedar Williams-Stirling) seems to have found a passion in drama. After almost not going on as Romeo due to nerves and then having a complete mental blank on stage, he was eventually able to get into the role thanks to Viv (Chinenye Ezeudu) mouthing his words to him from the audience. This also marks the point where the two have made up after falling out earlier in the season.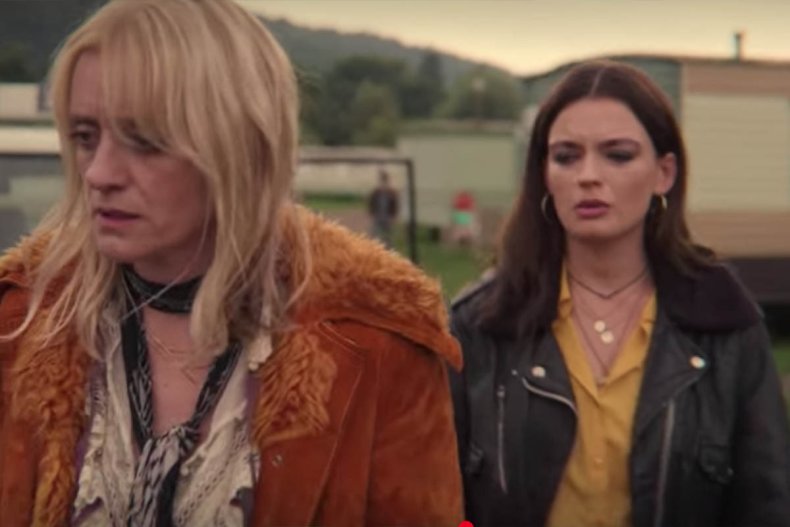 Otis (Aja Butterfield) has an episode full of growth, which comes to a head where he defends his mother Jean after Mr. Groff blames her for corrupting the entire school. In the last episode, Jean discovered his sex advice business, and is disappointed when Otis lies about it. The two talk about it, and she tells him he needs to take responsibility for his actions, leading to him offering apologies to everyone he has wronged across Season 2, including Ola (Patricia Allison), his mother's ex Jakob (Mikael Persbrandt) and Maeve (Emma Mackey).
Speaking of Maeve, she has the most dramatic arc across Episode 8 despite not being at the musical. Though winning the student quiz championship with her team the Quiz Heads is a rare moment of sunshine for her, the rest of the episode is quite bleak. She suspects that her mother is using drugs again, and after she gets a friend to inspect their trailer her worst fears are confirmed. This gives Maeve no choice but to call social services on her mom so as to save her young half-sister. The last we see of Maeve's mother is her being taken away in a police car after causing a disturbance with social services, telling Maeve she will never forgive her.
Seeking solace, she goes to visit Isaac (George Robinson) and offers to make him dinner to take her mind off her problems. She heads to the shop for groceries, only for Otis to come looking for her. When she was doing the quiz Otis had left her a message saying he was proud of her and loved her, and tells Isaac to tell her to check her messages. Instead, Isaac listens to the message himself and deletes it, setting up a Sex Education Season 3 where any chance Otis and Maeve have of happiness may be sabotaged by Isaac, who clearly has his own feeling for Maeve that the next season may explore in more depth.
Sex Education Season 2 is streaming now on Netflix.