'Sex Education' Season 2 Location: Where Was the Netflix Show Filmed?
Few shows on Netflix, many of which are shot in locations like Toronto, Canada and Atlanta, Georgia, look like Sex Education, set in and around the Moorfield Secondary School, a fictional place that feels like an American high school with its lockers, jock jackets and lack of uniforms, but where everyone has an English accent.
To make matters more confusing, this American-seeming high school full of English-accented students is actually found in Wales. The location for the exterior of Moorfield Secondary School, for example, is a former campus of the University of South Wales in Newport, while the hall where the epic Romeo & Juliet: The Musical in the finale takes place in the Paget Rooms in Penarth, Wales. Newport also became the production base for the Netflix show.
Other locations that have been identified are the store where Adam (Connor Swindells) and Ola (Patricia Allison) work, which in reality is a village shop in Llandogo, Wales (per Atlas of Wonders), and the bridge on the way to the school, which in reality is in Tintern in Monmouthshire, Wales.
Speaking to RadioTimes.com, Sex Education producer Jon Jennings revealed exactly why they chose a rural location for the show: "We knew it shouldn't be shot in London. That was the first thing even before future episodes were written. It was definitely not going to be [a] London-based show...we just wanted it to have that John Hughes influence of green and happiness to it."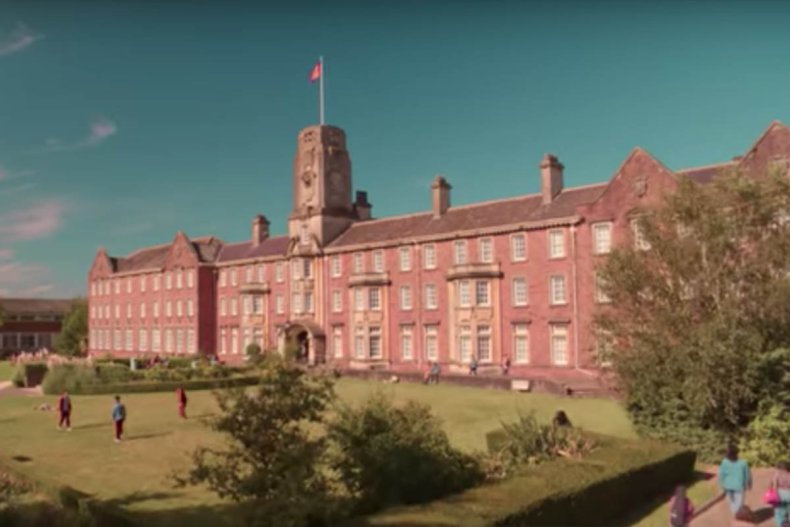 To achieve this, they also used a number of locations in the south-west of England, where the show is presumably set. The home of Otis (played by Aja Butterfield) and Jean (Gillian Anderson) is a house in Herefordshire, England called The Chalet Symonds Yat East. According to the house's website, the house was built in Norway out of flat-pack components, which were then shipped and reconstructed in England in 1912.
The Scandinavian heritage of the house may have been what attracted the makers of Sex Education to the property. Jennings told RadioTimes.com, "I had just done a job abroad, and I had this crazy idea of shooting the whole thing in Denmark, but casting it as England, because the architecture there is beautiful, so I did scout over there. It's incredible. Then I realised how much a cup of coffee costs...."
As for where the show is set, it is a fictional English village whose name we never get, but which might be Moorfield like the school. Jennings said of the location: "The school is probably the busiest place in Moordale. Outside of the school you see houses with like three people...The caravan park is like 10 minutes from [Jean's house]. There are bridges nearby, there is a lot of water there. School, bridge, water, Jean's house."
Sex Education Season 2 is streaming now on Netflix.