'Sex Education' Season 2 Release Date, Cast, Trailer, Plot: Everything You Need to Know About the Netflix Show
Netflix will soon release Season 2 of Sex Education, with the new episodes proving to be raunchier and more awkward than ever as the cast of characters navigating their way around topics like inappropriate erections, chlamydia and anal sex. The slightly NSFW trailer reveals that Anne-Marie Duff has joined the cast and teases plots that see Otis (played by Asa Butterfield) losing his virginity, Eric (Ncuti Gatwa) getting a sexy new French love interest and Maeve (Emma Mackey) trying to get back into the school.
When is Sex Education Season 2 out on Netflix?
The release date for the second season is Friday, January 17 on Netflix, when all eight episodes will be made available. These will be available from one minute past midnight ET (3:01 a.m. ET / 2:01 a.m. CT). For those who need a catch-up with the events of Season 1, it is streaming now on Netflix.
Who is in the cast of Sex Education Season 2?
All of the first season's main cast has returned for another helping of Sex Education. Alongside Butterfield, Gatwa and Mackey are Gillian Anderson as Otis' sex therapist mother Jean, Connor Swindells as the troubled Adam, Kedar Williams-Stirling as swimming champ Jackson Marchetti, Aimee Lou Wood as the tactless Aimee, and Alistair Petrie as the school's intimidating Mr. Groff.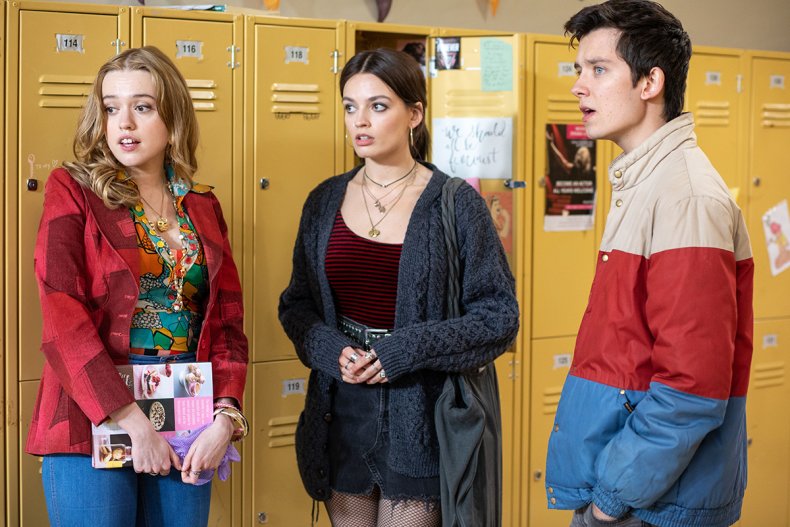 For Season 2, however, a number of new cast members will be joining the Netflix series. The biggest name among them is His Dark Materials' Anne-Marie Duff, playing Maeve's recovering addict mother Erin. Speaking of her new co-star, Mackey told Metro, "As soon as I found out she was playing my mom I welled up a little bit, I'm not gonna lie."
Joining her in the cast is Sami Outalbali, making his English debut as Rahim, who catches the eye of almost the entire school before becoming a new love interest for Eric. Also joining the series are newcomers George Robinson, playing a new resident of the trailer park who becomes friends with Maeve, and Chinenye Ezeudu, playing Jackson's academic tutor who is smart about everything except the ways of love.
What will happen in Sex Education Season 2?
The official synopsis for the season from Netflix reads: "Sex Education is about Otis Milburn, a socially awkward high school student who lives with his sex therapist mother, Jean. In season 1 Otis and his friend Maeve Wiley set-up a sex clinic at school to capitalise on his intuitive talent for sex advice. In season 2, as a late bloomer Otis must master his newly discovered sexual urges in order to progress with his girlfriend Ola (Patricia Allison) whilst also dealing with his now strained relationship with Maeve. Meanwhile, Moordale Secondary is in the throes of a Chlamydia outbreak, highlighting the need for better sex education at the school and new kids come to town who will challenge the status quo.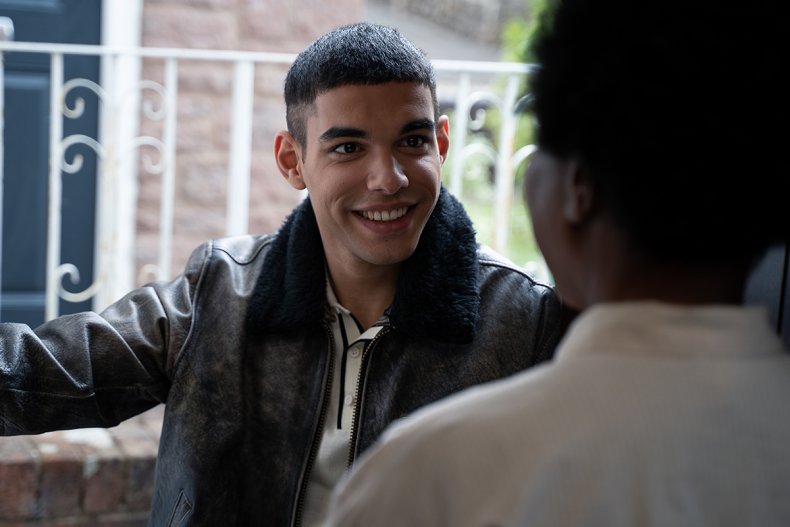 "Maeve and Aimee's BFF relationship is stronger than ever since Aimee ditched 'the Untouchables'. Eric notices his new-found self-confidence attracting unfamiliar kinds of attention. Adam is at military school, still conflicted by his feelings for Eric. Lily (Tanya Reynolds) has hit pause on her sexual endeavours to focus on her creative talents and finds a new found friend in Ola. Jackson is forced to flex his mental rather than physical muscle and is still buckling under the pressure from his parents to succeed.
"Jean and Jakob's (Mikael Persbrandt) relationship is discovered and they have to learn how to operate as a blended family. Jean forms an unlikely connection with Mrs Groff (Samantha Spiro) and a friendship between the two women begins to form."
According to the trailer, the season may hint its cringe peak in a scene in which Jean gives a talk at the school about sex, much to the mortification of Otis. Speaking to Vogue, Anderson said of this, "It's mortifying for him. Just the idea that his mom would be on campus, let alone speaking to his classmates about sex is devastating. That assembly is actually the first time I think we, the audience, are as embarrassed for Jean as Otis is."
Mackey, meanwhile, said of Season 2 to Stylist, "In season two, we explore everything from pansexuality to asexuality to female pleasure and masturbation – things we don't talk about enough. And that's the whole point of this job, of creative industries, to subvert those taboos. It's not like, because we're in a show about sex, all of us [actors] are 100 percent super comfortable with it, we talk about sex every day, we love sex. But it's a vector for starting those conversations."
Sex Education Season 2 is released on January 17 on Netflix.