'Sex Education' Season 2 Soundtrack: All the Songs from the New Season of the Netflix Show
Part of what made Sex Education such a delight when it first premiered was its soundtrack, which perfectly established the offbeat tone of the Netflix show with songs by Ezra Furman. Season 2 does feature a number of Furman songs, including his version of an LCD Soundsystem classic, but the show also expands its musical references to feature everything from '80s synthpop songs to '60s soul belters.
All the songs from Sex Education Season 2
Episode 1
Scala & Kolancy Brothers - "I Touch Myself": This cover of The Divinyls' one-hit-wonder plays at the opening of the show.
Hot 8 Brass Band - "Sexual Healing": Plays over a montage of the town.
Ezra Furman - "Love You So Bad": The track, brought to fame in the first season, is heard again when we see Otis (Aja Butterfield) and Eric (Ncuti Gatwa) on their bikes.
Sex Education A Capella Group - "We Don't Have to Take Our Clothes Off": Moordean's a capella group sing the Jemaine Stewart song, during which time three of the female stars fight, giving Otis an erection.
Rod Stewart - "Da Ya Think I'm Sexy?": Rahim (Sami Outalbali) enters the school for the first time.
Jon & Robin - "Do It Again, A Little Bit Slower": Jean (Gillian Anderson) and Jakob (Mikael Persbrandt) kiss on the couch while Otis and Ola (Patricia Allison) do the same in Otis' bedroom.
Ezra Furman - "Little World": Otis kisses Ola outside the house.
Ezra Furman - "Bedside": Maeve (Emma Mackey) dyes her hair.
Frankie Goes to Hollywood - "Two Tribes": The girls have a massive fight over who gave them chlamydia.
Sex Education A Capella Group - "Everywhere": The a capella group also give us their version of the Fleetwood Mac song.
When in Rome - "The Promise": End credits song.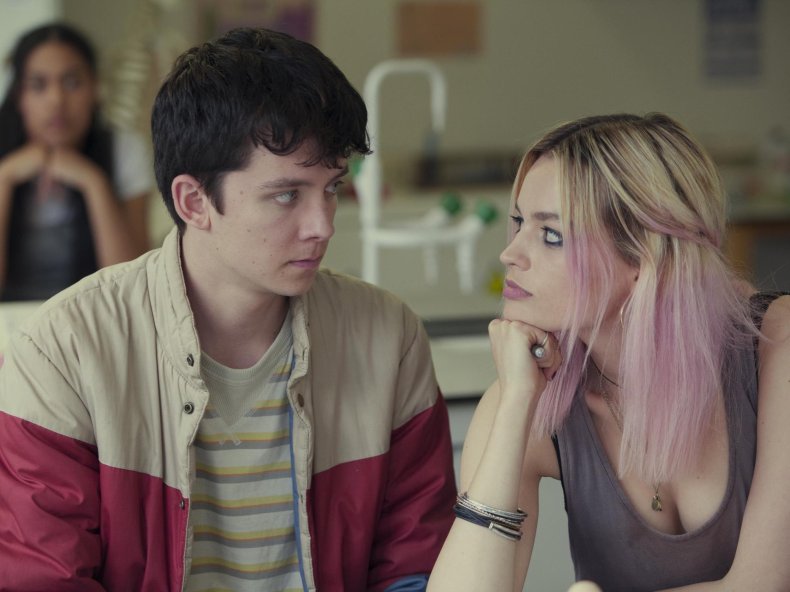 Episode 2
Salt-n-Pepa - "Push It": Opening song.
Ezra Furman: "The Queen of Hearts": Maeve steals a gas cylinder from Cynthia (Lisa Palfrey).
Air - "Sexy Boy": Mr. Hendricks (Jim Howick) puts what he's learned about dirty talk to the test while having sex with Miss Sands (Rakhee Thakrar).
Fontella Bass - "Rescue Me": The sex scene continues.
This Is the Kit - "Bashed Out": Adam (Connor Swindells) returns from military school.
Episode 3
T. Rex - "Cosmic Dancer": Fantasy sequence of Olivia (Simone Ashley) dancing in a sari.
Captain Sensible - "Happy Talk": Aimee (Aimee Lou Wood) takes her rabbit cake onto the bus, only to have someone masturbate onto her leg.
Lee Harvey - "Prove It": Jean sets up her classroom ready to advise students on sex.
Bob Bradley & Matt Sanchez & Steve Dymond & Sarah Wassall - "Have a Good Time": Eric and Rahim enter the arcade.
Haddaway - "What is Love": Rahim and Eric use a dance machine in the arcade until Rahim kisses Eric.
Sorenious Bonk ft. Signe Mansdotter - "Life": The song that plays as Aimee returns home and cries in her bedroom is a cover of "Life" by Des'ree, once voted as having the worst lyrics of all time.
Velvet Underground - "Pale Blue Eyes": End credits song.
Episode 4
Tommy Jones & The Shondells - "Hanky Panky": Opening song.
Barbara Mason - "Oh, How It Hurts": Otis reads the text he sent Maeve while Mrs. Groff (Samantha Spiro) gets ready to try and seduce her husband.
Ezra Furman - "I Can Change": Furman's cover of the song from LCD Soundsystem plays as Eric and Adam smash things up in the middle of the night.
Ezra Furman - "Devil or Angel": End credits song.
Episode 5
Ezra Furman - "Early Rain": One of the new Furman songs on the Sex Education Season 2 soundtrack, "Early Rain" plays at the start of Episode 5 as Ola has her pansexual dream about Otis and Lily (Tanya Reynolds).
Wang Chung - "Dance Hall Days": Eric and Otis in the car on the way to their camping trip.
Edwin Starr - "Twenty Five Miles": Aimee walks past the bus stop.
The Jive Aces - "Simple Things": Maeve dances with an old man at the swing class.
Shura - "Touch": Aimee and Steve (Chris Jenks) try to have sex but she keeps hitting him on the head.
Thompson Twins - "Hold Me Now": Trying to decide his sexuality, Adam masturbates to a poster with a man and a woman on it.
Al Green - "How Can You Mend a Broken Heart": Otis, Eric, Otis' dad Remi (James Purefoy) and Jean drive back from the camping trip.
Roxy Music - "Love is the Drug": Ola knocks on Lily's door and kisses her.
Clarence Carter - "Slip Away": End credits song.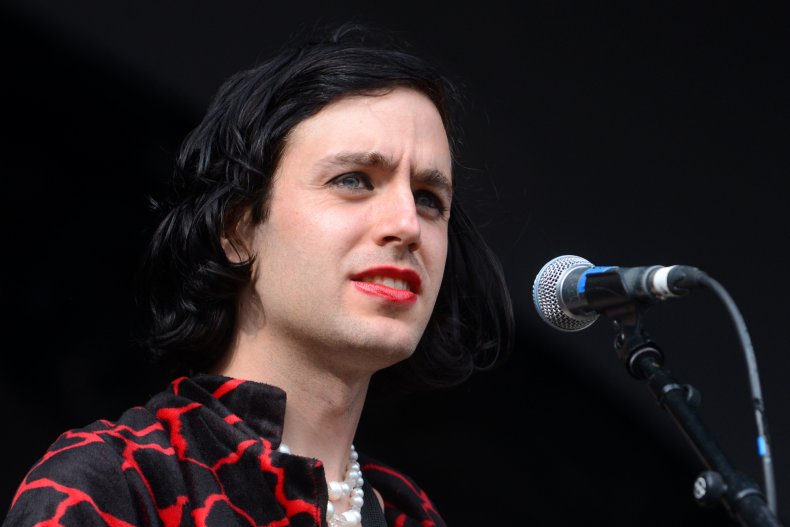 Episode 6
Screamin' Jay Hawkins - "Itty Bitty Pretty One": Opening song.
Ezra Furman - "Amateur": Isaac (George Robinson) gets ready for the day while pining after Maeve.
Terence Trent D'Arby - "Dance Little Sister": Viv (Chinenye Ezeudu) masturbates in toilets prior to the quiz.
Richard Hell & The Voidoids - "Betrayal Takes Two": Otis and Jean talk in school.
The songs played at Otis' party are: Missing Persons - "Destination Unknown"; Harry Nilsson - "Jump Into the Fire"; Can - "I Want More"; S'Express - "Theme From S'Express"; Yaz - "Don't Go"; MSI - "From Suburban"; Isaac Hayes - "Good Love"; The Osmonds - "Having a Party".
Gala - "Freed from Desire": Jean and Mrs. Groff dance in a club.
Chip Taylor - "Thank You for the Offer": Meave talks to her mother (Anne-Marie Duff).
Grizzly Bear - "A Leader Always Carries a Stick": End credits song.
Episode 7
The Stranglers - "Peaches": Opening song
Sufjan Stevens - "Mystery of Love": Jean cries after being rejected by Jakob.
Mama Cass - "Make Your Own Kind of Music": Maeve, Aimee and the rest of the girls smash up cars.
The Capitols - "Cool Jerk": Maeve talks to her mother.
Sharon Van Etten - "Seventeen": These girls get on the bus together.
Episode 8
Symarip - "Skinhead Moonstomp": Opening song.
The Sonics - "Shot Down": The two quiz teams meet each other.
Dusty Springfield - "Wishin' and Hopin'": Adam runs to the musical to see Eric.
Scout Niblett - "Kiss": Adam meets Eric's family
Ezra Furman - "Care": Aimee and Steve are finally able to hug again.
Chip Taylor - "On the Radio": A cover of the Regina Spektor song brings the season to an end.
Sex Education Season 2 is streaming now on Netflix.