Where Is 'Sex Education' Set? Season 3 Filming Locations Revealed
Sex Education Season 3 is available to stream and download on Netflix now, after nearly two years of waiting.
In the new series, the students of Moordale have entered their final year but little do they know, things are about to change under headmistress Hope's (played by Jemima Kirke) reign.
While Sex Education is known for the drama that surrounds Moordale High —from unauthorized sex clinics and an explicit production of Romeo and Juliet, to its honest depictions of sex and relationships—the show is also loved for its stunning setting.
Newsweek has everything you need to know about where and when Sex Education is set and where it is filmed.
Where is Sex Education Set?
Sex Education is set the fictional town of Moordale. However, exactly where Moordale is located and the time period in which the show is set is not clear.
While some of the cast dress in modern attire, speak about culturally relevant topics, and have mobile phones, they also drive classic cars, listen to old-school music on record players, live in houses filled with vintage furniture, and rarely utter a word about social media.
Moordale High School also has an American feel to it. Until Season 3, the students never wore uniforms, they had wall lockers à la The Breakfast Club, and there had always been quite a clear division in the school's cliques, a classic trope in American teen dramas.
Even Jackson (Kedar Williams-Stirling), when he was the school's head boy, wore a Letterman jacket.
Sex Education writer Laurie Nunn has confirmed in several interviews the show's setting is Britain but Sex Education does have a very deliberate, American feel to it. Nunn was inspired by classic films such as Home Alone, and John Hughes films like The Breakfast Club and Ferris Bueller's Day Off.
She even described the setting to have a "mid-Atlantic, American influence but British ingredients" to Radio Times.
Sex Education star Gillian Anderson (who plays Dr. Jean Milburn) has also delved deeper into the show's setting: "There is a bit of both worlds, decidedly, in the series, and the aim and the hope is that Americans won't notice.
"For instance, the Brits may notice that they are throwing American footballs, whereas the Americans won't notice that that might be strange for people speaking with British accents.
"The rules are shifting all the time in terms of how an audience receives the shows that they're watching, what they're willing to accept, and what realms and worlds they're willing to step into to suspend their disbelief.
"I think Netflix feels quite strongly that it's hit on something with this amalgamation."
In Season 3 of Sex Education, the students of Moordale return after a long summer break. Maeve (Emma Mackey) and Otis (Asa Butterfield) are not on talking terms after their fallout in Season 2. We all know Otis did apologize to Maeve and even left her an adorable voice note where he confessed his true feelings for her, but sadly Maeve's neighbor Isaac (George Robinson), who clearly has his own agenda, deleted the voice mail before Maeve got a chance to listen to it.
Elsewhere, Eric (Ncuti Gatwa) and Adam (Connor Swindells) are exploring their relationship after Adam decided to publicly announce his true feelings for Eric during the school's production of Romeo and Juliet. Season 3 is set to explore the dynamics of their relationship and Adam's journey, as he explores his sexuality and identity.
The ending of Sex Education Season 2 also revealed Jean Milburn (Gillian Anderson) was pregnant with Jakob's (Mikael Persbrandt) baby, Headmaster Groff (Alistair Petrie) had been suspended from Moordale and Maeve's sister Elsie was put into foster care.
The new series will also stray away from its current location and will see Eric travel to Lagos in Nigeria for a family wedding.
Homosexuality is illegal in Nigeria and Eric's journey to his parents' homeland draws attention to the daily struggles gay men and women living there face, and highlights Eric's own personal struggles with his identity.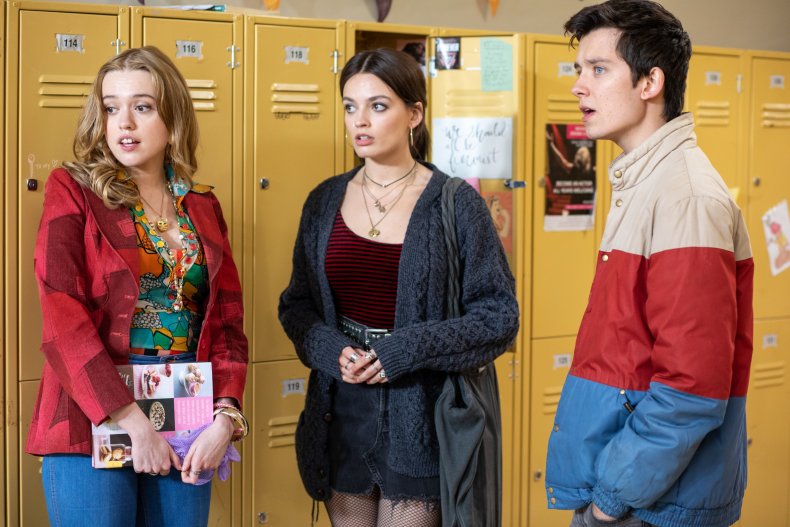 Where is Sex Education Filmed?
Like the first two seasons, Sex Education is mainly filmed in and around Wales, U.K..
Filming officially started in September 2020 after facing severe delays due to the ongoing coronavirus pandemic. Production wrapped in March 2021.
The most recognizable location of all in Sex Education is the University of South Wales's Caerleon campus, which serves as the setting for Moordale School. The campus shut in 2016 and has been vacant ever since, with Sex Education making the early 20th century building its home.
The interior of the school, such as the school gym and school hallway scenes, are filmed at the Paget Rooms, a Grade-II listed theatre in Penarth.
Otis and Jean Milburn's house is situated in the Wye Valley, with the River Wye often appearing throughout the series. The house itself is known as The Chalet, situated in the village of Symonds Yat, reports CN Traveller.
The surrounding Forest of Dean also features throughout Sex Education, which is no stranger to television and film crews, having been the setting for Dr. Who, Harry Potter, Merlin, Alice in Wonderland: Through the Looking Glass, and Tess of the D'Urbervilles.
The caravan park where Maeve lives in Sex Education is filmed at Sterrett's Caravan Park in Symonds Yat and Eric's House is Old Farm House Mews in Wye Valley, reports Glamour.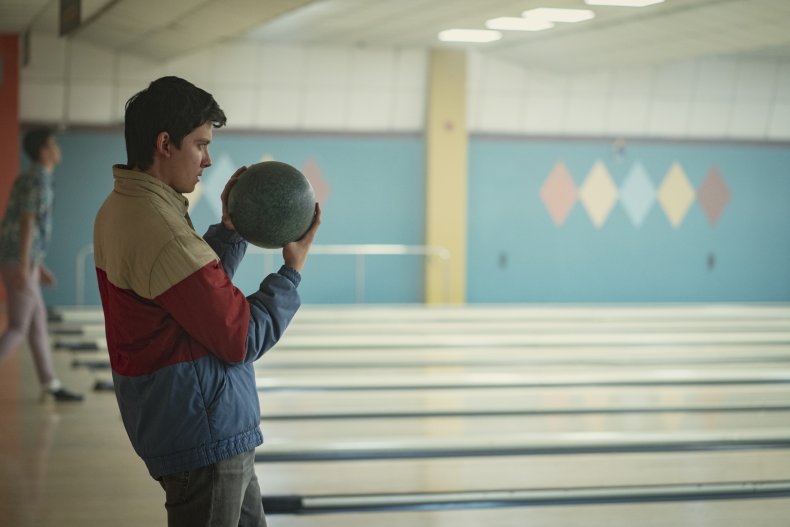 The bowling alley visited by Eric, Adam, Otis, and Ruby (Mimi Keene) is Rhondda Bowl in Tonyrefail and the bridge Eric and Otis often cycle over en route to school is located in the village of Tintern.
In December 2020, Sex Education cast member Tanya Lou Reynolds, who plays Lily in the series, posted the first behind-the-scenes snaps of filming Sex Education.
One of the pictures features Ncuti Gatwa learning his lines and another is of Patricia Allison, who plays Ola, enjoying the sunshine on set. More images followed of Emma Mackey keeping warm during a night shoot and Mimi Keene getting her make-up done.
Sex Education Season 3 is streaming on Netflix now.