'Sex Education' Fans Praise Show For Its 'Refreshing' Approach to Disability
Sex Education has received praise in the past for its representation of disability on screen and the same continues in Season 3.
George Robinson returns as Isaac Goodwin, Maeve's disabled neighbor who has caused a lot of trouble between Otis (played by Asa Butterfield) after he deleted Otis's voicemail which contained a heartfelt apology and declaration of his love off of Maeve's phone.
Thankfully, Isaac came clean to Maeve about the voicemail in Episode 2 of Sex Education, just moments after he and Maeve shared their first kiss.
Understandably, things were strained between the pair with Maeve avoiding Isaac at all costs. They eventually reunited in Episode 4, with Isaac and his brother Joe (George Somner), preparing all of Maeve's favorite foods as an apology.
Warning: Huge spoilers for Sex Education Season 3 will be found below.
Things then got intimate between Maeve and Isaac, leading Isaac to be openly honest about sex and disability.
Viewers found the scene "refreshing" and have praised Sex Education for handling the sensitive topic.
One fan wrote: "Ok so I know that everyone has their opinion on isaac in sex education but that scene with him and maeve was so refreshing like you rarely ever see a disabled person being intimate on screen."
A second Sex Education fan added: "That scene between Maeve and Isaac was beautifully done, sex with a disability requires a lot more communication than most. It was perfect representation for those who are less able, sex just doesn't disappear because you're disabled!!"
A third fan added: "The sex scenes in sex education with maeve and isaac are literally making me cry because it's just so nice to be be f****** represented for once."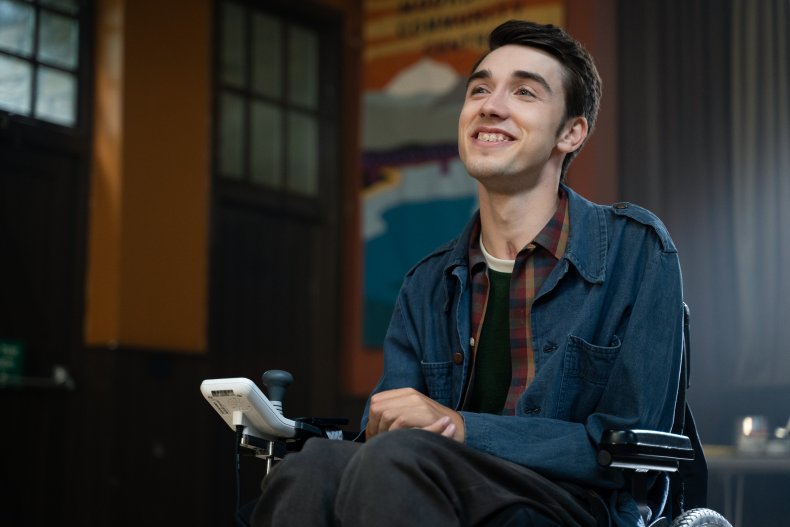 Many other viewers described the scene as "beautiful", with many getting emotional during the intimate scene.
One Sex Education fan wrote on Twitter: "Can we all just talk about how beautiful and romantic that scene between Maeve and Isaac was? Ever since he was introduced as a character I sincerely hoped that there would be a conversation regarding sex..."
A second fan wrote: "I loved how Isaac and Maeve's relationship was handled. They showed open dialogue, respect and no judgement in a sex scene with a disabled person which is rare. Simple things like the touching of his face was by far the most intimate and beautiful thing this season. #SexEducation."
Another Sex Education fan confessed: "Maeve and Isaac's intimate scene in Sex Education had me balling my eyes out. Representation matters."
Sadly, in the end, things did not work out romantically between Maeve and Isaac, with Maeve choosing to explore her romance with Otis.
Isaac and Maeve will also be spending some time apart, after Maeve moved out of her caravan and into Anna's (Indra Ové) home with her sister Elsie.
Isaac was also Maeve's biggest cheerleader, encouraging her to apply to study in America. Maeve was accepted into the program and decided to accept her place in the end.
Hopefully Isaac and Maeve will be reunited if Sex Education is given the greenlight for Season Four and their close friendship can be explored in greater detail.
Sex Education Season 3 is streaming on Netflix now.