'Sex Education' Season 3 Release Date, Cast, Trailer, Plot: When Is the Next Season Out on Netflix?
Netflix has now released a new trailer that confirms Sex Education will be back for Season 3. In that promo, which features Principal Groff actor Alistair Petrie taking us through a gallery of cast members, we get our first hints about what plot points to expect in the new season, which has a release date expected in 2021.
When is Sex Education Season 3 out on Netflix?
No official release date has been announced yet, but as both previous seasons came in January (Season 1 on the 11th, Season 2 on the 17th), we are expecting Season 3 to follow suit with an early 2021 release, with Friday, January 8 or Friday, January 15 looking like the most likely dates for Netflix to release the next eight-part season.
Shooting for Season 2 began in Spring 2019, so Season 3 is likely to go into production around the same time this year.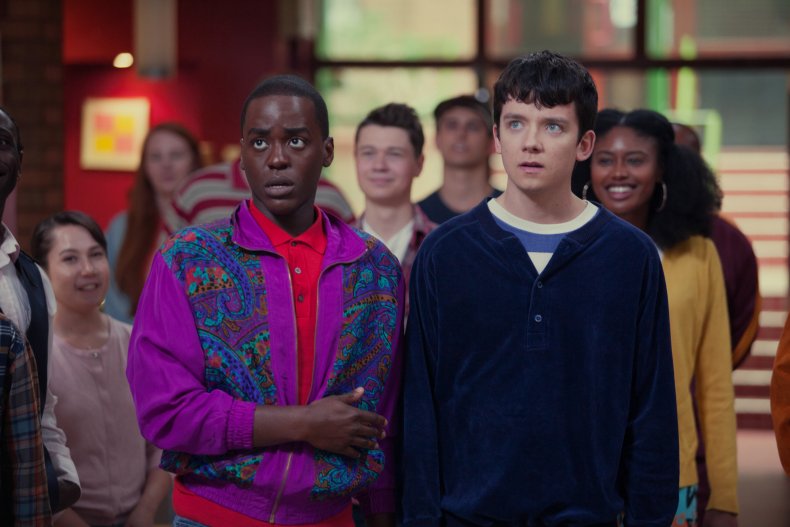 Who is in the cast of Sex Education Season 3?
Pictures of the following characters are featured in the Season 3 trailer, suggesting they will all be back for more Sex Education:
Maeve Wiley - Emma Mackey
Otis Milburn - Aja Butterfield
Adam Groff - Connor Swindells
Eric Effiong - Ncuti Gatwa
Ola Nyman - Patricia Alison
Lily Iglehart - Tanya Reynolds
Aimee Gibbs - Aimee Lou Wood
Jackson Marchetti - Kedar Williams Stirling
Jean Milburn - Gillian Anderson
Petrie himself seems also likely to return as Principal Groff, even if the end of Season 2 did see him lose his title after he had a breakdown on campus.
Notably absent from the announcement are the new characters introduced in Season 2, such as Erin Wiley (Anne-Marie Duff), Isaac (George Robinson) and Rahim (Sami Outalbali). However, as the pictures used in the trailer are the same ones used as posters in the lead-up to Season 2, this does not necessarily mean that these characters will not return⁠.
No new cast members have been announced yet by Netflix, but they are likely to be revealed when shooting starts on the new season.
What will happen in Sex Education Season 3?
The trailer includes a number of hints about what fans can expect from Season 3, based on Petrie's references to the plot threads left dangling at the end of the current season of the Netflix show.
In the promo, we hear Groff say: "Otis⁠ and an arousing wheel of brie. Eric asking the old question: He loves me, he loves me not⁠—based on a French game. Lily and her violets, a Greek symbol of lesbian and bisexual love. Our young thespian [Jackson] with a nod to Shakespeare. Dr. Jean Milburn. Pomegranate. A symbol of fertility. Ah! The piece de resistance. Eric and Adam. I wonder what is in store for these two cherubs? Well, I suppose you will have to find out in Season 3."
Though a number of these references are to the events of Season 2, like Otis' confession in Episode 1 that he thinks brie is the sexiest of all the cheeses. However, there are a number of hints to the big plot points of Season 3, including Jean's surprise pregnancy and Eric and Adam's new relationship⁠—though it remains to be seen whether Otis will take his relationship with the French cheese to the next level.
Sex Education Season 3 is coming soon to Netflix.