Meet the New Cast and Characters in 'Sex Education' Season 3
Sex Education Season 3 is available to stream and download on Netflix now. In the latest series, the students of Moordale have entered their final year of high school, but things are looking a little different.
There is a new headteacher on campus, who will stop at nothing to change Moordale's reputation as the "Sex School" and there are some new students, who clash with everything Headmistress Hope believes in. There's also an appearance from a Harry Potter veteran.
Newsweek has everything you need to know about the new cast and characters of Sex Education Season 3.
Meet the New Cast and Characters in 'Sex Education' Season 3
Headmistress Hope Haddon — Jemima Kirke
Jemima Kirke takes on the role of the new headteacher of Moordale, Hope Haddon.
Hope, a former student of Moordale has been tasked with purging the school of its bad reputation and her way of doing this is by introducing uniforms, stricter rules, and a limited sex education curriculum.
At first, the students think she is "cool," but when her changes come into place, they start to realize they aren't only restrictive but destructive to their lifestyles.
Kirke is an English-American artist, actress and director best known for playing Jessa Johansson in the HBO series Girls.
She will star as Melissa in the upcoming Hulu series Conversations with Friends.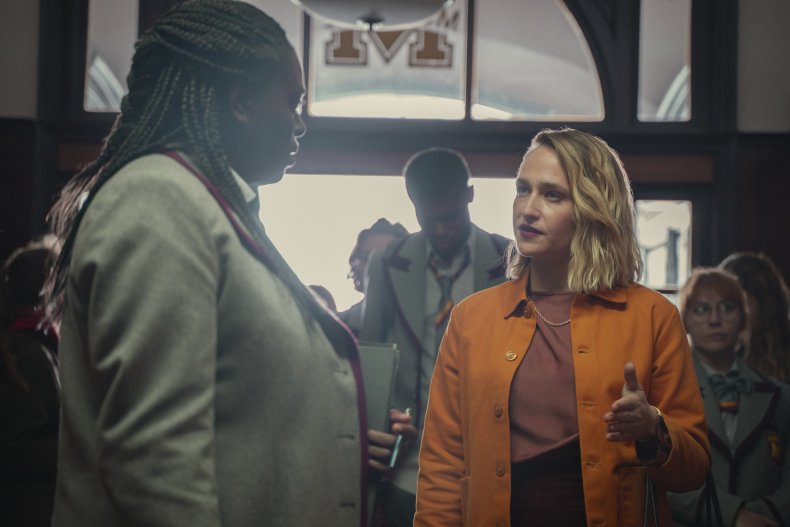 Peter Groff — Jason Isaacs
Jason Isaacs stars as Michael Groff's (played by Alistair Petrie) more successful older brother, who Michael has been staying with following his breakup with Maureen (Samantha Spiro).
Throughout the series, we learn Peter was favored by their father and even played a role in the bullying Michael received as a child.
Isaacs is best known for his role as Lucius Malfoy in the Harry Potter film series. Most recently, he starred as Georgy Zhukov in The Death of Stalin and Hap Percy in The OA.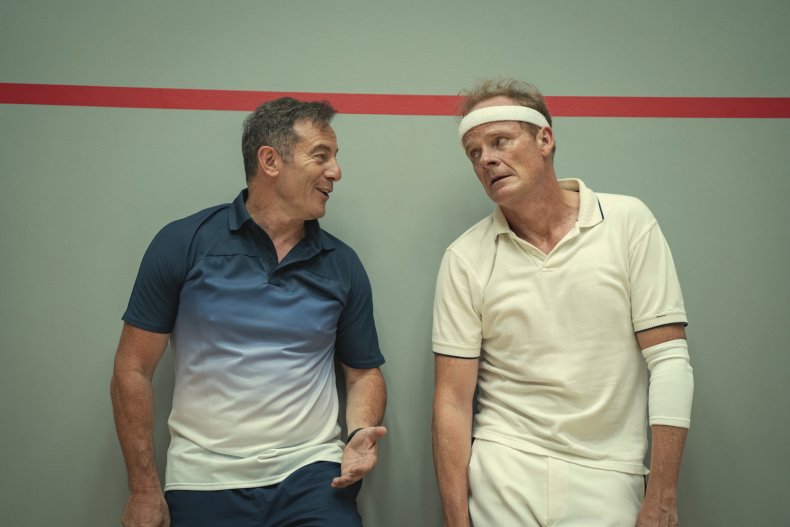 Cal — Dua Saleh
Dua Saleh portrays Cal, a non-binary student who clashes directly with Hope. In particular, Cal disagrees strongly with the gender segregation Hope is trying to implement, the backwards sex education curriculum and the school uniform.
Cal also becomes very close to Moordale's former head boy, Jackson (Kedar Williams-Stirling).
Saleh, who is also non-binary, is a Sudanese-American singer, songwriter and poet. Sex Education is their biggest acting role to date.
Speaking to Netflix about taking on the role of Cal, Saleh said: "I want people to feel validated. Cal is a non-binary, Black character, and I want people to think: 'Oh, my gosh, I can believe I've seen myself on this series. I can believe I've seen myself represented in mainstream media.' That's what I want the most."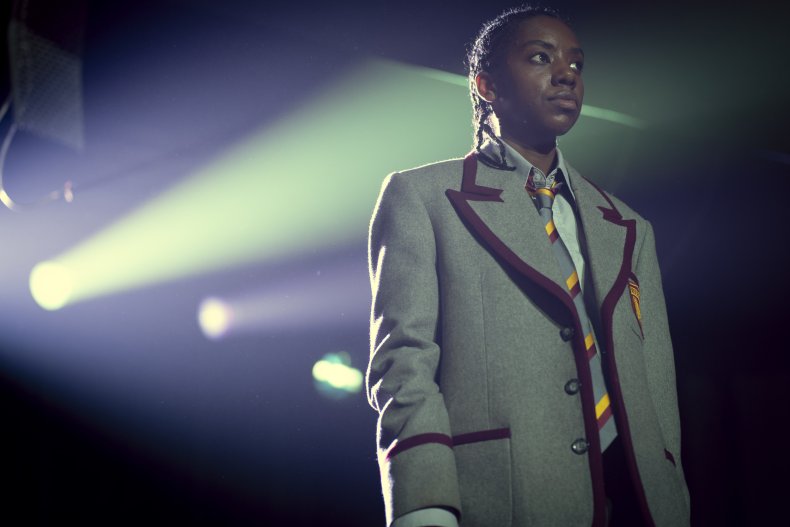 Anna — Indra Ové
Indra Ové plays the role of Anna, Elsie's new foster mum.
At the end of season 2, Maeve called social services, concerned for her younger sister's welfare after she discovered her mother, Erin (Anne-Marie Duff) was using drugs again.
At first, Maeve is hostile to Anna, but the pair eventually form a close bond.
Ové's credits include Unforgotten, Good Omens, Dark Heart, and Star Wars: The Rise of Skywalker.
Carol — Sophie Thompson
Sophie Thomspon plays Carol, Lily's mother and the midwife who delivers Jean Milburn's baby.
Thomspon is a well-known British theatre, film and television actress from Hampstead, London.
Her most recent credits include Ghosts, Sandylands, Feel Good, Present Laughter and Tales from the Lodge.
Layla — Robyn Holdaway
Layla is also a non-binary student at Moordale, who agrees with everything Cal is fighting for, but is not as vocal.
They go to Cal for advice about how to wear a chest binder and Cal is more than happy to support Layla on their journey.
Like Layla, Holdaway is also non-binary. They are an up-and-coming actor, who's credits so far include Strike and Face2Face.
Eugene — Reece Richards
Up-and-coming actor and model Reece Richards stars as Eugene in Sex Education season 3.
Eugene is Viv's (Chinenye Ezeudu) boyfriend and the pair have been doing long-distance and a lot of sexting for several months. He makes his appearance in the finale and fellow students at Moordale can't quite believe their eyes.
Roland — David Layde
David Layde portrays Ruby's dad Roland in Sex Education season 3.
Roland suffers from multiple sclerosis and has issues with his mobility and fatigue. As a result, he relies on marijuana for pain relief, leading to an interesting first encounter with Ruby's boyfriend Otis.
Layde is an actor and producer, best known for Kisses, A Lonely Sky and Crooked.
Sex Education Season 3 is streaming on Netflix now.