'Sex Education' Music Supervisor Reveals Meaning Behind Season 3's Soundtrack
Sex Education on Netflix is known for many things. From awkward-cringe-worthy moments between the teens of Moordale and the numerous NSFW scenes, the show's soundtrack has also become an iconic component of the show.
Warning: This article contains spoilers about Sex Education Season 3
Sex Education's Music Supervisor Matt Biffa spoke to Newsweek about putting together the season 3 soundtrack, the meanings behind his favourite tracks, the influence of Ezra Furman, and why the school band had to perform that "outrageously filthy" track.
F*** the Pain Away
In the wake of the sex-fuelled performance of "Romeo and Juliet: The Musical" in Season 2, science teacher Colin Hendricks (played by Jim Howick) let the students in the school band experiment with their song choices.
In the second episode of Season 3, Colin and the Moordale School Band are seen rehearsing their rendition of Peaches "F*** the Pain Away", much to Headmistress Hope's (Jemima Kirke) disapproval.
Biffa shared: "With 'F*** The Pain Away,' that was very much Ben [Taylor, director] sort of saying, 'Right, Hendricks is essentially letting the a cappella group make their own choice' and, bearing in mind that there's the rebellion later on in Episode 7, it's sort of like, it just has to be outrageously filthy and so we didn't have to go on too much of a mental journey to come up with that one.
"I think we also looked at things like the 'Bad Touch' by the Bloodhound Gang and stuff like that. I remember getting the demo and thinking, if they do this right, this could just be one of the best moments.
"And then in Episode 7, with the key change as well...the key change is just the icing on the cake."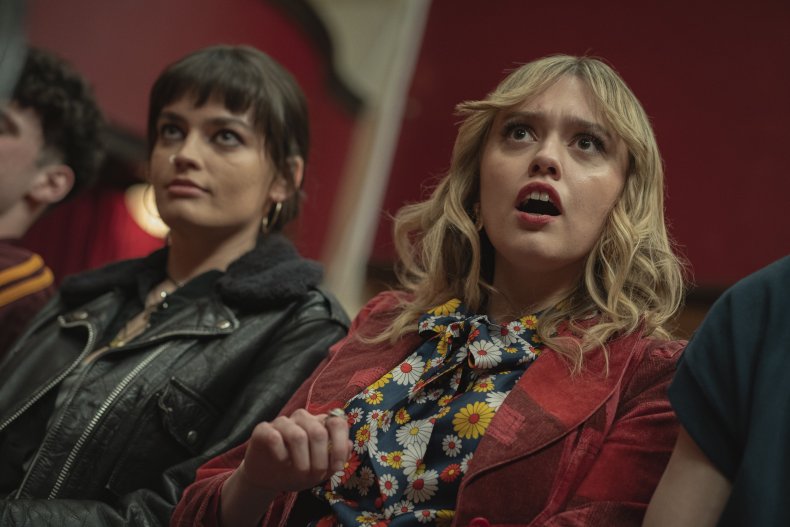 The Breeze/My Baby Cries
"The Breeze/My Baby Cries" by Bill Callahan/Kath Bloom plays when Maeve (Emma Mackey) and Otis (Asa Butterfield) share their first kiss outside the petrol station in France during Episode 5.
"It is very much a collaboration. The Breeze was a mixture of David Webb, the editor, on that episode, and Ben Taylor, the director. Between them they cooked that up," Biffa said.
"I think with that [song] it's a really delicate moment because you know, you can really overplay it and just make it unbearably cheesy or you can kind of undersell it and I think that was a really perfectly judged way to do it. It is quite understated when you're in the moment, but you are still giving the emotion."
The Ballad Of El Goodo
"The Ballad Of El Goodo" by Big Star is the final song in Sex Education Season 3, which plays out as Maeve says her goodbyes and sets off on the bus out of Moordale.
Maeve is heading to America after being accepted into a study abroad programme and sadly, this meant putting a pause on her and Otis's relationship.
Biffa shared the song was deliberately chosen partly to reflect Maeve's journey.
"Last year, I was idly scrolling through Instagram as you do, and Ezra Furman had sort of taken to doing acoustic songs on her Instagram stories and she did that and I immediately sent it on to Ben Taylor [director] and just said 'this somehow encapsulates all of season three' which it does actually" he said.
"I mean, the chorus is one thing, but the whole second verse sort of seems to encapsulate the things that Hope tries to do to the students and that whole thing about 'you can just say no'. It just sort of really seem to hit it off."
"Then, of course, knowing what Maeve was doing it was a little love letter from us to her. As you know, she goes off finally having some sort of good luck."
Lyrics in the second verse of The Ballad of El Goodo include: "There's people around who tell you that they know// And places where they send you, and it's easy to go// They'll zip you up and dress you down and stand you in a row
But you know you don't have to, you could just say no//."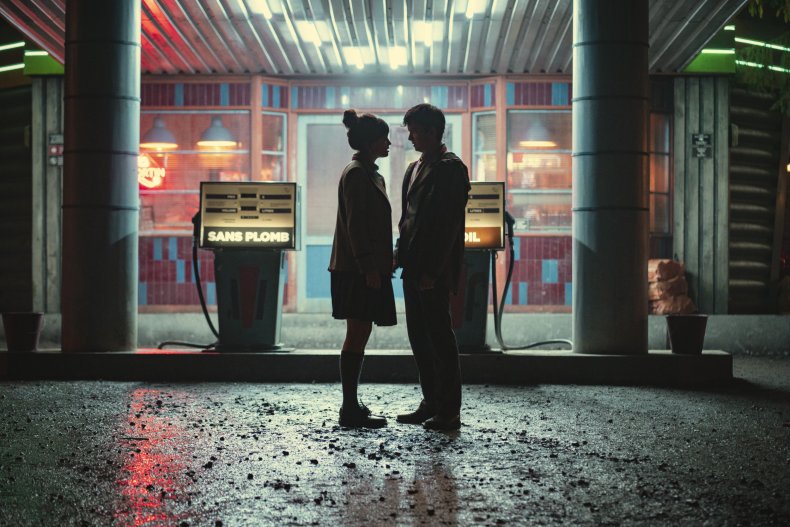 The influence of Ezra Furman
Following Sex Education tradition, American musician and songwriter Ezra Furman provides the "voice" of Sex Education Season 3. The latest series features new singles including "Frying Pan", "Going to Brighton" and "Don't Turn Your Back on Love."
Biffa reflected: "I remember the first meeting I had with Ben Taylor and he and Laurie Nunn [Sex Education creator] had met with Ezra and they were absolutely convinced that she was the voice of the show because of where she stands in the community and all that kind of stuff. She sorts of straddles a lot of different camps, which is absolutely right for this show and she's really emotional."
"I always think of [Ezra] as a sort of modern-day indie Springsteen, do you know what I mean? The way that she writes lyrics."
Sex Education Season 3 is streaming on Netflix now.