'Sex Education' Soundtrack: Every Song Featured in Season 3
Sex Education is back and once again has an incredible soundtrack. The latest series features original songs by Sex Education icon Ezra Furman, classic tunes from the 60s, 70s, and 80s, alongside what is sure to be an iconic cover of Peaches, "F*** the Pain Away."
Speaking to Newsweek, Sex Education's Music Supervisor, Matt Biffa, shared his thoughts on the music of the new series, describing it as "super eclectic".
Warning: Spoilers for Sex Education Season 3 ahead.
He said: "I would describe it as super eclectic, particularly this season because you know, we've got the Nigerian episode as well, we've got that flavor in there. As always though, we are just trying to do right by the characters, and then always at the back of our minds there is that there is the overarching sort of message of the show and what we found is that, the more we kind of touch people emotionally, the more they respond to the themes like Amy's abuse and stuff like that.
"So, like last season, we found that Sharon Van Etten's song "Seventeen" was by far and away one of the most popular ones, that was just a fortuitous thing that just happened to kind of really encapsulate sort of Amy's journey without being too cheesy about it.
"Describing the soundtrack is a really difficult question. How do you sort of sum it up? There's so much of it, and it's so varied."
Several tracks feature from Ezra Furman, who has become the "voice" of Sex Education over the past three seasons.
Biffa reflected: "I remember the first meeting I had with Ben Taylor and he and Laurie Nunn had met with Ezra and they were absolutely convinced that she was the voice of the show because of sort of where she stands in the community and all that, kind of stuff, she sorts of straddles a lot of different camps which is absolutely right for this show and she's really emotional.
"I always think of almost as kind of like a sort of modern-day indie Springsteen, do you know what I mean? The way that she kind of writes lyrics."
Here is a full list of all of the songs featured in Season 3 and the exact moment they play.
Every Song Featured in 'Sex Education' Season 3
Episode 1
I Think We're Alone Now by The Rubinoos — The opening sex-filled montage.
Hound Dog by Big Mamma Thornton — The first glimpse we have of Otis's (Asa Butterfield) terrible mustache.
Right On Time by Ezra Furman — The song that plays as Otis and Eric ride to school.
Land of 1000 Dances by Wilson Pickett — Headmistress Hope makes her entrance on the Moordale School stage.
Gonna Make You Sweat (Everybody Dance Now) by C &C Music Factory — The flashback scene to Otis and Ruby hooking up at a party.
Hour of Deepest Need by Ezra Furman — Otis and Ruby having an argument.
Episode 2
Perhaps, Perhaps, Perhaps by Doris Day — Song plays while Eric puts make-up on Adam.
Fantastic Man by William Onyeabor — Fashion montage, with Otis trying on clothes recommended by Ruby.
Piddly Patter by Nappy Brown — Plays as Otis and Ruby arrive at school together, with Otis in his "sauve" new outfit.
F*** The Pain Away by Moordale School Band — A song originally by Peaches, the Moordale School Band is rehearsing the song in front of Hope ahead of the school assembly.
Dancing in Heaven by Q-Feel — The soundtrack to Ruby and Otis having sex.
Can I Sleep In Your Brain by Ezra Furman — Adam and Eric sleep together for the first time.
Save a Prayer by Duran Duran — Otis and Ruby make their relationship official.
Sound of da Police by KRS One — Sound of da Police plays out as Hope announces school uniforms will be introduced to Moordale.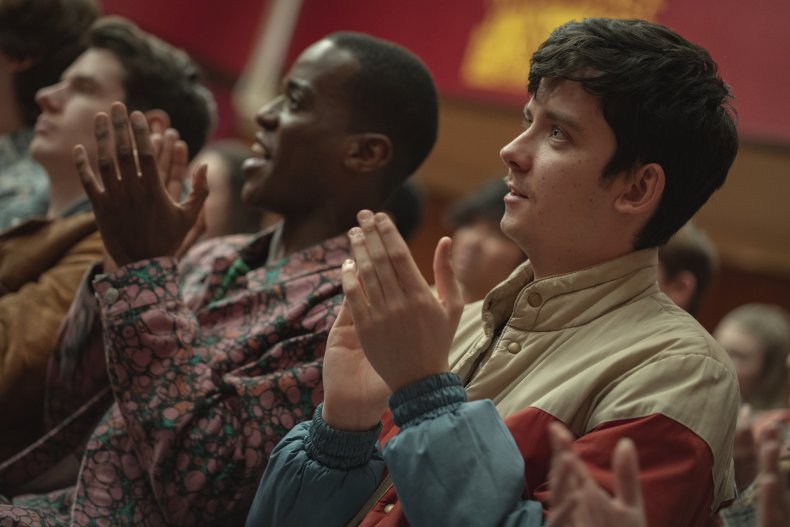 Episode 3
Rock Me Gently by Andy Kim — Cynthia and Jeffrey decide to spice their evening up with a lot of sex.
Macumba by "Titanic, J.Williamson and Roy Robison — Ola is playing Otis's record without his permission.
Chant aka Trans Mantra by Ezra Furman — The scene where Cal gets changed in the girls changing room, who all laugh at them.
Nails, Hair, Hips, and Heels by Todrick Hall — Eric sings and dances to this song as he gets ready for his double date with Adam, Otis and Ruby.
Space Romance by Waveshaper and Tom Andersson — Ola tries to talk to Lily about her mother's death.
The Man in Me by Bob Dylan — Plays during the montage of Otis, Ruby, Eric, and Adam playing bowling.
Your Party by Ween — Adam and Otis walk in on Maureen fooling around with her date Hugh.
Never My Love by The Association — Plays in the background as Ruby's dad smokes.
Frying Pan by Ezra Furman — Plays as Cynthia cries over Jonathan, Jackson arrives home with a big smile, Adam apologies to Eric, and Otis and Ola put their differences behind them.
Tender by Blur — Ruby tells Otis she loves him.
Episode 4
Don't Sweat the Technique by Eric B & Rakim — Episode opening.
So Much Love To Do by Scout Niblett and Emma Louse Niblett — Maeve says yes to going to Isaac's for dinner.
Stormy Weather by Etta James — Jakob is building a treehouse.
La Ballade Des Gens Heureux by Gerard Lenorman and Pierre Delanoe — The Moordale students board the coach for France.
Episode 5
Mon Amour, Mon Ami by Mon Amour, Mon Ami — Viv is sexting Eugene in France.
Dressed in Black by Ezra Furman — Plays over the montage of Eric getting ready for Nigeria and Jakob finding a cuff link under the kitchen sink.
Hot Topic by Le Tigre, Kathleen M Hanna, and Johanna Rachel Fateman — The song Maeve is listening to on the bus to France.
Zou Bisou Bisou by Gillian Hills, Bill Shepherd, and Alan Stanley Tew — Plays when Cal and Jackson are on a magic mushroom high.
Allez donc vous faire bronzer by Sacha Distel, Gerard Maurice Gustin, and Maurice Leon Gilles Teze — The "Flying Feces" Scene.
Pump Up The Jam by Technotronic — Hendricks sings Pump Up The Jam over the bus microphone and the students join in.
I Wanna Love by Scout Niblett/Kath Bloom — Cal and Jackson kiss at the back of the bus.
The Breeze/My Baby Cries by Bill Callahan/Kath Bloom — Maeve and Otis kiss outside the petrol station.
When I Live My Dream — Viv is sexting Eugene and the bus finally arrives back at Moordale.
Your Young Voice by Jonny Muir and Kenny Anderson — Adam texts Eric and cycles home after the school trip.
Episode 6
Under Pressure by Queen f.t. David Bowie — Flashback to Lily's childhood.
Oyejo by Fela Kuti, His Koola Lobitos — Eric and his family having dinner in Nigeria.
Sweet Mother by Prince Nico Mbarga & Rocafil Jazz International — Eric and his mother discuss her former flame.
Oni Suru by Orlando Julious Ekemode — Eric's cousin's wedding.
Anybody by Burna Boy — Eric's family dancing at the wedding.
Short and Sweet by Brittany Howard — Montage of Mr. Groff arriving home, Adam is accepted into the dog trials, and Maeve texts Isaac who is at home painting.
Fall by Davido — Oba and Eric in the taxi on their way to a night out in Lagos.
Stat Signs by Odunsi (The Engine) — Oba and Eric enter the underground nightclub in Nigeria.
Jordo by Wizkid — Eric and Oba kiss.
Attention by Tiwa Savage — Eric says goodbye to his grandmother and family in Nigeria.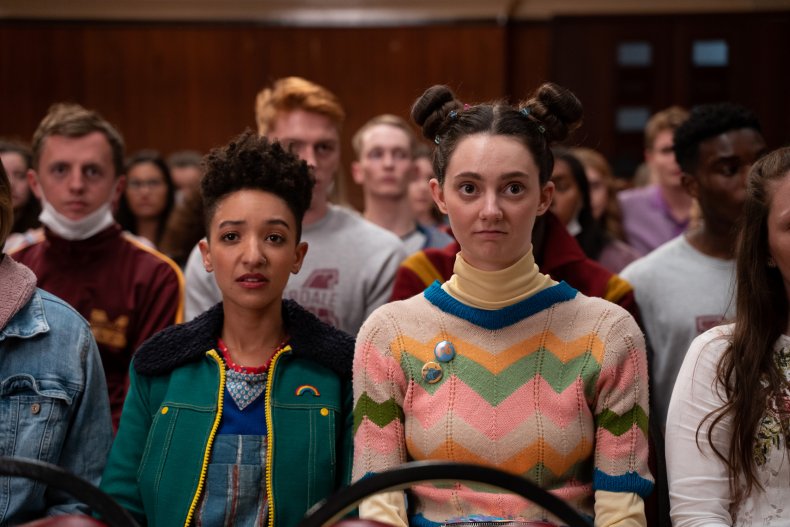 Episode 7
Let's Go by Bileo — Plays in the background of Viv and Jackson's "Let's Talk About S.E.X" video.
F*** The Pain Away by Moordale School Band — Chaos in Moordale as the students protest against Hope's changes.
Oogum Boogum Song by Brenton Wood — Otis leaves Lily's house after he goes to visit her to make sure she is okay.
Going to Brighton by Ezra Furman — Mr. Groff and Maureen kiss.
Breathe Your Name by Sixpence None The Richer — Maeve and Otis kiss in the rain.
Twerk by Teni the Entertainer — Eric has a flashback to his kiss with Oba in Nigeria.
Episode 8
Summer Wine by Nancy Sinatra and Lee Hazlewood — Montage of Layla waking up and beginning the painful procedure of wearing a chest binder.
I'll Never Let My Girl Go by Noble and The Matadors — Plays as Aimee confesses she is feeling nervous to Maureen and Lily's mum drives her daughter to school in silence.
Milkshake by Kelis — Slow motion scene of Viv's boyfriend Eugene walking her to the gates of Moordale. Everybody is staring.
Hands of the Devil by Eerie Wanda and Marina Tadic — The scene where Cal gives Layla advice on how to wear a binder.
Save Me by Aimee Mann — Save Me plays alongside a montage of Layla wearing the binder, Steve and Aimee breaking up, Meave packing for America, Viv and Eugene having sex dressed in medieval outfits, Lily dresses up in her alien clothes, Rahim reading Adams poem and Adam competing with Madam at the Dog Trials.
Moanin by Art Blakey — Mr. Groff receives a text from Maureen that she will not be coming over for dinner.
Don't Turn Your Back On Love by Ezra Furman & The Harpoons — Aimee convinces Maeve to go to America.
The Ballad of El Goodo by Big Star — The final song of the series. Plays as Maeve says her goodbyes and sits on the bus heading out of Moordale for the airport.
Sex Education Season 3 is streaming on Netflix now.