'Sex/Life' Showrunner on the Truths Behind the Series—From Boyfriends to the Female Midlife Crisis
Sex/Life has been holding on to its spot in Netflix's Top 10 since it dropped on Netflix at the end of May. People simply cannot get enough of Billie Connelly's (played by Sarah Shahi) story and her struggle to choose between her loving husband Cooper (Mike Vogel) and her ex-boyfriend Brad (Adam Demos).
Billie, a bored mother of two begins to embrace her sexual fantasies, writing them on her laptop. Her life is turned upside down when Cooper uncovers her darkest secrets while simultaneously, her bad-boy ex-boyfriend Brad makes an unexpected reappearance in her life.
The events set Billie on a journey of self-rediscovery as she questions staying with her safe and love-filled marriage to straight-laced husband Cooper or whether she takes the risk of starting over with Brad, the best sex of her life.
Sex/Life was created by UnREAL's Stacy Rukeyser for Netflix and was inspired by the book 44 Chapters About 4 Men by B.B. Easton.
Like Billie in Sex/Life, Easton a mother of two and school psychologist had become frustrated with her non-existent sex life with her husband.
She began journaling her sexual fantasies, reliving her past four relationships and her wild sex life on the page.
In her book 44 Chapters About 4 Men, Easton recounts her wild encounters with her four major loves before meeting her husband Ken, describing them as a "tattoo artist turned U.S. Marine turned motorcycle club outlaw, a baby-faced punk rocker out on parole, and a heavy-metal bass player."
Following the success of 44 Chapters about 4 Men, Easton has written four spinoff books about each of the four men: Skin, Speed, Star, and Suit.
Unlike Billie, Easton deliberately left her journal out so her husband could read it and learn what she really wanted from their marriage and the rest became history.
Speaking to Newsweek, Sex/Life showrunner Stacy Rukeyser shared: "It was inspired by the book. The basic premise of this, this wife and mom with these two young kids who's longing for her former self that's there, and then she starts to write in her journal, about those times, those wild child times, and then her husband reads her journal. And in the book, it never goes awry. In the book, he starts acting out what she wrote, and it is a great solution. And so she starts writing more, and even writing things that never really happened because they're just the things that she wants her husband to do."
The biggest difference of all was Easton got her happy ending with her husband and never reached out to her former flames whereas Billie went deeper into her desires, eventually finding herself in a love triangle between two entirely different men—one from the present and the other from the past.
Rukeyser commented: "The basic premise [of the book] is there, and then obviously, that's a big a big difference is that it wasn't all just, you know, sunshine and daisies after that."
In the end, it seems like Billie just couldn't choose between Brad and Cooper, after running back into the arms of Brad... after deciding she would be fully committing herself to her husband Cooper.
Rukeyser explained the show is "grounded" in what is keeping Billie up at night and Sex/Life may be a "juicy wild ride" but it is much deeper than that and Billie's dilemma is more nuanced.
She said: "It is, you know, postpartum exhausted mother of two versions of a midlife crisis and I think that that is something that, that we don't talk about and I think so many mothers in particular, who I speak to feel very seen by that, that these are questions they've been asking in their marriage. And it's not just mothers, it's also just sort of women of a certain age.
"It's like, we're supposed to become responsible grown-ups. A mom is not supposed to be a ravenous sex goddess at the same time. And so, if you are a mom who also happens to really love and want to live on in all parts of yourself or express all parts of yourself, that's a conundrum, you know, and, and we're also looking at what women are telling their whole lives, you know, I mean women are taught that once you meet someone who seems like marriage material that you should make yourself marriage worthy."
Rukeyser reflected that when she first received the book, she believed, as a drama writer, it "didn't have the legs for a drama series."
Thankfully, something else in Easton's story stood out. Rukeyser was drawn to the complications that come with a husband reading his wife's journal alongside the loss of female identity and the desire for female empowerment when you settle down in life.
Rukeyser explained: "When I read the book, I connected really personally with the idea of a wife and mom, who seemingly has it all and loves her children and loves her life. But she can't help wondering, you know, where did this other girl go? And that issue of female identity and who we are once we become wives and moms and that sort of sexy single girl self that we're supposed to give up, and the longing for that and I felt like that was all really rich territory.
"Even more importantly, what I felt was that it was never going to be that easy for Cooper [in Sex/Life], you know, who is the husband, to read that stuff about his wife."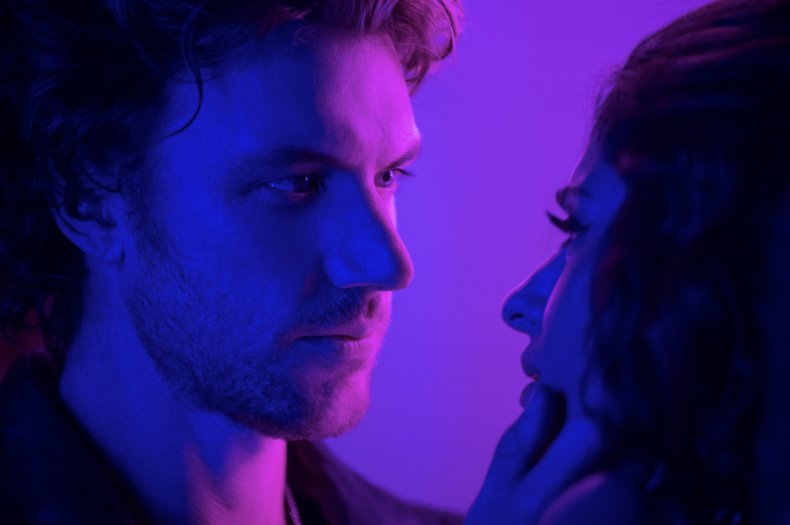 Through laughter, Rukeyser shared: "What I know about men is that is complicated and for Cooper, it's exciting and weird and wild and titillating, in a certain way, but it's also really difficult to read about your wife being with another man and to feel that you need to change or become a different version of yourself in order to be acceptable in some way. So I always knew that it was going to be sort of a deeper exploration of a marriage in that way."
Although the story of Sex/Life is based on a true story, the characters of Sex/Life are entirely fictional from Billie and Cooper to Brad, who is a "new creation."
Rukeyser also clarified for fans of the book, Brad is not based on any of the four men from Easton's past.
There are also several small changes made to Sex/Life which make the story uniquely Billie's but also true to parts of Rukeyser's real life, from the setting to nights out with friends and "some impossibly sexy men."
She shared: "The setting is changed. It's now set in the Connecticut suburb where I grew up and in New York City, and in a sort of sparkly fever-dream version of the New York City where I lived after college, where I had my own single-in-the-city days with my own best girlfriends and some impossibly sexy men."
And although Sex/Life doesn't necessarily stick to Easton's true story, Rukeyser described Easton as the show's "biggest cheerleader."
Sex/Life is streaming on Netflix now.