Sex Scandal: Underage Refugee Girls Forced Into Prostitution in Uganda, Report Reveals
Refugee girls as young as 17 are being forced into prostitution in Uganda, a country that has experienced a historic influx of people fleeing violence, according to a gut-wrenching report in Uganda's Daily Monitor.
A secretive network of pimps operating in Uganda and spreading information about their business through word of mouth has been advertising refugee women and girls to buyers, some of whom are high-ranking government officials, according to the report. One journalist, the Uganda-based Frederic Musisi, went undercover as a client to find out if the rumors about the prostitution ring were true. He was offered a 17-year-old Ethiopian refugee for sex. On a separate occasion, undercover reporters had a group of young Congolese and Kenyan women delivered to a site in Uganda's capital Kampala.
"The exploitation and abuse, our investigations show, is two-way traffic—some [office of the prime minister], police and aid agencies' officials use their powers to coerce young refugee girls and at times the most desperate for relocation to other countries into sex," Musisi writes. "[W]hile the refugee communities themselves, have individuals who have established themselves as big-time pimps: These at times lure young women from their home countries in promise of job opportunities but on reaching Uganda register them as refugees and start brokering them around town."
Some Ugandan officials also ask for sex in exchange for processing a refugee's identity cards, the report found.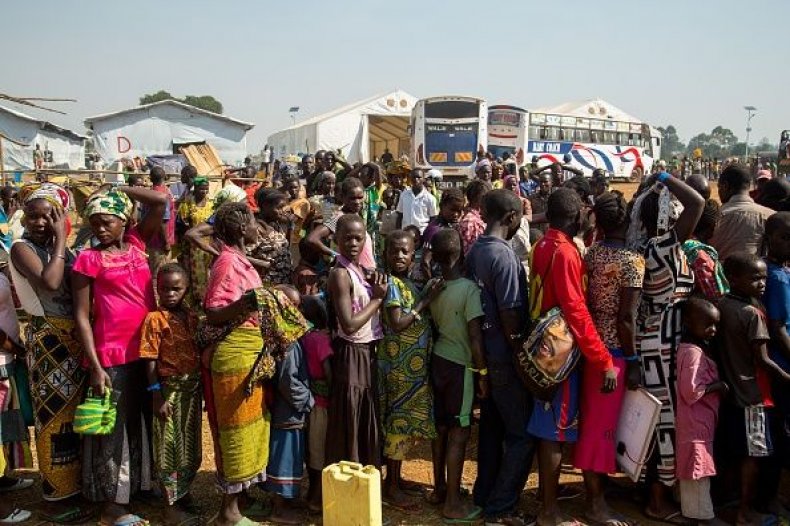 Uganda has currently taken in an estimated 1 million refugees from South Sudan alone, over 85 percent of whom are women and children. It is also receiving more asylum seekers from the Democratic Republic of Congo, which is experiencing an intercommunal conflict that forced about 5 million people from their homes.
Uganda has been praised for taking in such a large number of refugees, and some media reports have called the country a paradise for people fleeing violence and a model for Western countries struggling with how to respond to the influx of migrants.
But a recent corruption scandal, in which officials grossly inflated the number of occupants in one of the world's largest refugee camps in order to receive more money from the United Nations, called attention to some of the potential pitfalls. In February, the United Nations High Commissioner for Refugees (UNHCR) inspected the camp and found that only 7,000 people were living there as opposed to the 26,000 the Ugandan government had reported. The United Nations threatened to withhold funding for the camp until the numbers were verified.
In response, Uganda launched a program earlier this month to register refugees using biometric data.
"The verification exercise will ensure that refugees and asylum seekers are accurately reflected in the registration system and assist the Government of Uganda to enhance the accuracy of data. This will make certain that resources and services provided by UNHCR and its partners reach the intended recipients," according to the UNHCR.
Officials from the UNHCR said they would be willing to crack down on the sex abuse issue if the female victims were to report the incident, but the Ugandan journalists discovered that many of the women were too afraid to tell their story.