Sex, Soccer & Sexism: Russian Nationalists Threaten Women Pictured With Foreign Men During World Cup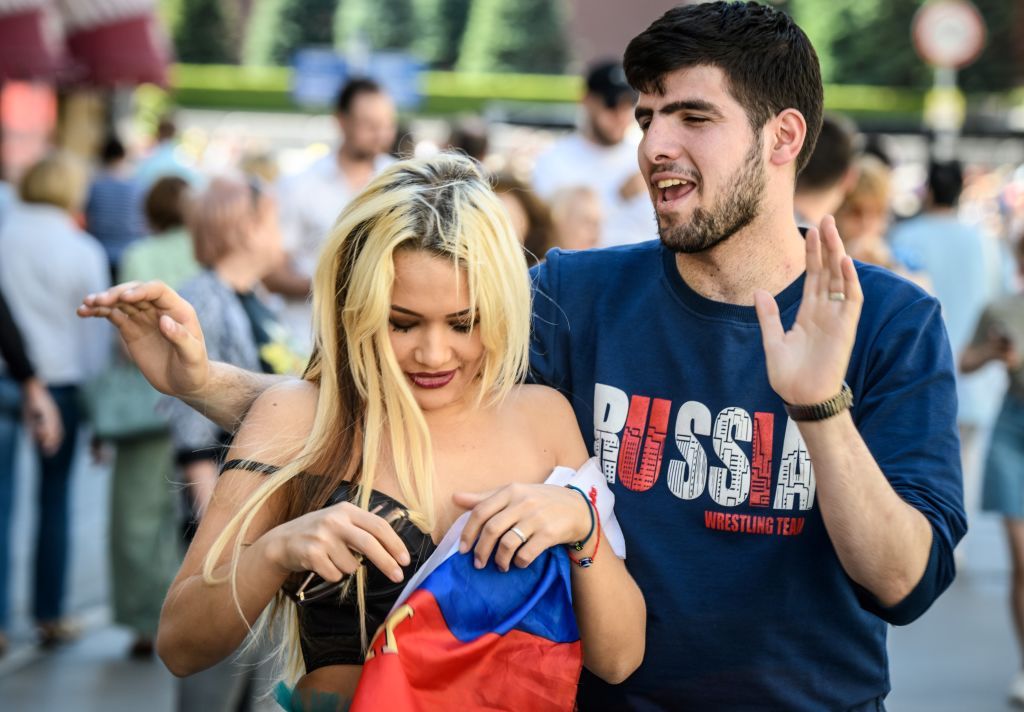 The influx of foreign fans into Russia has provoked the ire of nationalists, who have harassed and threatened women on social media, accusing them of getting too friendly with visitors.
Shortly before the tournament got underway on June 14, Tamara Pletnyova, who heads the Family, Women and Children Affairs committee in the lower house of parliament, warned locals against romantic liaisons with visiting fans.
"There will be girls who meet men, and then they will give birth. Maybe they will get married, maybe they won't. But the kids will suffer, just like they suffered [after the 1980 Moscow Olympics]," she told radio station Govorit Moskva.
"These [mixed race] kids suffer and have suffered since Soviet times."
But as the tournament progressed, it seems Pletnyova's warning had little effect, with local media reporting a surge in activity on dating app Tinder.
Videos uploaded by male Brazilian fans have proved a flashpoint.
They show the fans encouraging local women to sing "Buceta Rosa" – which sounds like a Russian phrase for bouquet of roses, but in fact has a obscene meaning in Portuguese (literally 'pink vagina'.)
The viral videos provoked outrage back in Brazil where one of the men who featured in them lost his job, and were criticized by the United Nations women's rights office in Brazil, which described the behavior as "unacceptable."
There was also reaction from Russian nationalist trolls. On Russian social networking site VKontakte, women who posted pictures of themselves with foreign fans have been subjected to harassment and death threats. Some pages set up to abuse women were named after the slur used by the Brazilians.
One woman who uploaded a picture of herself kissing a Brazilian fan on the cheek told the `BBC she had been so stressed by the torrent of abuse she'd received she had been forced to seek medical help.
Israeli daily Haaretz reports that in one video a Russian-speaking man attacks a couple on the street because the man appears to be foreign.
"I've been so stressed, I can't sleep. I'm constantly anxious if I get a new message, it will be from this group. Overall, it's terrible," she said.
Some Russian media outlets joined in the shaming campaign, with Russian tabloid Moskovskii Komsomolets publishing an article with the headline "The time of whores: Russians in the World Cup disgrace themselves and the country."
There has been some pushback against the trolling. VKontakte told the Associated Press in June that it was removing pages set up to shame local women. The website of the Russian edition of Cosmopolitan published an article hitting out at the misogyny of the harassers.