'Sex with Strangers' Theater Review: Anna Gunn Shines in Laura Eason's Off-Broadway Drama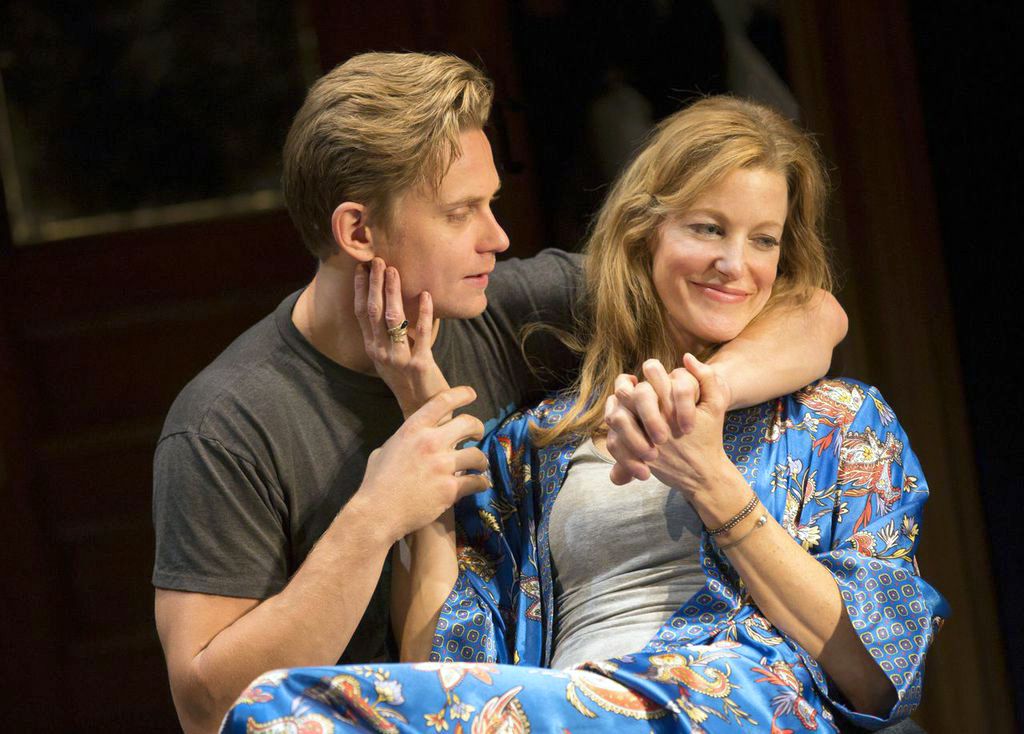 Here's a pop-culture puzzler for Breaking Bad fans: Why would Anna Gunn follow up a starring role on TV's most critically acclaimed drama with a part in an off-Broadway play?
It's a fair question, but one that will completely escape you within 18 minutes of Sex with Strangers, Laura Eason's incisive look at the double-edged quest for artistic validation in the digital era. The nicely paced two-hander opens this week at New York's Second Stage Theatre, arriving by way of the Steppenwolf Theatre Company in Chicago.
Its darkly pixelated undertones are ideal fodder for Gunn, who has been vocal about her uneasy relationship with the disturbing rawness of Internet commentary. Gunn plays Olivia, a brilliant but thin-skinned novelist whose one shot at literary greatness was derailed in the late 1990s when her first book met with less-than-stellar reviews. Olivia is still nursing her wounds, pushing 40 and living in near seclusion as she plods along on a new book she is too gun-shy to show to anyone. She is nostalgic to a fault, lamenting the digital revolution and its corrosive effect on books, CDs and other physical objects—"things that were better," as she puts it.
Olivia is a direct contrast to Ethan Strange (a likable Billy Magnussen), the hyper-connected, Twitter-addicted millennial who tracks her down at a bed and breakfast in rural Michigan after being smitten by her long-forgotten work. Having made a small fortune as a blogger-cum-best-selling-author who crassly chronicled his many hookups in a smut-lit series called Sex with Strangers, Ethan is now looking to be taken seriously as an artist. He is shallow and arrogant, but has something Olivia desperately needs—the courage to put his work online and brave the trolls who patrol the digital abyss. Olivia wants acceptance, but not if it means subjecting her prose to the scrutiny of every grammatically challenged schmo with a smartphone.
It's a skittishness with which Gunn is all too familiar. Last year, the actress penned a moving New York Times op-ed in which she expressed her dismay over the numerous message boards and Facebook pages devoted solely to hating her Breaking Bad character, Skyler White. The venomous comments, Gunn wrote, would be easier to swallow if Internet haters showed the same level of vitriol for complex male anti-heroes as they do for their suffering wives. They don't, of course. Online commentary is especially cruel to women.
Given that, it's easy to see why Gunn responded to Eason's script, which is unflinching in its digs at this persistent unfairness. "Being a woman is always a huge advantage as an artist," Olivia quips sarcastically. That it takes Ethan several long seconds to realize she is being sarcastic reinforces the clueless position from which most male artists enjoy their privilege. Sex with Strangers is at its best when Eason veers into cynical territory, exploring the barriers to entry that foster gender inequality in the arts. Unfortunately, the story emerges from its darker themes too soon, switching gears in an effort to tie up its loose ends. We are left longing for Olivia and Ethan's bitter reckoning, which Eason's writing appears to promise.
The play is enhanced by the very charming performances of its leads. Gunn had plenty of opportunities to showcase her range over five seasons as the conflicted queen of a burgeoning meth empire, but Sex with Strangers gives her a lighter palette. Her Olivia is at once playfully sexual and maddeningly inhibited. She is an apt foil for Ethan, who is dense but curious: He has a vast knowledge of great literary works even if he has never found time to read them. The bouncy man-child is energetically rendered by the Tony-nominated Magnussen.
Briskly directed by Friends alumnus David Schwimmer, Sex with Strangers is a compelling, comic drama about letting go of the past and embracing the future—even if that future is written in pixels instead of on paper. Rarely does a story so deftly encapsulate the divide between Gen-X and Gen-Y, two demographics separated by only a few short years, and an expansive gulf of technical predilections.