Republican Rep. Matt Gaetz, who is under federal investigation for alleged sex trafficking of a 17-year-old girl, is under fire on social media after making fat-phobic and misogynist remarks about abortion rights activists to an audience of college students on Saturday, calling people protesting in support of abortion "disgusting."
"Have you watched these pro-abortion, pro-murder rallies?" the Florida congressman asked the teenagers gathered at the Turning Point USA Student Action Summit in Tampa, Florida.
"The people are just disgusting. Why is it that the women with the least likelihood of getting pregnant are the ones most worried about having abortions? Nobody wants to impregnate you if you look like a thumb," Gaetz commented.
"These people are odious from the inside out. They're like 5′ 2″, 350 pounds, and they're like, 'Give me my abortions or I'll get up and march and protest.' And I'm thinking —march? You look like you got ankles weaker than the legal reasoning behind Roe v. Wade," he said to a cheering crowd.
"A few of them need to get up and march — they need to get up and march for like an hour a day. Swing those arms, get the blood pumpin', maybe mix in a salad," he concluded.
Gaetz' tirade provoked widespread condemnation from critics on social media.
Feminist news website Jezebel called his comments "cartoonishly misogynist."
Journalist Molly Jong-Fast shared a clip from Gaetz' speech on Twitter, pointing at the congressman's words as a definition of misogyny.
Many criticizing the congressman and his comments brought up the scandal Gaetz has been been engulfed in since last year, when The New York Times revealed that he was being investigated by the Justice Department for the alleged sex trafficking of a 17-year-old girl.
The federal investigation into Gaetz was reportedly opened in the final months of the Donald Trump's administration as a result of a previous investigation into a political ally of the Florida congressman, Joel Greenberg, who pleaded guilty to sex trafficking.
Over a year later, investigators are still trying to determine whether Gaetz had sexual relations with an underage girl and paid for her to travel with him across states, considered sex trafficking under federal law.
Only a few details of the investigation have been leaked so far. Gaetz has not been charged with any crime.
The Washington Post reported that Gaetz used to set up dates with women in exchange for dinner or hotel stays, something that could be illegal if there was a clear exchange of money for sex. The newspaper also reported that Greenberg wrote a letter directly accusing Gaetz of paying for sex with women.
The Daily Beast reported that Gaetz transferred money to the equivalent of $900 to Greenberg on Venmo, saying "hit up ___," using a nickname for the 17-year-old.
Gaetz has always denied the accusation, once saying that the last time he had sex with a 17-year-old was when he was 17.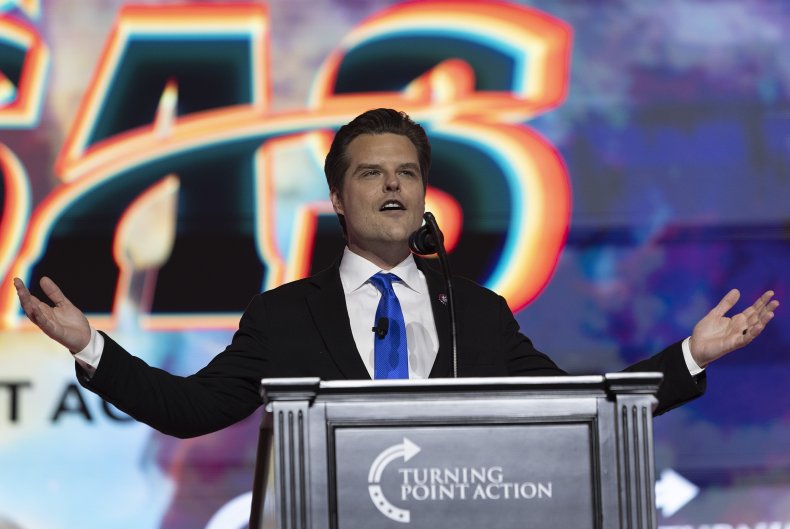 Gaetz' critics on social media brought up the allegations that are being investigated against the congressman in scathing responses to his comments in Tampa.
"Says the guy whose wingman Joel Greenberg is currently cooperating with the feds," said one, commenting on the video shared by Jong-Fast.
Others referred to Gaetz' alleged Venmo payments.
Gaetz's comment were incendiary in the context of recent events in the U.S., where a 10-year-old rape victim was refused an abortion in her own state and had to travel to another to receive the procedure.
Some critics also commented on the way Gaetz's words echoed the same logic stated by Trump in denying sexual assault allegation brought forward by writer E. Jean Carroll, when in an interview with The Hill he said she wasn't "his type."
"Matt Gaetz thinks women who support abortion rights are too ugly to need them. Trump says he couldn't have raped his victims cuz they weren't his type. Republicans believe the rape of a 10-yr-old is an "opportunity".
"Ladies, they hate us because they fear us," wrote a Twitter user in response to Gaetz' comment on the platform.
Responding to a request for comment by Newsweek on his comments at the Tampa event, a spokesperson for Gaetz said: "Congressman Gaetz's remarks at TPUSA's SAS this weekend speak for itself."
Update, 7/27/22 3:00 a.m. ET: This article has been updated to include Matt Gaetz's comment.