Sexist Attacks on Ocasio-Cortez Slammed by MSNBC Guest and Former Rand Paul Aide: 'It's Been Disgusting'
A former top Rand Paul aide blasted sexist attacks on new U.S. Representative–elect Alexandria Ocasio-Cortez while speaking on MSNBC.
Elise Jordan, a political analyst for the network, harshly rebuked the ways conservatives have criticized the incoming New York congresswoman. Commentators have joked about the Democrat's claims that she would have trouble affording an apartment in Washington, D.C., before her term starts in January.
Washington Examiner journalist Eddie Scarry posted an image of Ocasio-Cortez Thursday with the caption "Hill staffer sent me this pic of Ocasio-Cortez they took just now. I'll tell you something: that jacket and coat don't look like a girl who struggles."
"It's been disgusting to watch any of Alexandria Ocasio-Cortez's moves be discussed," Jordan said. "If she is stylish, if she is saying, 'I don't have the savings where I can just plunk down for an apartment in D.C.'"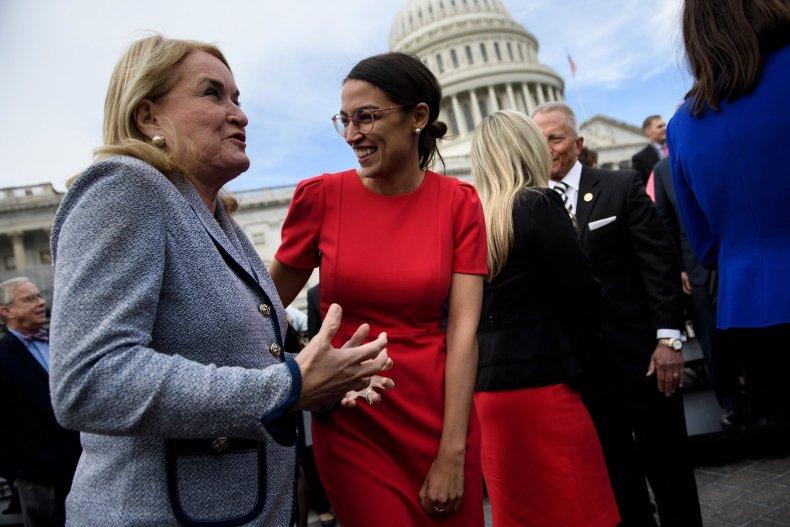 "All the struggles that someone in their late 20s who hasn't been working at an investment bank might have heading into a job in Washington. And quite frankly, she's really relatable. I relate to the bargain shopping and trying to look good when you're in D.C. and not making a great salary," Jordan continued. "And I love her social media and love how excited she is to be going to Washington. And all of these people just trying to rain on the parade, it is so obvious, just their jealousy and how threatened they are by her."
Vanity Fair special correspondent Bill Cohan, who was also speaking with MSNBC anchor Stephanie Ruhle in the discussion, joined the criticism.
"Clothes shaming, unacceptable. Fat shaming, unacceptable," Cohan said. "Donald Trump is creating an environment in this country where this kind of behavior is acceptable, and it's not.... It's uncivilized. It's not who we are. It's not who we want to be. It's not who we aspire to be. It's not right."
He said that if he were part of management at the Washington Examiner, he would fire Scarry, who later deleted the tweet and posted that the initial comment was misinterpreted.
Jordan also criticized Scarry's reaction to the negative feedback. "It's annoying for him to say what he tweeted was misconstrued. And trying the dog whistle of class and of misogyny... and then to act like it's everyone else's fault for reading in," she said.
Ruhle also had admonishing comments for Scarry. "Everyone wants to look their best and dress their best," she said. "Maybe she just wants to look nice that day. Would you like us to criticize what you look like?"
The anchor noted she had criticized people attacking Melania Trump for her attire and later said "don't you go talking about what she looks like and how she's dressed. Not your business, not what you were hired to discuss."
Ocasio-Cortez, the youngest woman ever elected to Congress, said she has experienced racism and sexism in the nation's capital.
She detailed being directed to an event for spouses of elected Democrats and being stopped by someone who thought she was an intern or staff member.
"Next time try believing women + people of color when they talk about their experiences being a woman or person of color," she wrote on Twitter.