Is 'Sex/Life' on Netflix Based on a True Story?
Sex/Life on Netflix follows the story of Billie Connelly (played by Sarah Shahi), a suburban stay-at-home mother and wife who finds herself questioning herself, her marriage, and her past relationships. When Billie begins to embrace her fantasies and her ex-boyfriend Brad (Adam Demos) makes an unexpected reappearance in her life, her world is turned upside down.
Across Sex/Life's eight episodes, viewers are hooked on Billie's journey of self re-discovery. On the one hand, she has her safe, secure, and love-filled marriage to her straight-laced husband Cooper (Mike Vogel) and on the other, she has the thrill and chemistry with ex-boyfriend Brad.
The series was created by UnREAL's Stacy Rukeyser for Netflix and was inspired by the novel 44 Chapters About 4 Men by BB Easton.
The original source material is Easton's true story, who began journaling her sexual fantasies after her sex life with her husband became non-existent.
Like Billie, Easton also felt stuck in her cozy suburban world as a married mother-of-two and school psychologist.
But unlike Billie, Easton deliberately left her journal out so her husband could read it and learn what she really wanted from their marriage.
Speaking to The Sun, Easton shared: "I had been married for eight years. I had two very small kids. I had a super-stressful job at the time. My husband had a career as well, and our relationship was just completely put on the backburner."
Easton recounts her wild encounters with her four major loves before meeting her husband Ken, describing them as a "tattoo artist turned U.S. Marine turned motorcycle club outlaw, a baby-faced punk rocker out on parole, and a heavy-metal bass player."
She also remembers their wild sexual encounters, from sex in the swimming pool to getting intimate with a rocker at a concert.
Speaking to Oprah Daily, Easton reflected on her decision to write her deepest darkest fantasies down for her husband to read.
She joked: "I do not recommend leaving [your journals] out for your husband to find. If you're trying to alter your husband's behaviour, maybe just try having a conversation. If I had a time machine, I might just try that instead."
Although Sex/Life is based on a true story, there is one huge significant difference between Easton and Billie.
In Sex/Life, Billie rekindles her romance with one of her ex-boyfriends, Brad, but Easton never reached out to any of former flames.
In her book, Easton also states her husband "upped his f****** game" after reading her memoir, whereas Billie and Cooper's relationship crumbles.
Easton shared the decision for Billie to meet Brad made complete sense for the story.
She explained: "It's the same undertone of the book. Is there something better? Does it get better than this? She's exploring the same question...it ramps up the drama."
Following the success of 44 Chapters about 4 Men, Easton has written four spin-off novels about each of the four men: Skin, Speed, Star, and Suit.
Easton is still married to her husband Ken. The couple have been together for over 10 years and have two children together.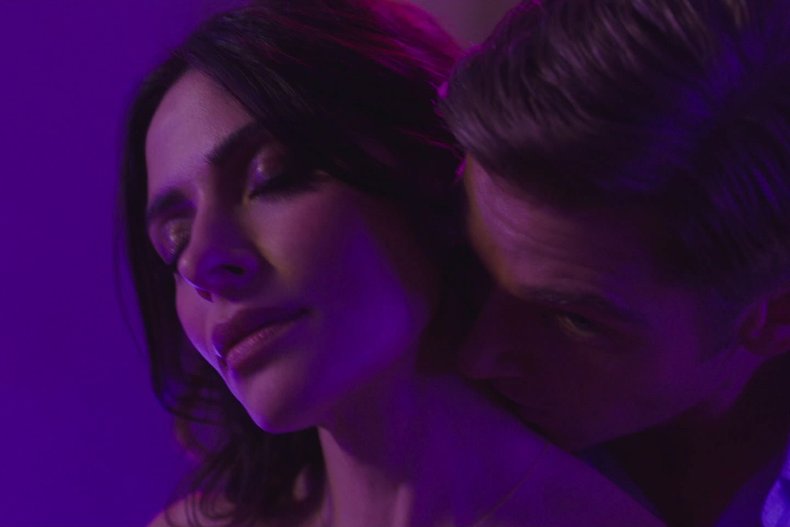 Speaking to Forbes, showrunner and series creator Stacy Rukeyser said she was inspired to adapt Easton's book due to the strong sense of female empowerment it preached.
She told Elle: "I connected very much with the basic idea of a wife and mother who misses her single days and can't help but wonder where that girl went.
"It was exciting for me to create a show that has this nostalgic version of the female sexual experience. I wanted to touch on the story of this woman remembering the best sex she's ever had, which is so fun, but I wanted to do it in a way that was really empowering.
"This show isn't framed around the kind of sex a man may like and whether or not a woman will agree to it. This is about her experience and she's not objectified."
Sex/Life is streaming on Netflix now.