Sexonomics: Is Prostitution a Personal Choice?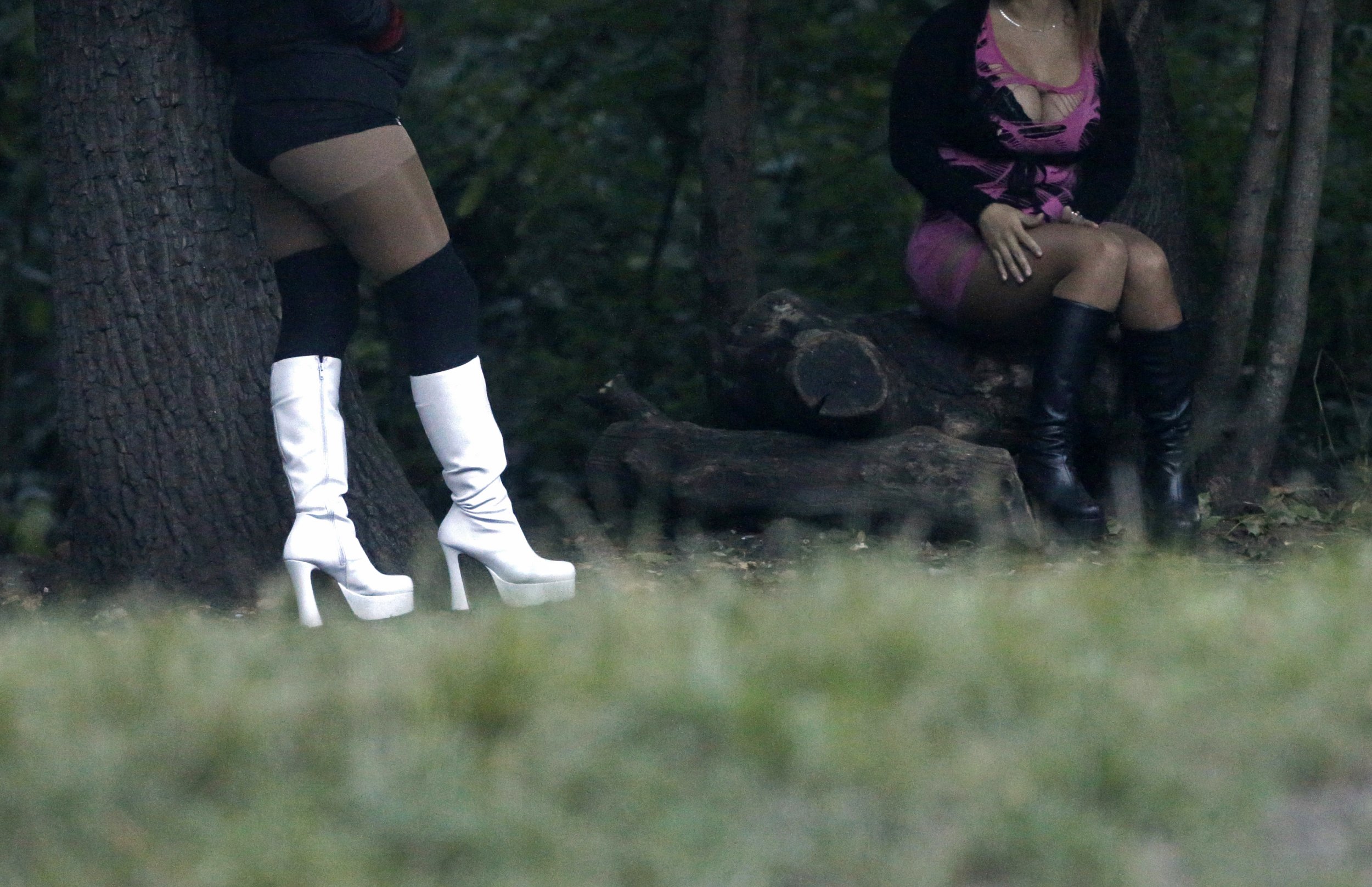 In an editorial entitled "Prostitution: A Personal Choice," the Economist comes out hard against banning prostitution this week, questioning whether the dangers of sex-trafficking and violence against women have been overplayed in light of the rising number of sex workers freely plying their trade online.
"This newspaper has never found it plausible that all prostitutes are victims," the editorial stated. "That fiction is becoming harder to sustain as much of the buying and selling of sex moves online. Personal websites mean prostitutes can market themselves and build their brands. Review sites bring trustworthy customer feedback to the commercial sex trade for the first time. The shift makes it look more and more like a normal service industry."
An accompanying lead story in the Economist (its cover featuring a slender woman in a red dress, sauntering away from a severed ball and chain) entitled "More Bang for Your Buck," also portrays the oldest trade as a normal service industry, suggesting that risks to sex workers have been greatly reduced by the advent of the Internet. These days, it says, websites and apps allow "information to flow between buyer and seller," letting each frankly discuss the other on review pages, so as to boost chances of striking what the Economist dubs "mutually satisfactory deals."
Variously referencing female sex workers as "blonde bombshells," kerb-crawlers," "street-walkers" and "leggy senoritas," the magazine makes the case that a woman's choice should be respected. With the Internet now "making the buying and selling of sex easier and safer" governments still outlawing the practice "should stop trying to ban it," it says.
Under a subsection entitled "The invisible hand job," the Economist editorial notes that although the market-making power of "pimps and madams" is being undermined by the Internet, "everyone else should cheer; sex arranged online and sold from an apartment or hotel room is less bothersome for third parties."
Who are the Economist's third parties? In this case, its readership – 87 percent male, with the same percentage of readers reporting that they use the Internet to do business, according to the publication's 2013 demographics survey, the most recent available. The median age of the publication's readers is 47 years. Its average reader has a household net worth of $1.688 million. In other words, they are the 1 percent and, as the Economist readily acknowledges, prostitution is primarily a "luxury" market.
Focusing on data culled from 190,000 profiles of sex workers – the Economist examined only the market for women – from 84 cities in 12 countries on an international web site that is unnamed (because it's active in the U.S. where prostitution is illegal except in Nevada), the publication does not examine why women might turn to prostitution or how many sex workers may be online against their will, instead delving into detailed data and graphics on what's available from female sex workers and at what price.
"Clients can browse by age, bust or dress size, ethnicity, sexual orientation or location," it says, touting apps like Peppr (for finding sex workers in Germany, where prostitution is legal) to sites like PunterNet (for clients in England, where brothels are illegal, but prostitution is not).
In a graph entitled "Going Down," the Economist found that the average rate of a sex worker is on the wane, with global prices dropping from just below $350 to just above $250 an hour – with the nadir between 2012 and 2013, mostly due to the vestigial pangs of the financial crisis.
The Economist also highlights the average hourly mark-up for, among other things, two women together, the servicing of multiple men and a wide range of other sexual offerings that fall under what the magazine calls "extra services" – including, most innocently, kissing.
The greatest detail is reserved for how a woman's appearance may allow her to fetch as much as nearly $100 an hour more for her services than other less-attractive competitors.
"Hair that is bleached too unconvincingly to be described as blonde attracts a lower premium," the Economist notes, while "for those not naturally well-endowed, breast implants may make economic sense: going from flat-chested to a D-cup increases hourly rates approximately $40, meaning that at a typical price of $3,700 surgery could pay for itself after around 90 hours."
As the editorial states, "Some prostitutes do indeed suffer from trafficking, exploitation or violence; their abusers ought to end up in jail for their crimes. But for many, both male and female, sex is just that: work."
Left unexamined is how the advertising of these sexual services—whether online, in newspapers or in what the Economist calls "phone-box tart cards"—is not always what it seems to be.
"For those seeking commercial sex" an app or a website "makes life easy," the Economist says. It also makes life easy for sex-traffickers who force sex workers, against their will, into a life of prostitution and misery. Nicholas Kristof, a New York Times columnist , campaigned in 2012 against Village Voice Media's Backpage.com web site, charging it as "the biggest forum for sex-trafficking of under-age girls in the United States." Village Voice denied this, but the ensuing scandal led Goldman Sachs to sell its $30 million investment in the media company (roughly the equivalent of a 16 percent stake).
While some online ads represent a sex worker acting of his or her own free will (about one-fifth of commercial sex workers are male, the Economist estimates), some do not – and there is little way to tell one from another. It is unclear whether the Internet does not multiply as many dangers as it mitigates.
Both the Economist's cover story and the editorial refer to the dangers of sex-trafficking and violence against sex workers – particularly women – but there are no numbers or research provided as to how this could extend to the Internet. Sex workers posting online profiles, the Economist says, often do so under pseudonyms and the value of the market itself, despite voluminous data available on hair color and breast size, remains murky. (While the Economist estimates the market for sex workers in the U.S. is around $14 billion nationwide annually, it states that it only had older figures to work with. Despite the heightened transparency, it appears newer ones are harder to come by.)
The lead writer of the Economist story, Home Affairs correspondent Josie Delap (who also wrote the editorial with Helen Joyce, the international editor) tells Newsweek that the article sought to shine light on an underappreciated part of the sex industry – off the streets and online, where empowered women sell sex voluntarily. "There is a large group of people who just see this as work and we wanted our readers to understand that better, not to simply see it as an abusive, exploitative activity," she says.
Further exploration into whether the Internet is leading to an increase or decrease in sex-trafficking and violence against sex workers was not the point of the piece, she says. "The Economist takes seriously issues of violence and sex-trafficking. But there are a lot of excellent organizations already looking at that."
Most of the women interviewed for the Economist piece were from the U.S. and U.K., Delap says, and had a variety of reasons for turning to sex work, including higher pay, flexible hours and that "it was work they enjoyed."
To be sure, in both the U.S. and U.K., prostitution offers far better pay and more flexible hours than most other jobs – especially for mothers and, in particular, single mothers struggling to make ends meet. Delap said she did not know how many female sex workers might fall into this category, as her statistical sample did not offer that type of data.
Comments from female sex workers in the Economist cover story indicate their reasons for turning to prostitution had less to do with work preference and more to do with financial need. One woman quoted in the story (which did not use women's real names) called "Melanie" said she was considering selling sex on the side for a few months to pay off debts. Another woman named "Sarah" said her escort work meant she could pay for her daughter's dance and music lessons, which would have been unaffordable on just her "civvy job."
None of the women in the piece described enjoying sex work over other work with good pay and flexible hours. While the Economist explained that the financial downturn that came with the credit crisis meant women were being paid less for sex work on a global scale than in the past, comparisons were not made to what their average wage would be if they turned to non-sex work in the cities where they offered sex.
In an audio interview featured alongside the cover story, a 26-year-old woman sex worker named "Lilly" told the Economist she favored the full decriminalization of prostitution, as it would be safer if she could practice in groups and legally in Britain (more than one prostitute practicing in a single location violates the no-brothel law in the U.K.). She said that the job exposed her to "violence disproportionately," but that "it was the best available job option for me" and that she "didn't want to struggle to make ends meet."
Delap says that the growing momentum to criminalize the buying of sex in some European countries and to offer psychological treatment to those selling sex—a model popularized by Sweden—inspired the Economist to take a stand this week.
The Swedish iteration of criminalized prostitution is one of "radical feminism," that it views the buying of sex as a form of "violence against women," Alex Bryce, who represents National Ugly Mugs, a scheme that allows prostitutes to report violence, told the Economist. "The ideal framework," he says, is for prostitutes to get "regular workers' rights."