Sexsomnia or 'Sleep Sex' Explained by Psychiatrists
At a conference of the American College of Chest Physicians in 2021, two researchers presented an unusual case: a 28-year-old newlywed man had sought help after experiencing abnormal behavior while sleeping. The man had been fondling his wife and attempting to have sex with her—all without waking up.
The man was experiencing sexsomnia, a rare type of parasomnia (sleep disorder) in which a sleeping person engages in sexual activities. According to research published in the journal Sleep Science in 2021, the first officially recorded case was in Singapore in 1986, when a man told his doctor he had begun masturbating in his sleep every night.
In 2017, a paper in the Journal of Clinical Sleep Medicine described the case of a 37-year-old man whose wife told doctors that they had been having sex while he was asleep most nights for about 13 years. The man had no recollection of this and refused to believe his wife until he was shown evidence by a doctor.
Although the condition has been predominantly reported in men, women can also be affected. One recent case involved a 42-year-old woman, whose husband asked her to seek help because she was frequently fondling him, masturbating and saying other people's names—while fast asleep.
So, what is sexsomnia and how is it treated? Newsweek spoke to two doctors to find out more.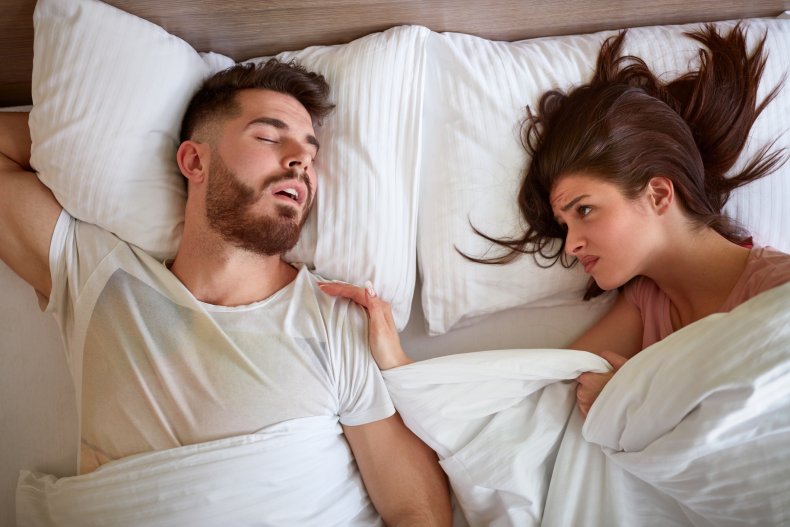 What Is Sexsomnia?
Sexsomnia means sexual behavior during sleep. Dr. Brian Holoyda, a forensic psychiatrist, told Newsweek that it is one of a number of non-rapid eye movement parasomnias. These NREM sleep disturbances are physical or verbal in nature.
"In typical NREM, a person experiences slowed heartbeat and breathing and reduced muscle activity," he said. "People with disorders of arousal, however, have inappropriate arousal and can engage in physical activities, such as sex, during NREM."
Other NREM parasomnias include:
Sleep talking
Sleepwalking (somnambulism)
Sleep eating
The other part of the sleep cycle is REM, during which people usually have dreams. REM parasomnias include nightmare disorder, recurrent isolated sleep paralysis and REM sleep behavior disorder.
The term sexsomnia was coined in 2003 and people with the condition have been known to engage in sexual activities including:
Masturbation
Spontaneous orgasms
Sexual vocalizations
Fondling a bed partner
Oral sex
Vaginal or anal intercourse
Sexsomnia episodes tend to start abruptly and last less than half an hour. They are often described by the patient's partner as "more direct, more aggressive, less inhibited, less focused on the partner, and sometimes atypical for the individual."
Dr. Daniel Block, a clinical psychiatrist based in West Grove, Pennsylvania, told Newsweek the patient's eyes could be "open during the act but there is amnesia for the event upon awakening to full consciousness. If the person's eyes are open, they are usually glassy and have a faraway look."
What Causes Sexsomnia?
Sexsomnia is typically linked to issues such as sleep deprivation or irregular sleep patterns, alcohol or drug use, increased stress or anxiety, medication use, and fatigue, according to Block.
It may also be associated with other conditions such as:
Obstructive sleep apnea
Problems that can cause disinhibition, such as head injuries
Gastroesophageal reflux disease
Migraines
Sleep-related epilepsy
Kleine-Levin syndrome (a need for excessive amounts of sleep)
Restless leg syndrome
Narcolepsy
Sleep-related dissociative disorders
Nocturnal psychotic disorders
Bruxism (teeth grinding)
However, Holoyda points out that our understanding of its root causes is limited. "Like other complex neurologic conditions, it is likely in part heritable."
How to Know If You Have Sexsomnia
If you sleep alone, you may learn you have the disorder by waking up to evidence of an orgasm. Those who share a bed will most likely be alerted by their partner.
"Almost invariably, it will be a bed partner who first reports the behavior," said Block. "Sometimes the bed partner may resort to recording a video to be able to convince the person that it happened."
How to Treat and Stop Sexsomnia
If you suspect you have sexsomnia, Holoyda recommends consulting a physician who specializes in sleep. Assessment might include a neurologic evaluation, a psychiatric evaluation, and/or a sleep study, for which you may be referred to a sleep lab.
Treatment can involve medication such as clonazepam, which is a benzodiazepine, but it doesn't necessarily have to, according to Block.
"An individual should engage in sleep hygiene measures, manage stress, optimize the sleep environment, and avoid known triggers for parasomnias like alcohol, drugs, and shift work," he said.
"If the person's sexual acts are unwanted or pose a risk for violence, the person should make efforts to reduce the risk of harm to others—for example, by sleeping in a separate bed or different room or installing a lock on the bedroom door that cannot be manipulated during sleep."