Sexting Scandal in North Carolina May Help Republicans Hold on to Senate
The sexting scandal that has plagued North Carolina Democratic Senate candidate Cal Cunningham's campaign could help Republicans hold on to the legislative chamber this November in a brutally competitive race with 35 seats up for election.
North Carolina Democratic Senate candidate Cal Cunningham, a married father of two, has admitted to sending romantic text messages to Arlene Guzman Todd, a former female staffer who is not his wife. With the scandal emerging one month before Election Day, Cunningham, who's taking on first-term Republican Senator Thom Tillis, has declined to drop out of the race.
"It's chaos—it's really what I see it is," said David McLennan, a Meredith College political science professor, according to the Associated Press.
Tillis holds one of the ten seats most likely to flip in the partisan battle for Senate control on November 3. Democrats are on the offensive this year—a different landscape from the 2018 midterms—with the party having to defend just 12 seats compared to the GOP's 23.
If Democratic nominee Joe Biden wins against President Donald Trump, Democrats only need a net gain of three seats to win control. The party will need four if Trump wins his reelection bid.
Longtime Republican consultant Carter Wrenn thinks Cunningham has more to lose than Tillis.
"Tillis is a management problem," he said. "Cunningham is a character problem."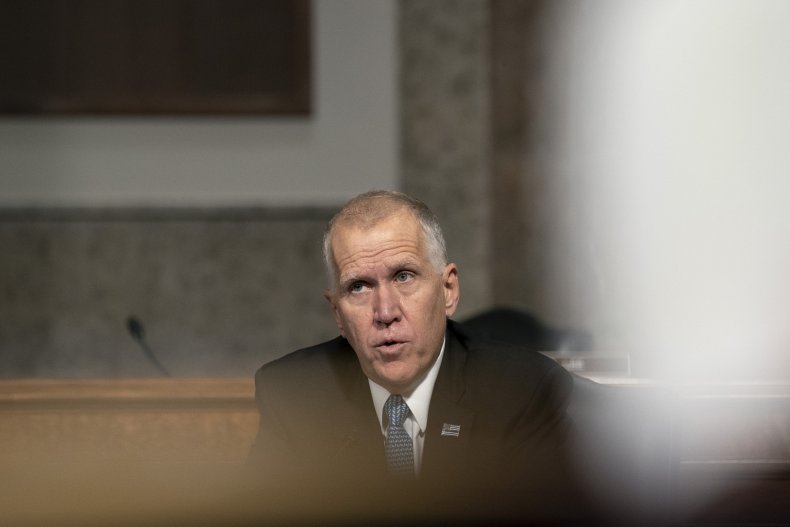 On Saturday, Tillis remained quarantined in his Huntersville home after testing positive for the coronavirus the previous evening. Cunningham, who debated the Republican on Thursday, has since tested negative. Their tight race could determine whether Democrats gain control of the chamber in January—and Cunningham has been leading in most recent polls.
As Tillis announced his COVID infection, Cunningham also faced a challenge that could upend his campaign. On Friday night, Cunningham confirmed the authenticity of the sexual text messages, first reported by NationalFile.com. "Would make my day to roll over and kiss you about now," one of the messages read.
With just one month until Election Day, Democratic Senatorial Campaign Committee has decided to stand by the candidate. "North Carolinians are supporting Cal because he will protect health care coverage for preexisting conditions, fight to bring down the costs of prescription drugs, and help our country recover from this crisis," said a spokesperson for the group.
The Tillis-Cunningham contest is this year's most expensive Senate race, with almost $146 million spent in ads so far. Ahead of their debate on Thursday, Cunningham announced a record $28.3 million intake for the third quarter of 2020, topping his Republican opponent.
Tillis has also struggled to unite Trump's base around him. The president's campaign has maintained a strong presence in North Carolina, but it's unclear whether Tillis would benefit from his divisive rhetoric or lose educated and suburban voters.
Cunningham holds an average lead of 6 points over Tillis, according to recent polling data maintained by Real Clear Politics. But Republicans believe the recent Supreme Court nomination of Judge Amy Coney Barrett and tense battle over her confirmation has narrowed the two candidates' polling gap.
Cunningham faces a tough challenge even as his opponent is unable to campaign for at least two weeks. Extramarital affairs are prohibited under military rules. The Democrat—a lieutenant colonel in the Army Reserve who currently serves in the Judge Advocate General Corps—could face charges under the Uniform Code of Military Justice (UCMJ) if it is determined that the texts were exchanged "on active duty."
Newsweek reached out to a representative for Tillis and Cunningham's campaign for comment.
Seven other Republican senators and two Democrats are currently campaigning to hold onto their seats in areas most likely to flip this year.
Democratic Senators Doug Jones of Alabama and Gary Peters of Michigan hold the most vulnerable seats in the party. On the GOP side, Senators Cory Gardner of Colorado, Martha McSally of Arizona, Susan Collins of Maine, Joni Ernst or Iowa, Steve Daines of Montana, David Perdue of Georgia, and Lindsey Graham of South Carolina.