'Sextortion' Scams on the Rise in Europe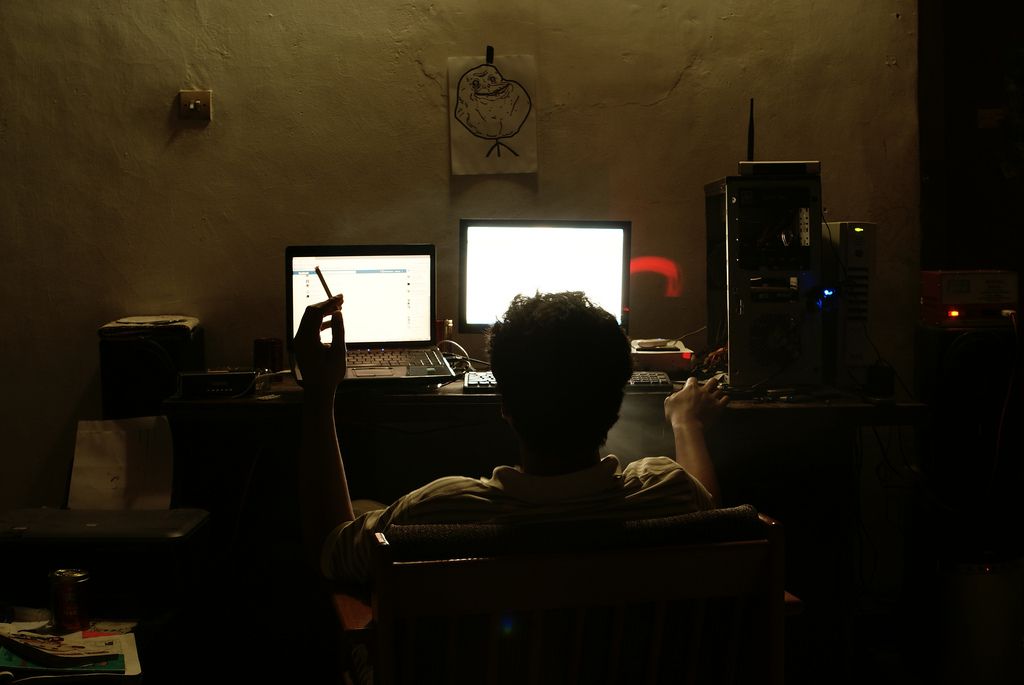 Experts and police are warning that so-called "sextortion" scams, whereby a scammer will dupe a victim into stripping and performing sex acts online before demanding a sum of money or threatening to release the footage, are increasing across Europe.
The latest warning comes from the Austrian police, who recently announced an increase in the number of victims, mostly young men, filing complaints.
The scams usually involve a victim being contacted on Facebook by an unknown, attractive woman, who will suggest a video chat. In most cases the woman is naked and persuades the man to undress and perform a sex act. The victim is then told to pay a sum of money or risk having the footage distributed online.
"The reason for the increase in this type of crime is probably due to the rapid increase in use of the internet; more internet portals, apps, partner and dating services and web services which are being used," explains Mario Hejl, of the Austrian Criminal Intelligence Service.
While Hejl explains that exact numbers for this type of crime are not currently available because the crime is not filtered separately in Austrian criminal statistics, it is assumed by the police that the crimes in Austria are now in the "high double-digit range" and that the numbers continue to grow each year.
A few hundred euros is typically demanded from victims, and most of the criminals behind the scams operate from outside Austria. "In a number of cases, a referral of around €200-€300, mainly via Western Union, is required to recipients in North African countries," Hejl says.
Earlier this month a 20-year-old man from Austria was told to pay €3,000 or risk an intimate video going public. He refused, and alerted the police.
According to Austrian intelligence, this form of cybercrime is on the rise across Europe, a phenomena Wayne May, founder of the UK website and support group Scam Survivors which aims to track down scammers as well as offering advice to victims, is familiar with.
May says that the number of people in the UK contacting his website has "exploded" with around 5,000 cases being handled in total in the past three years. Pages on the website designed to offer advice and support to victims have been viewed 1.8m times in the last three years, and the number of those filling out the website's online forms asking for help have risen from three people filling out the form per day three years ago, to 25-30 filling it out per day this year.
May is unsure whether this increase is because sextortion scams are on the increase, or whether his website has become easier to find as its profile grows. But he says the impact on the victim of these crimes can be catastrophic. "We usually have a few cases per week where a victim will tell us they want to kill themselves after becoming a target of this sort of online crime", he says. In 2013, a Scottish teenager, Daniel Perry, took his life by jumping off the Forth Road Bridge, after a Skype conversation he had with someone he believed to be a teenage girl, later turned out to be a scam.
In May's experience, usually a scammer will have obtained illegal footage of a woman undressing, which will be presented to boys in their late teens, making them believe the encounter is genuine, and encouraging them to strip and masturbate, before an online message will demand a sum of money. The demands can be intimidating, "The scammer will say: 'I'm going to ruin your life, I'm going to tell your whole family'", says May.
Typically, these sums of money can range from anything from £50 to £5,000, although May says he has seen far higher sums demanded by gangs, particularly from the Ivory Coast. He also says that most of the scammers are mainly part of criminal gangs operating from the Philippines or Morocco and target around 30-40 people per day.
Another version of the scam that May says is growing in popularity involves scammers pretending to be modelling agencies, who target young teenage girls. The girls are told to partake in an audition via Skype, to prove they are comfortable changing in and out of outfits. The scammer will then either demand more videos, or a sum of money.
Sextortion crimes form part of a wider trend of cyber crime involving ransoms which law enforcement agencies like Europol are increasingly concerned about. These well-documented crimes involve victims unwittingly downloading 'ransomware', which acts as a virus to encrypt a person's data, effectively blocking them from being able to access any of their files and photos. The hacker then offers a secret code to un-encrypt the data in exchange for money.
Brian Honan, an expert in the field of information security and special advisor on internet security to Europol, says that sextortion crimes tend to be carried out by a combination of amateur individuals sometimes known to the victim, or more sophisticated gangs. He has even come across cases where criminals will hack into a person's computer in order to remotely control their webcam and taking pictures of people in a state of undress in their bedroom, before threatening to release the photographs online. This is usually carried out by amateur individuals who may already know their victim in some capacity.
Security expert Professor Alan Woodward explains that just a few years ago, online ransoms were very simple. "Rudimentary messages purporting to be from a law enforcement agency would appear on screen informing someone that they had committed some terrible crime," he says. "Then it got more sophisticated as scammers detected where a person was, so that the scam appeared even more believeable. Now more and more people are falling for it."
"All sorts of online extortion is going on," he continues. "More and more people are building up relations online with people who they think they know. Sometimes these can be very intense relationships, but then they get blackmailed. We all trust people by default."
Experts also warn that the problem is notoriously underreported because it's a sex crime, and victims often pay the money to make the problem disappear. Increasingly criminals are making use of virtual currency like Bitcoin, Dark Wallet or Dark Coin, which act as online cash and are practically untraceable to the authorities.
"Victims think they can make the problem go away," says Woodward. "But the problem with extortionists is that they don't go away. It's like a game of whack-a-mole."