Sexual Assaults on Cruise Ships up by 67 Percent This Summer, Vast Majority Involved Passengers
Cruise liners saw a major rise in crime this past summer, including a surge in allegations of sexual assault, which was the most frequently reported crime.
According to the U.S. Department of Transportation's Cruise Line Incident Report for July 1 to September 30, cruise liners saw at least 35 sexual assault incidents reported during the short summer period.
Of the 35 reported incidents, 27 involved passengers, while five involved crew members and three involved "others," with the department not specifying on who those "others" might be.
According to the report, the majority of the alleged incidents were reported to have taken place on Carnival Cruise Lines, with the company seeing 20 allegations of sexual assault on its cruises. Meanwhile, Royal Caribbean cruise ships saw at least eight reports. Newsweek has contacted both companies for comment.
The number of allegations made in 2019 marks a significant rise from recent years, with the department noting 16 reports made within the same time period in 2016. During that time, Carnival Cruise Lines still saw the highest number of reports, with 12.
There were 23 reports of sexual assault made between July 1 and September 30 of 2017, while in 2018 there were 21 reports. In each of those years, Carnival Cruise Lines again saw the highest number of reported incidents.
The Department of Transportation's report also highlights a surge in other crimes, including two reported disappearances and five incidents of theft valued at $10,000 or more.
Cruise liners also saw two reports of incidents of assault with serious bodily harm, as well as two other alleged incidents of "firing or tampering with vessel."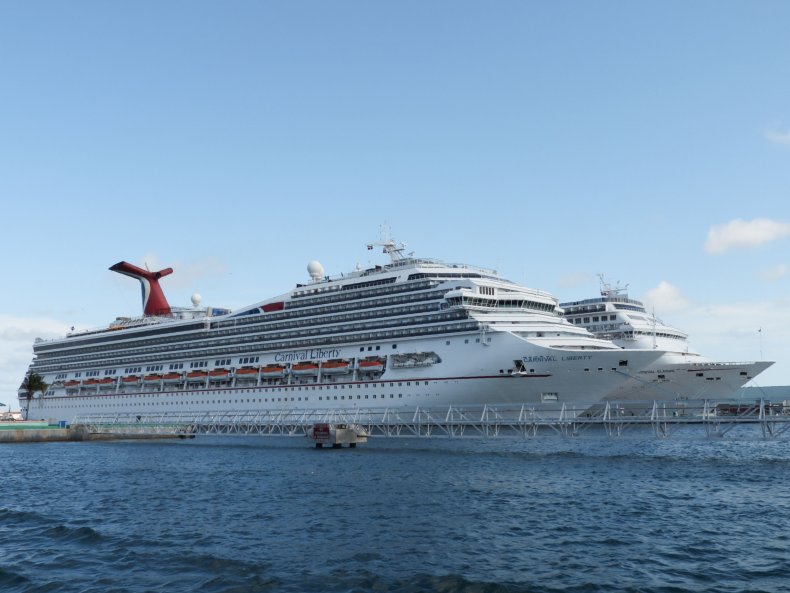 The department's alarming report comes as Oregon Rep. Peter DeFazio, a Democrat, works to push legislation aimed at addressing sexual assault and harassment within the travel industry, including on cruise liners and airlines.
The Stop Sexual Assault and Harassment in Transportation Act would see travel companies and carriers required to establish clear policies and reporting processes for alleged incidents. It would also ensure that the Department of Transportation makes information on alleged incidents publicly available.
"In transportation, the number one priority is safety," DeFazio said in a statement released upon introducing his bill. "That means not only getting the traveling public to their destination safely, but also ensuring their safety throughout the trip.
"Unfortunately, sexual assault and harassment occurs all too often to the employees of transportation providers and individuals who are traveling, and more must be done to protect them," the Oregon representative said. "I introduced legislation to require transportation providers to develop formal policies to help prevent sexual harassment and assault and help law enforcement hold those who perpetrate these egregious acts accountable."
Congress passed the Cruise Vessel Security and Safety Act of 2010 in a bid to address concerns around safety on cruise ships. That bill sought to enforce sexual violence prevention, while also ensuring that passengers can report incidents promptly and receive medical attention. DeFazio's bill seeks to strengthen those efforts.
This article has been updated with a past statement from Oregon Representative Peter DeFazio.