Men Must Speak Out Against Sexism and Misogyny in Hip Hop and Hollywood, Says Rapper Eve
For many within Hollywood, the recent avalanche of sexual harassment allegations—sparked by the litany of claims against movie producer Harvey Weinstein—have not come as a surprise.
Among them, Grammy-award-winning rapper and actress Eve, who cut her teeth in the hip hop industry, a scene that has long been accused of sexism, misogyny and even promoting violence against women. She later branched out into Hollywood, starring in several films, including XXX and the Barbershop trilogy, and starring in her own eponymous sitcom.
Eve hopes that the recent deluge of revelations will mark a turning point in the film and music industries. "100 percent," the 38-year-old artist tells Newsweek on the sidelines of the Global Citizen Forum in Montenegro. "I really do hope that this coming out stops—or at least makes people think—before they try to do something."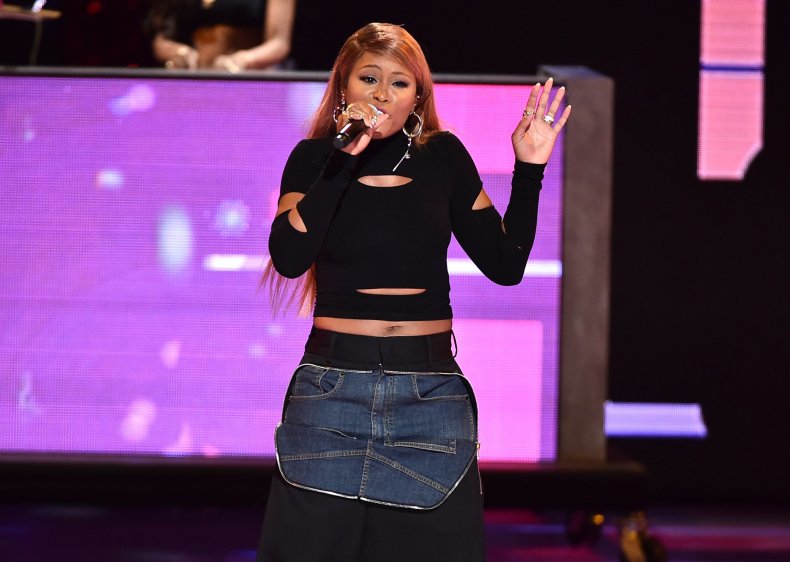 While Eve has never been inappropriately touched, she says that there are times when she has been "tested" or feared that something could happen.
"I started in hip hop, [a] male-dominated business. I definitely got tested, I definitely—you know I've been lucky enough not to ever be touched... but I've definitely been put in positions where I felt like I had to defend myself or was scared that, 'Oh God, what if something could happen.'"
Solving the problem, she says, is not only about women finding their voice but about male figures in Hollywood calling out their colleagues and peers on inappropriate behavior. "I think that it takes women speaking up—completely, we need to keep putting our voice out there—and it takes men of good substance to stop those types of men doing things," she says.
"I think that they should be saying, 'Listen, dude, that shit's terrible, what the fuck are you doing?'"
Read more: Sexual harassment—How come Weinstein fell but Trump prospered?
Despite her forays into movies, television and fashion, Eve is perhaps still best known for her early career successes as a part of a generation of mould-shattering female rappers. She broke through with her 1999 debut album Let There Be Eve...Ruff Ryders' First Lady, which became only the third album by a female hip hop artist to top the Billboard 200 albums chart, behind records by Lauryn Hill and Foxy Brown.
Eve then cemented her reputation with Scorpion, her 2001 follow-up album. The record featured some of Eve's biggest hits—including "Who's That Girl" as well as "Let Me Blow Ya Mind," a collaboration with Gwen Stefani that won the 2002 Grammy for Best Rap/Sung Collaboration—and was certified platinum within three months, selling over one million copies.
But notwithstanding the success of Eve and others like her, the hip hop industry has often been a difficult—if not dangerous—business for women.
Male artists including Dr. Dre and Chris Brown have admitted and—in the case of Brown—been convicted of violence towards women, while rap lyrics routinely use words like "bitches," "hoes," and other derogatory terms. Many male rappers have explicitly referred to rape or sexual assault in their songs.
Meanwhile, individual success has often been hard to come by for women: Cardi B's recent hit "Bodak Yellow" represents the first time a solo female rapper has topped the Billboard 100 singles chart since Lauryn Hill's "Doo Wop (That Thing)" in 1998.
Eve says that misogyny in hip hop is "way more than it's ever been now" but says that both male and female artists have a responsibility to change the culture.
"You teach people how to treat you, right, and I think that there are a lot of women at the moment—because of social media, because of what is deemed as how to be famous or popular, whatever—there is an oversaturation of kinds of just putting yourself out there—and I mean out there —and all of that is fine if that's who you want to be, but you have to have substance," she says.
"I grew up in hip hop so I've seen how girls can be. I've seen it and I get it... Guys shouldn't be rapping about it, guys shouldn't be calling girls bitches, sluts—that should not be done, I do not condone it at all, but it needs to be a bigger change."
Newsweek traveled to Montenegro courtesy of the Global Citizen Forum.