Men in College Are Less Likely to Consider Jokes About a Co-Worker's Sex Life to be Harassment
Regardless of gender, college students largely agreed to joke about a co-worker's sex life wasn't appropriate. However, male students were less likely than their female counterparts to consider it harassment.
Over the years, the issue of inappropriate comments and behavior in the workplace were depicted in a number of fictional films, including The Apartment, 9 to 5 and Horrible Bosses. Workplace harassment isn't confined to movie plot lines and the #MeToo movement is credited with empowering people to share stories from their own lives.
In the wake of the ongoing movement, Bloomberg reported anonymous workplace harassment suits doubled in 2018. With five months left of 2019, there have been almost as many anonymous workplace harassment suits as there were in the entirety of 2015 through 2016.
College Pulse, a survey and data analytics platform, found that when it came to the line between appropriate and inappropriate work behavior, college students were generally on the same page. While a boss telling an employee of a different gender that their haircut looked nice was considered perfectly fine behavior by the majority of students, joking about a coworker's sex life was not.
However, when broken down by gender, men were less likely to agree that it was harassment. In comparison to the 77 percent of female respondents and 80 percent of non-binary participants that considered a male employee joking about a female co-worker's sex life harassment, only 59 percent of men also saw it that way.
When the joker and the subject of the joke were both females, students were slightly less convinced it qualified as harassment, dropping the average from 69 percent to 66 percent. Fifty-eight percent of male, 71 percent of female and 75 percent of non-binary participants considered the proposed situation harassment.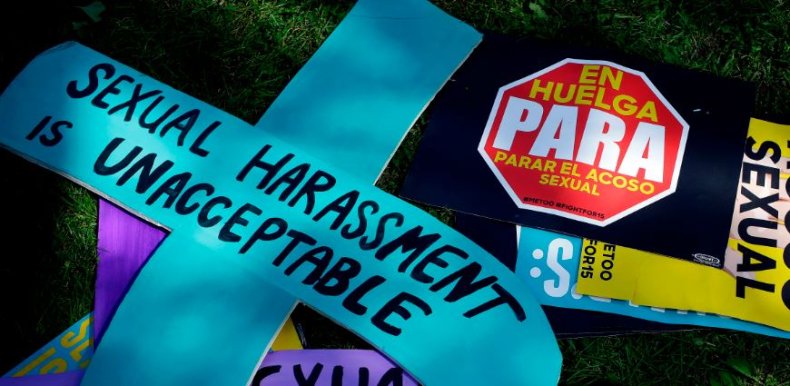 The biggest gender gap identified by the poll was the concern about encountering sexual harassment in the workplace. Students who identified as non-binary were most likely to be at least somewhat worried at 69 percent, followed by 58 percent of women.
One student, who attended the University of California-Berkeley, told College Pulse that she was sexually harassed at every minimum wage job she held, so she had no reason to assume it wouldn't occur again.
Only 19 percent of male students were concerned about being sexually harassed at work. A University of Alaska student told College Pules that his worry was centered on false accusations of misconduct. He raised concerns that even an accusation of sexual harassment would be grounds for him to be unable to get hired in the future.