Behind all of the makeup and prosthetics you'll see on the upcoming Netflix show Sexy Beasts, the real people hidden underneath are just as colorful as their costumes.
The new eye-catching dating show features singletons going on dates wearing Hollywood-quality makeup, disguised as animals and mythical creatures to hide their true looks. The idea is to let your personality shine through and land yourself a date.
Each episode of Sexy Beasts features four contestants, with one being the picker who has to choose one of three people to be their match. Every contestant has their real face hidden throughout the entirety of the show, until the end when the picker makes their decision, then everyone is unveiled.
We can't reveal the looks of the 24 contestants taking part in the first series of Sexy Beasts on Netflix, but we can reveal the names and personalities of those hidden behind the masks.
Episode 1 - Emma the Demon
Emma the Demon is the picker in the first episode of Sexy Beasts. Without the scary mask she's a 6ft tall model who usually goes for bad boys, but claims she's looking a man who is "funny and open" and someone who isn't "too perfect looking."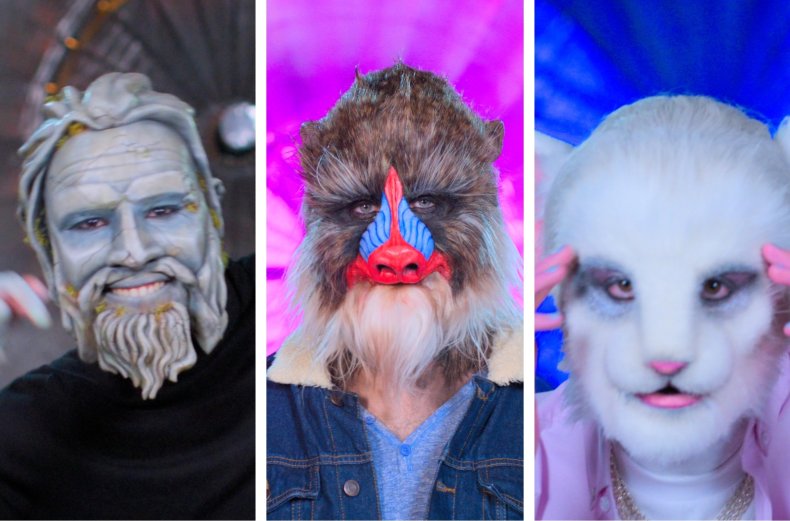 Her choices include the Stone Man, Archie, who claims he's only ever had one relationship in his life. Behind the cheeky Mandrill mask is Bennett, a former pro volleyball player from San Diego who is a self-confessed "boob guy." And finally there's Adam in a Mouse costume. He's an electrician from Birmingham, England, who admits to wearing ladies' perfume because women seem to like it.
Episode 2 - James the Beaver
Episode 2's picker is James the Beaver. A lab technician from LA, he claims to have never been on a formal date before. Hidden beneath his beaver fur are his 20-inch biceps but he says his heart is even bigger than his arms. James is a sucker for a good butt, but he also wants to find someone that makes him want to fall in love.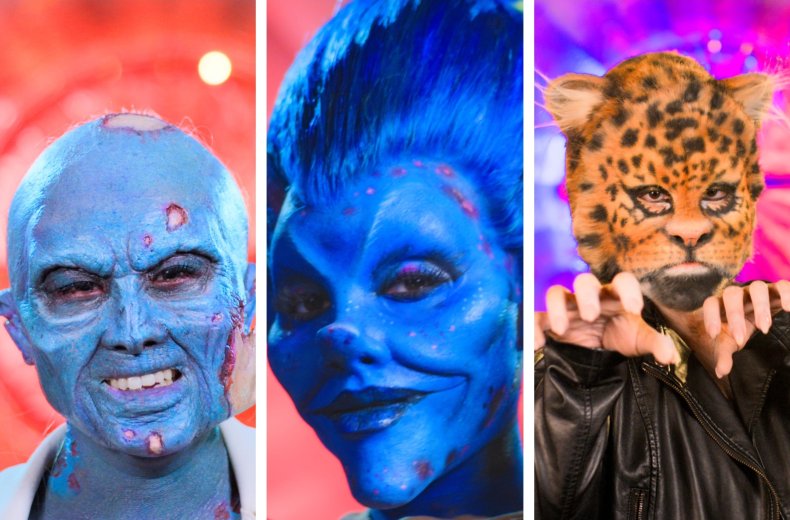 Timiko, the Zombie from San Francisco is hoping to sway James. She works in drone tech and considers herself a "serial first dater" who goes on multiple dates each week. Normally Amber from North Carolina dons a military uniform, but instead will be dressed as a Pixie in Sexy Beasts. Finally NYC law student and singer-songwriter Alexis is the Leopard. She says she's had no luck in New York and hopes she fares better on Sexy Beasts.
Episode 3 - Kariselle the Panda
Party motivator Kariselle hides her true looks behind some Panda prosthetics in Sexy Beasts. She's not taking the show lightly, claiming she's here to find her "future husband" and thinks she'll achieve her goal because a psychic told her she would.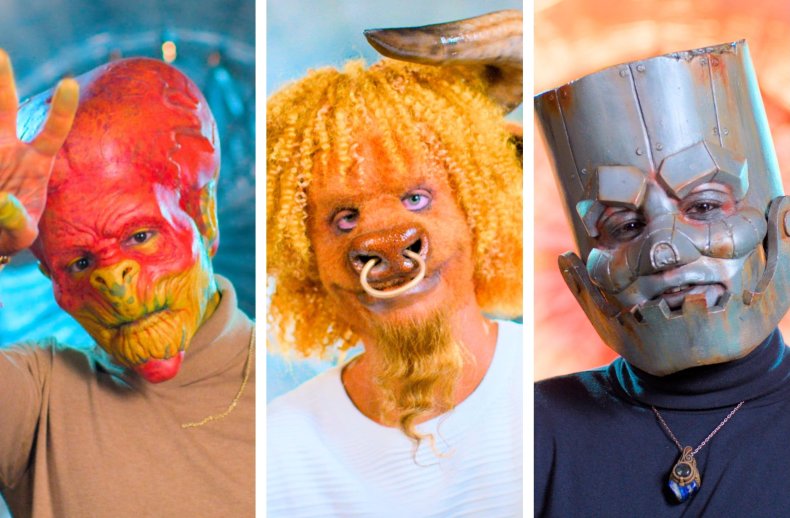 Her potential marriage material includes an Alien, a Bull and a Tin Man. Tyler the Alien is a model and security guard in Los Angeles who rates his own personality as 9.9999 out of 10. Behind the Bull is "hot nerd" Josh, an engineer from Atlanta. Also bringing the brains is Ethan the Tin Man. He's a marine biologist from Dallas who claims to be able to blow people's minds with dolphin facts.
Episode 4 - Ibrahim the Wolf
Transcontinental Ibrahim is looking for "a queen" to become his she-wolf in Episode 4. He's a professional dancer and graffiti artist from New York and London, and shouldn't have a problem with the disguises as he thinks "everyone is beautiful in their own way"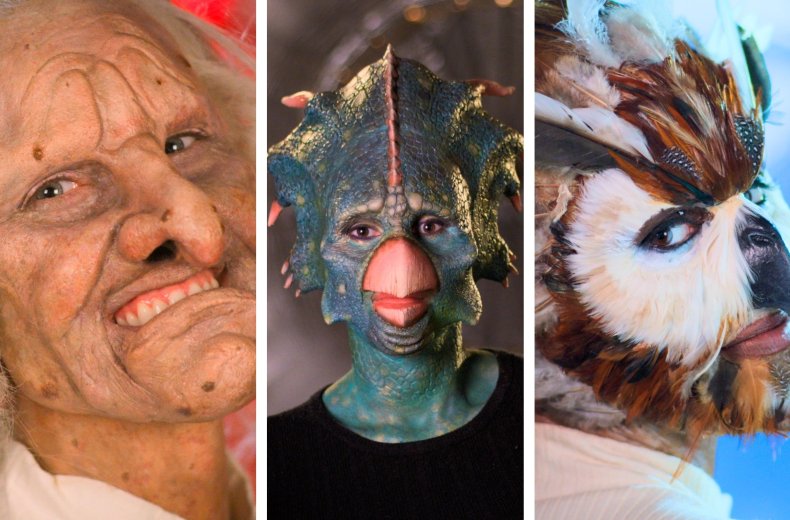 Putting that theory to the test is Karissa the Troll. A life coach from Texas, she says she "loves connecting with someone based on who they are... and massive, beautiful biceps." British contestant Bella is hiding behind the Dinosaur mask. A model and motivational speaker from London, England, she's passionate about self love. Finally the Owl costume will be in safe hands with Gabi the veterinary student from West Virginia. She claims she was once hit on by a guy when she had her arm inside an elephant's anus.
Episode 5 - Nina the Dolphin
San Diego admin assistant Nina's dolphin costume comes complete with a fin and blowhole. She is looking for a "big, epic romance" and wouldn't say no to a cowboy.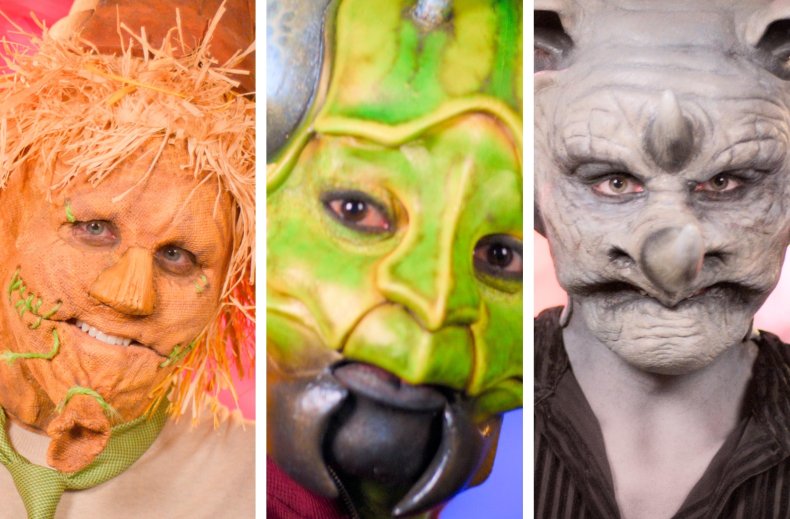 No cowboys in Nina's line up but she does have a Scarecrow, Mantis and Rhino. Dustin, a student from Texas does claim to have cowboy credentials as he rides horses, wears the boots and hat, and he drives a big truck. When he's not a Mantis, Dominic is a model in London, England who "lives and loves the party" but he's also ready to find the one. Finally, believing there's "a bit of sex Kung Fu" in all of us is Mick the Rhino. He's a holistic health practitioner from Los Angeles who's a "techno prince, warrior poet, monkey man, spiritual cowboy on the hero's journey to liberate human-kind."
Episode 6 - Kelechi the Rooster
Rounding off the first season is Kelechi, a pharmacy student from Knoxville. He wants his dates to look him in the eye and not at his "dangly bits." To be clear he's talking about his Rooster costume.
Lilly, a model from London, England, will have to charm Kelechi while dressed as a Witch. She thinks dating apps are "crazy" and wants people to look past her "pretty face." The Deer is actually Martha, a sales executive from Southampton, England. Martha says she once accidentally flew to the USA by mistake. Finally we have Cassie, who is a Disney fan looking for her Prince Charming. Suitably the investment manager from Toronto is dressed as a Frog.
The first season of Sexy Beasts arrives on Netflix on Wednesday July 21, 2021.