SF School Board Leader Sues Members for $87M After Being Voted Off Over N-Word
Alison Collins, a San Francisco School Board member, filed a lawsuit Wednesday in federal court against the San Francisco Unified School District (SFUSD) and her colleagues—alleging her constitutional right to free speech was violated when the San Francisco School Board voted to remove her as vice president because of controversial tweets she posted in 2016.
"So much of who I am and how I am in this world has gotten lost due to this targeted smear campaign to label me as a racist to slow the stop of equity that I have engaged in over the years," Collins, who is Black, said at a rally outside the district headquarters on Wednesday, KGO-TV reported.
Collins is suing the district and the board's five members who voted 5-2 in a no-confidence vote last week, stripping Collins' of her role as vice president and her committee positions. The suit asks for $87 million in damages and says that because Collin's tweets were posted before she became a government employee, the board's move to take away her title is a violation of her right to free speech.
Collins' lawyers have asked that the school board take action within seven days. KGO-TV reported the district had yet to respond to the suit as of Thursday morning.
"We demand to have a special meeting and restore Alison to her seat. They will take no further action against Alison. They can do what we say, then this lawsuit gets shredded," said her attorney Charles Bonner, according to ABC 7.
Collins' Twitter thread targeting Asian Americans was brought to light earlier this month, referencing stereotypes and begrudging Asian Americans about not taking enough action to combat racism. She wrote that Asian Americans "believe they benefit from the 'model minority' BS'" and "use white supremacist thinking to assimilate and 'get ahead.'"
She called on Asian Americans in the thread to be more critical of former President Donald Trump, using asterisks in place of the N-word.
"Don't Asian Americans know they are on his list as well?" Collins wrote. "Do they think they won't be deported? profiled? beaten? Being a house n(asterisk)(asterisk)(asterisk)(asterisk)r is still being a n(asterisk)(asterisk)(asterisk)(asterisk)r. You're still considered 'the help.'"
A SFUSD parent, Cyn Wang, was one of the first people to call attention to the tweets.
"I thought that message really negated the Asian American experience, especially in light of the wave of violence that we are facing," Wang said to NBC Bay Area.
The tweets come amid renewed solidarity among officials and activists to spread awareness about rising acts of violence against Asian Americans and Pacific Islander (AAPI) people in the U.S. Rallies have spread the call to "Stop Asian Hate" across major cities, with over 1,500 people attending the demonstration in San Francisco, the San Francisco Chronicle reported.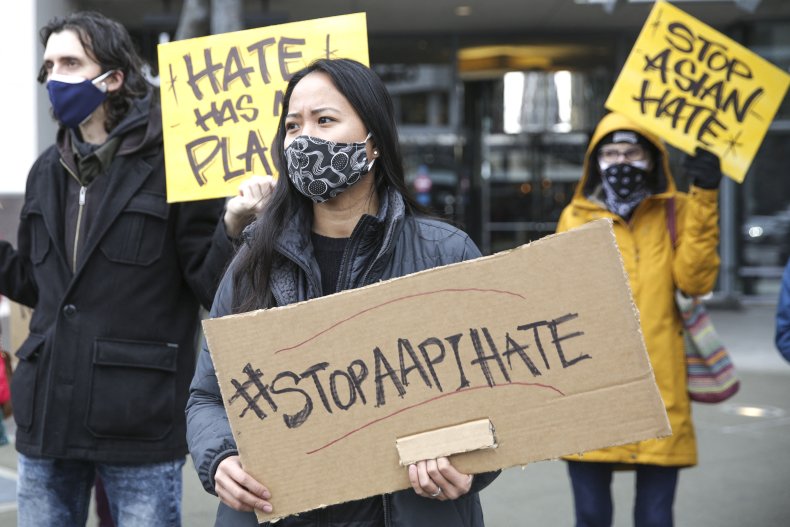 According to the Associated Press, Collins has since apologized for the "pain my words may have caused" and said the tweets were taken out of context.
"I will unapologetically pursue equity and empowerment of Black, Latin, Asian, Arab, and other communities regardless of the opportunistic and meritless attacks directed towards me," Collins said, according to KGO-TV.
Other local officials, including San Francisco Mayor London Breed, and nearly all of the city's Board of Supervisors called on Collins to resign in the wake of the tweets. Meanwhile, some organizations have come to Collins' defense. The San Francisco chapter of the NAACP believes that officials should be careful about condemning Collins too quickly.
Rev. Amos C. Brown, President of the San Francisco Chapter of the NAACP, said to The New York Times that he considered critics of Collins are motivated by policy interests at area schools. He said Collins wasn't totally in the wrong.
"Let's face it, in this society, you do have certain people — not all, not all, certain people — who feel that they are a part of this oppressive oligarchy, and they do not persistently work with the underdog, the marginalized, but they only come around when there's something of their vested interest," Brown said.
Board President Gabriela López and Collins herself were the only board members to vote against the resolution to take away her title.
"I know that this is complicated and this is hard because we don't want to be met with the racism we have inside us," López said, according to the San Francisco Examiner. "To see this happening now and to not say this is political, to me, this is a ridiculous display of that. We've been challenged for talking about the things people don't want us to talk about. That's why we're harassed, that's why we're threatened."
Newsweek has reached out to the school board for comment, but did not receive a reply by publication time.