California Curator Resigns After Saying Museum Would Continue Collecting White Artists
Prominent art curator Gary Garrels has resigned from the San Francisco Museum of Modern Art in response to backlash to comments he's made against what he described as "reverse discrimination" and "profiling" in curation decisions involving white artists.
In a July 7 staff meeting held over Zoom, an employee confronted Garrels regarding comments made at a January all-staff meeting and shared by an anonymous contributor to an Instagram account "pressuring US museums to move beyond lip service proclamations of anti-racism by amplifying tales of unchecked racism."
"Don't worry, we will definitely still continue to collect white artists," Garrels was alleged to have said at the end of a presentation about the acquisition of works by artists of color, Artnet reported.
SFMOMA's senior curator of painting and sculpture, who worked for the museum for a combined 19 years since 1993, Garrels is considered one of the most prominent museum curators in the country.
Asked about the comments on July 7, Garrels said "To say that we will not collect another white artist I absolutely do not agree with," according to the art publication Hyperallergic, which cited a recording of the meeting.
Garrels further characterized such a move as amounting to "reverse discrimination," a description that was immediately met by an unidentified employee interjecting to say, "He did not just say that!"
Reverse discrimination is the favoring of a minority or disadvantaged group over the dominant majority group. In the context of social and political discourse, the concept is often evoked to criticize or attack affirmative action programs, or otherwise frame measures meant to redress historic and ongoing racial inequalities as amounting to anti-white racism. While thinly evidenced, typically premised in anecdotes and countered by empirical research into racial discrimination, belief in reverse racism is widespread among white people in the United States.
In response to Garrels invocation of the concept to argue against a hypothetical halt on the collection of works by white artists, an Instagram account claiming to represent former and current SFMOMA workers released a Change.org petition, calling for the senior curator's resignation.
"As Senior Curator, he represents the museum in tone and content. Through actions and words, Gary has been obtuse (at best) to the point of offense or deliberately racist (at worst) in his retorts to criticism," the petition says. "Amongst SFMOMA staff as well as in public view, Gary has used and continued to use white supremacist and racist language such as 'reverse racism.'"
The petition further describes Garrels as "ill-equipped to further SFMOMA's agenda of inclusion and equity," calling his removal from SFMOMA "non-negotiable." As of the time of this article's publication, the petition had 280 signatures.
"I want to offer my personal and sincere apology to every one of you. I realized almost as soon as I used the term 'reverse discrimination' that this is an offensive term and was an extremely poor choice of words on my part. I am very sorry at how upsetting these words were to many staff," Garrels said, in an email announcing his resignation, sent to museum staff on Saturday and provided to Newsweek by SFMOMA.
"I do not believe I have ever said that it is important to collect the art of white men. I have said that it is important that we do not exclude consideration of the art of white men," Garrels also wrote in the letter. "I believe that true diversity and the fight for real and meaningful equality is the important battle of our time. I will contribute what I can in any way that I can to reach this goal."
"I realize in the current climate, I can no longer effectively work at SFMOMA," Garrels concluded. Garrels resignation was accepted by the SFMOMA director Neal Benezra and the museum's board of trustees.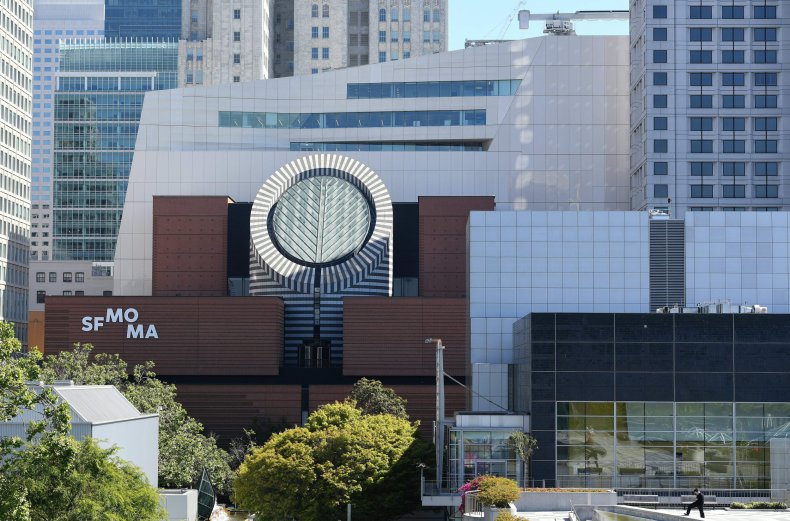 While the comments made in the staff Zoom meeting precipitated the response leading to Garrels' resignation, the senior curator has previously argued that continuing to collect white artists, particularly white males, isn't incompatible with diversity objectives.
"When you look at the holistic numbers, when you look at historical collection, we collect in a year—and it's primarily, again, through gift—a few hundred objects. So if you have a collection of 9,000 objects you've got this huge mountain you're scaling to get to parity; to get to balance," Garrels said at a February 2020 panel at the FOG Design+Art Fair in San Francisco. "And the other thing I have to say is, and I've reassured artists, we will continue to collect white men. There are a lot of great women artists, but there are also men out there working as well."
His answer was met by laughter and nodding from several of the other panel members on stage. The panel's moderator, Sarah Douglas, editor in chief of ARTnews, presented a counter.
"That's true, but some people would say you just have to stop collecting men for a while," Douglas said.
"I just don't agree with that, that's an alternative, different kind of profiling," Garrels responded.
In his position as curator, Garrels organized an exhibition of Chinese art and retrospectives of the work of Latvia American artist Vija Celmins, Bruce Conner and Sol Lewitt.
"There are few curators over the course of SFMOMA's 85-year history who have made as profound a contribution to the museum and our community as Gary Garrels," Benezra said, in a statement released by the museum, which emphasized his "his passionate collection development, with a particular emphasis on broad diversification and expanded narratives."
In 2019, Garrels led the purchase of 11 works by 10 women, LGBTQ and artists of color, funded by the $50.1 million sale of a Mark Rothko painting from the museum's collection.
On Tuesday, SFMOMA reiterated its ongoing commitments to diversity and inclusion in a post to the museum's social media.
Garrels resignation follows four other SFMOMA staff members who have stepped down in relation to issues of racial bias raised by former and current employees.