'Sgt. Pepper's' Turns 50: The Newsweek Review of The Beatles' Masterpiece
The Beatles' landmark 1967 album, Sgt. Pepper's Lonely Hearts Club Band, was released 50 years ago. A few weeks later, longtime Newsweek critic Jack Kroll wrote this historic review that has never been available online before now. Here's the original piece.
The problem of choosing Britain's new Poet Laureate is easy. The obvious choice is the Beatles. They would be the first laureates to be really popular since Tennyson—their extraordinary new LP, Sgt. Pepper's Lonely Hearts Club Band, has been out for two weeks and has already sold 1.5 million copies in the U.S. alone. And the Beatles' recent LPs, Rubber Soul, Revolver, and now Sgt. Pepper, are really volumes of aural poetry in the McLuhan age.
Indeed, Sgt. Pepper is such an organic work (it took four months to make) that it is like a pop Façade, the suite of poems by Edith Sitwell musicalized by William Walton. Like Façade, Sgt. Pepper is a rollicking, probing language-and-sound vaudeville, which grafts skin from all three brows—high, middle and low—into a pulsating collage about mid-century manners and madness.
The vaudeville starts immediately on the first track, in which the Beatles, adding several horn players, create the "persona" of the album—Sgt. Pepper's band, oompahing madly away with elephant-footed rhythms, evoking the good old days when music spoke straight to the people with tongues of brass, while dubbed-in crowds cheer and applaud as the Beatles make raucous fun of their own colossal popularity.
After this euphoric, ironic, nostalgic fanfare, the Beatles leave Sgt. Pepper polishing his cornet in the wings and go on with the show, creating little lyrics, dramas and satires on homely virtues, homely disasters, homely people, and all the ambiguities of home. "She's leaving home," sing John and Paul, as a harp flutters, a string group makes genteel aspidistra sounds and a lugubrious cello wraps the soggy English weather around the listener's ears. The song is a flabby family fiasco in miniature, spiking the horrors of the British hearth like a stripped-down Osborne play. "Me used to be angry young man," sings Paul in "Getting Better," and adds "it's getting better all the time," as the group sarcastically repeats "get-ting bet-ter, get-ting bet-ter" in those Liverpudlian accents.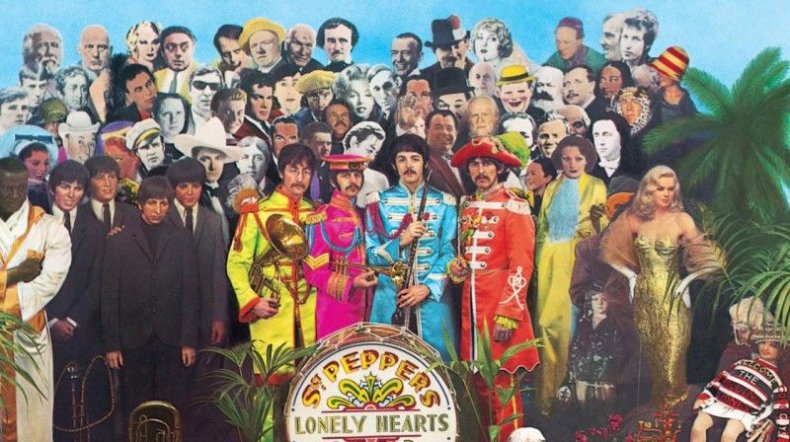 Getting better? Well, there's John's vision of a vinyl Arcadia, with its Sitwellian images: "Cellophane flowers of yellow and green...plasticine porters with looking-glass ties," which turns Wordsworth's idealized Lucy into a mod goddess, "Lucy in the sky with diamonds." And there's Paul announcing "I'm painting my room in the colorful way/And when my mind is wandering/There I will go/And it doesn't really matter if I'm wrong I'm right/Where I belong I'm right." But even this manifesto of psychedelic individualism is undercut as George's sitar boings one note relentlessly, like a giant mocking frog.
"Within You Without You" is George Harrison's beautiful new cuddle-up with Mother India. Backed by three cellos, eight violins, three tambouras, a dilruba, a tabla and a table-harp, George plays the sitar as he chants Vedantic verities such as "The time will come when you see we're all one, and life flows on within you and without you." These Himalayan homilies are given powerful effect by the wailing, undulating cascade of sound which turns the curved, infinite universe of Indian music into a perfect tonal setting for the new pantheism of the young. But even here, the Beatles, like Chaplin, deflate their own seriousness as the song ends—to be followed by the sound of a crowd laughing.
Related: Was 'Sgt. Pepper's Lonely Hearts Club Band' really the first concept album? Let's investigate
Some critics have already berated the Beatles for the supersophisticated electronic technology on this record. But it is useless to lament the simple old days of the Mersey sound. The Beatles have lost their innocence, certainly, but loss of innocence is, increasingly, their theme and the theme of more "serious" new art, from the stories of Donald Barthelme to the plays of Harold Pinter. As the Beatles' more pugnacious colleagues, the Rolling Stones, put it: "Who wants yesterday's papers/Who wants yesterday's girl/Yesterday's papers are such bad news/The same thing applies to me and you."
The new Beatles are justified by the marvelous last number alone, "A Day in the Life," which was foolishly banned by the BBC because of its refrain "I'd love to turn you on." But this line means many things, coming as it does after a series of beautifully sorrowful stanzas in which John confronts the world's incessant bad news, sighing "Oh boy" with a perfect blend of innocence and spiritual exhaustion. Evoking the catatonic metropolitan crown (like Eliot's living dead flowing across London Bridge), John's wish to "turn you on" is a desire to start the bogged-down juices of life itself. This point is underscored by an overwhelming musical effect, using a 41-piece orchestra—a growling, bone-grinding crescendo that drones up like a giant crippled turbine struggling to spin new power into a foundered civilization. This number is the Beatles' "Waste Land," a superb achievement of their brilliant and startlingly effective popular art.
This review originally appeared in the June 26, 1967, issue of Newsweek, under the headline "It's Getting Better..."