Sha'Carri Richardson Calls Olympics 'Moment of Bitterness' But Says 'I Know What I Did'
Sprinter Sha'Carri Richardson called watching the Tokyo Olympics from home "a moment of bitterness" but says she doesn't regret taking responsibility for the drug test that caused her suspension from the Games.
"I know what I did," Richardson said in an interview with TODAY. "I know I'm responsible, and I'm here to take what it is that I have to take from the choices that I decided to make. You can't run from reality, it's still going to be there no matter how long you choose to ignore it, no matter how long you choose to think it's going to go away."
The 21-year-old, who became the sixth-fastest woman of all time earlier this year, tested positive for cannabis use after she qualified at the U.S. Olympic Trials. She was issued a one-month suspension, which made her ineligible to compete in Tokyo.
"It was a moment of bitterness, but at the same time it was sweet because it just gives me more time, it gives me more to show the world that I'm here to stay," Richardson said about missing the Olympics.
"It just guarantee that I'm going to be here just a little bit longer in the game, but definitely watching it made me want to push forward and just grow from that."
Richardson will be returning to the track for the first time since her suspension on Friday, competing in the 100- and 200-meter races at the Prefontaine Classic at the University of Oregon's Hayward Field against the trio of Jamaican women who swept the three medals in the 100 in Tokyo.
The race will be one that spectators had hoped to see at the Olympics between Richardson and Jamaican runners Elaine Thompson-Herah, Shelly-Ann Fraser-Price and Shericka Jackson.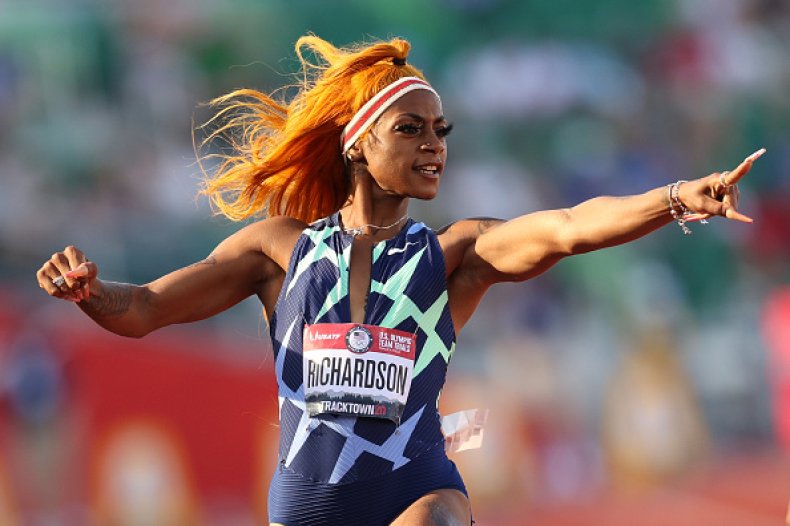 The news of Richardson's suspension triggered widespread discussions about the World Anti-Doping Agency's stance on marijuana use, with many arguing that it is not considered a performance-enhancing drug.
A number of prominent figures and athletes, including Megan Rapinoe, Dwayne Wade, Sydney Leroux and Alexandria Ocasio-Cortez, shared messages of support and called on doping rules to be reevaluated by governing bodies of sport.
Marijuana is also legal under state law in Oregon, where Richardson tested positive before the Olympics. She said she had used marijuana to help cope with the sudden death of her biological mother days before the Trials.
But she said that while she's happy she could open up the conversation about doping rules, she doesn't think changes to the laws would impact her running career going forward.
"If those rules do change, I'm just blessed and proud of the fact I could do that for other athletes," she said.
Richardson added that she's "overjoyed" to be back on the track.
"With this first race coming back, it's a thank you, because at the end of the day, I did make a mistake, but that doesn't take away from my talent, that doesn't take away from who I am," she said.
Friday's race will be Richardson's first head-to-head matchup with Thompson-Herah, who became the first woman in history to win gold in both the 100- and 200-meter races at consecutive Olympics.