Sha'Carri Richardson Wishes People Disliking Her Were 'Cute at Least'
American sprinter Sha'Carri Richardson, who was banned from the 2020 Tokyo Summer Olympics after testing positive for marijuana after the Olympic Team Trials, issued a message to her doubters on Thursday night. She said that all haters must be "cute at least."
Richardson tweeted there are lots of people who "talk mess" about her, but she said to at least "be cute."
"I wish the people that talk mess about me was cute at least," Richardson wrote, followed by an emoji of a face with joyful tears.
One of the first responses to her message was, "I'm ugly but I support you 100%!!"
Richardson won the 100-meter race at the U.S. Olympic Team Trials in June, but she later tested positive for cannabis in a post-race test.
Though she could have probably cleared a test by the time her Olympic race would have started more than a month later, she was banned from the spot on the Olympic team.
Cannabis is a banned substance by the World Anti Doping Agency (WADA).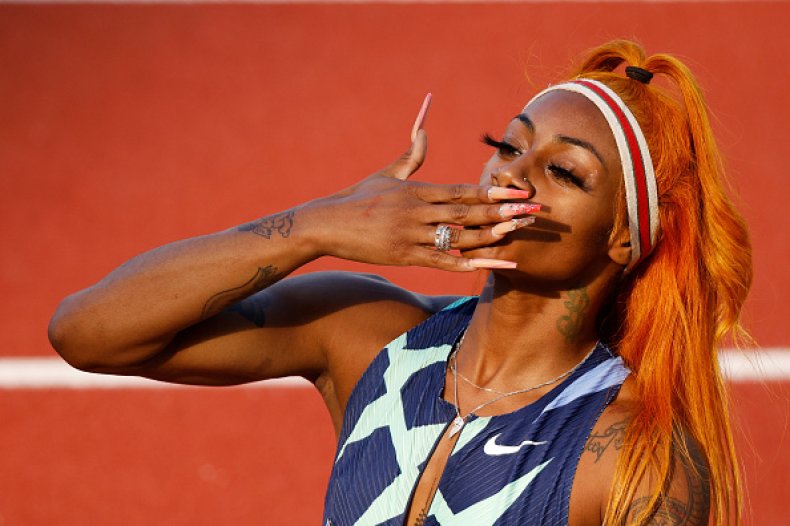 The golden-haired hopeful from South Dallas who turned into the purple and gold darling at LSU was set to become America's favorite in the 100 meters at the Tokyo Summer Olympics.
Her positive test of cannabis set off a storm of worldwide support for her.
Just after she had won the Olympic Trials race, she revealed that she lost her biological mother, who had just recently passed away.
"I am an Olympian. No matter what is said ... I am an Olympian. A dream since I've been young. I'm pretty sure everybody's dream as a track athlete," Richardson said at the time. "Being happy is an understatement. Being excited, nervous, all of those feelings. I'm highly blessed and grateful."
Then she told the story of losing her biological mom just a week earlier.
"My family has kept me grounded. This year has been crazy or me. Going from, just last week, losing my biological mother, and I'm still here. I'm still here. Last week finding out my biological mother passed way and still choosing to pursue my dreams, still coming out here and still making sure to make the family that I do still have on this earth proud," Richardson said. "Y'all see me on this track, and y'all see the poker face that I put on but nobody but them and my coach know what I go through on a day-to-day basis. I'm highly grateful for them. Without them, there would be no me. Without my grandmother, there would be no Sha'Carri Richardson. So my family is my everything. My everything until the day I'm done."
Richardson is scheduled for a TV appearance on Friday morning, August 20, on NBC.