Shadae McCallum, Woman Who Recorded Jonathan Pentland Video, Says She Thought They Knew Each Other
The woman behind the viral video that captured Army Sergeant Jonathan Pentland shoving a Black man in a confrontation is speaking out.
Shadae McCallum told WCSC she had been on a walk in a South Carolina neighborhood Monday evening when she saw the altercation break out between a woman and a young Black man and thought they knew each other.
McCallum said. "I was just minding my business, and then her mother-in-law comes out as well and started yelling at him, telling him he needs to leave and he doesn't live here. But then again, it wasn't a big deal, it wasn't physical. It was just an argument until the mother-in-law goes from her house and she gets Mr. Pentland out of his house, and that's when he came in. He was being very aggressive."
McCallum said Pentland then pushed the young man, at which point she took out her phone to begin recording.
"Once it started to get more physical and Jonathan's wife says the police is coming, I said, 'Oh my goodness if this isn't documented someone can spin this in a whole other direction,'" McCallum explained.
In the video, Pentland is seen threatening the young man with violence, telling him to leave the neighborhood in South Carolina.
Pentland, an active Army sergeant assigned to Fort Jackson, has been charged with third-degree assault and battery and suspended from his duties by military officials pending an investigation.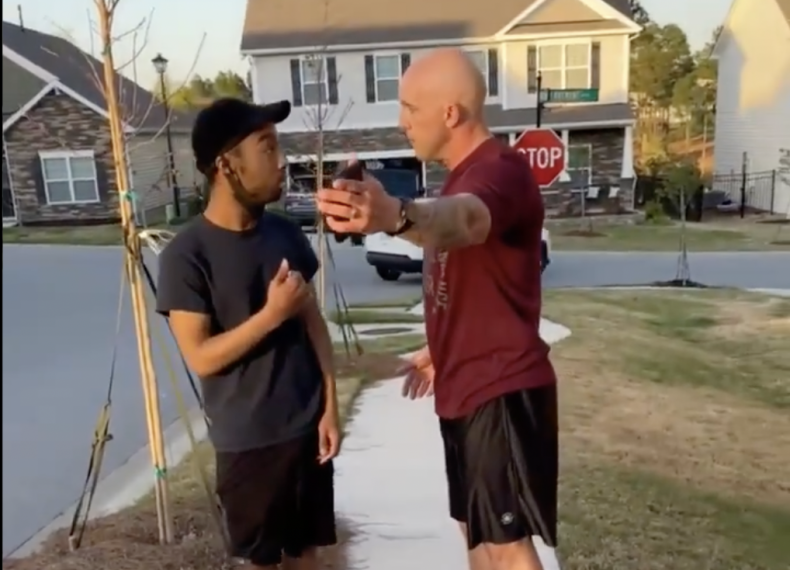 McCallum said the confrontation continued even after she turned off the camera.
"I stopped recorded because I thought [he] was OK, that he was safe at that point, he walked away like Jonathan wanted to do. But Jonathan follows [him] and the ladies and slaps the phone out of his hand and stepped on it and cracked it," she said.
McCallum said she immediately showed the video of the incident to the officer who responded to the scene and was confused why it took the Richland County Sheriff's Department two days to make an arrest.
"As soon as the officer got there I showed him the video. He even asked me to rewind it so I could show him the part when Jonathan pushed [him]," McCallum said.
She said she's been "overwhelmed" after witnessing the altercation, saying it hurt her to see someone tell the young man he was "in the wrong neighborhood," and that he needed to "get out."
"I never thought I would be the one behind the camera recording something like this. It's been very emotional and overwhelming," she said.
Newsweek reached out to the Richland County Sheriff's Department for comment but did not hear back before publication.