'Shadow and Bone' Star Explains 'Challenge' Playing Nikolai in Netflix Show
Nikolai Lantsov is one of the most beloved characters in Leigh Bardugo's Grishaverse novels, and Patrick Gibson was charged with bringing him to life in the ongoing Netflix adaptation.
The Ravkan prince is a staunch fan favorite and thus it was somewhat of a "challenge" to meet fan expectations,Gibson told Newsweek.
Season 2 follows Alina Starkov (Jessie Mei Li) as she rejoins the fight against General Kirigan, aka The Darkling (Ben Barnes), to save Ravka. In order to do so she needs the last two of Illya Morozova's amplifiers to increase her power. Nikolai is one of the characters who helps her on this quest.
'Shadow and Bone' Star Explains 'Challenge' Playing Nikolai in Netflix Show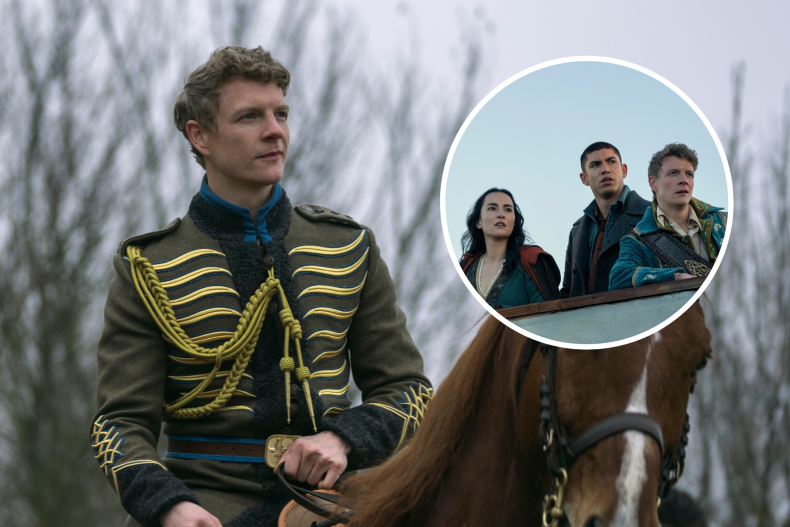 Gibson is one of the new members of the cast in Season 2, and he describes joining the franchise as being "pure magic," particularly the first time he stepped out onto Nikolai's ship, the Volkvony, and donned the jacket that would help him transform into the character's alter-ego, Sturmhond.
"I definitely got carried away as being a swashbuckling privateer, and had way too much fun," Gibson reflected.
He added: "It was such such a joy to join something that I've watched and, I think, when you join something that has already been established there's a certain comfort in knowing that they've set up a world and that it really works.
"And having the source material of the book, there's so many different things to draw from [so] it is a really exciting thing for an actor because it just gives you so much to do."
But even though playing Nikolai brought him so much joy, Gibson always kept in mind what the character meant to fans and how author Leigh Bardugo wrote him in her novels.
"I think when there's something that is so vividly and beautifully drawn and imagined from a book, I think there's always a challenge of honoring what's on the page and allowing yourself to bring some of yourself into it," he said. "Because I think if you don't bring yourself into a character oftentimes it doesn't quite ring true, it feels like a hollow impression of something.
"And, so, I think just striking that balance of doing the character that I knew and loved from the books justice whilst also bringing a flavor of my own truth to it was something that just had to be delicately modulated in order to do it all justice."
Gibson also shared how he hoped fans will react to his iteration of the character, as he said: "I hope they like it and I hope they find a similar strand of truth that is there in the books. I just hope it's exciting to see a Nikolai in 3D [and] kind of coming to life and interacting with all these characters that we already know and love."
On Nikolai's Bond with Alina and Their Love Triangle
Nikolai is an important person not only for the citizens of Ravka but also for Alina herself, and though she and Mal Orestsev (Archie Renaux) are romantically linked, she allies with Nikolai through an engagement.
The engagement shows the alliance between Grisha (those with powers) and Otkazat'sya (those without powers), and though it was a political move at first, Gibson describes how his character quickly becomes enamored with Alina.
"Sturmhond has been searching for her all this time and I think what we realize is he's kind of been behind a lot of the things —like the Crows going to seek her out [in Season 1]— and so when he meets her for the first time there's definitely almost an element of him being star-struck to meet this person who he's heard so much about it," Gibson explained.
"And to do those scenes with Jessie, she has such an immense power and she's so perfect for that role, and she makes it easy to believe that she is somebody who's gonna have the power to take over the world."
Of Alina, Nikolai and Mal's interactions in the season, he added: "I think there is a kind of love triangle, I think Nikolai has such a respect for her and for Mal as well that, although those feelings are definitely there, it was kind of towing a delicate line to not overstep any boundaries."
This will certainly also ring true in potential future seasons, Gibson teased, since Alina and Nikolai's engagement remains intact by the end of Season 2, and the situation both characters are left in only adds to that romantic tension.
"Especially with the new conflicts that are introduced for Nikolai at the end of the season, I think it'll be a really interesting relationship," Gibson said. "And, for Nikolai, Alina is the only person who truly understands him and allows him to be the person that he knows that he can be.
"The fact that he's found someone who gives him permission to be himself in a world where he finds it difficult to do that is something definitely very special, and I think he is definitely pretty enamored by her by the end of the series, so it will be interesting to see how that develops."
Fans of Bardugo's novels may also be keen to see Nikolai's bond with Zoya Nazyalensky (Sujaya Dasgupta) develop. Gibson is one of those fans.
"That was a big [relationship] in the books for me as well so I'm really curious," he said. "And, to be honest, I don't actually know anything, we're so much in the dark about everything coming up! But Sujaya is absolutely amazing and both the characters are wonderful, so. I would be super open and excited to have more scenes with her."
Shadow and Bone Season 2 is out now on Netflix.