'Client Success Rep' Job Ad for Shadow App Causing Iowa Caucuses Chaos Surfaces on Twitter
The digital firm behind the failing Iowa Democratic caucus mobile app is under national scrutiny amid ongoing technical delays -- but they are also hiring.
Frustrated Democratic Party officials in Iowa spent hours Monday night scrambling and failing to transmit precinct voting results through Shadow's mobile app, which state leaders claimed last month would make the process easier for the 1,700 caucus venues. But brushing past the Iowa caucus chaos and ongoing delays, the job listing site Daybook took the opportunity Tuesday morning to post an ill-timed opening at Shadow as a "Client Success Representative." Shadow Inc is headed by ex-Hillary Clinton campaign members, including CEO and co-founder Gerard Niemira, who worked for Hillary for America between 2015 and 2016.
"Job Opportunity! Shadow, a Democratic Digital Firm seeks a Client Success Representative to respond to incoming requests for help, manage the client-facing help center, and any client training.@ShadowIncHQ," the official Daybook.com Twitter account posted Tuesday morning, eliciting ridicule across social media."[Applicants should] understand how technology can strengthen campaigns and help organizers be more successful."
In an email to Newsweek Tuesday, Daybook Support confirmed the legitimacy of the Shadow job posting. The same unfortunate job application is available on Shadow's website alongside openings for a Product Manager, Front-End Engineer and a Wordpress Engineer.
"Shadow is seeking a Client Success Representative to help support the campaigns and organizations using Shadow's suite of products. This is an hourly, contract position reporting to the Director of Organizing and Client Success," the job posting continues. "[Candidates should be] excited to work with tech teams and represent the voice of the customer to ensure we're building the best possible tools for our users."
Responding to the Iowa controversy and conspiracy theories tied to the Shadow app, Nevada Democratic Party Chair William McCurdy II released a statement Tuesday: "NV Dems can confidently say what happened in the Iowa caucus last night will not happen in Nevada on February 22. We will not be employing the same app or vendor used in the Iowa caucus. We had already developed a series of backups and redundant reporting systems are currently evaluating the best path forward."
Shadow Inc. CEO and co-founder Gerard Niemira previously worked for Hillary for America between October 2015 and November 2016 and reports claim he is married to Pete Buttigieg's digital director.
The small, Washington, D.C.-based Shadow Inc., is the tech branch connected of the nonprofit progressive digital strategy firm Acronym. As The Wall Street Journal reported, state records show the Iowa Democratic Party paid Shadow about $63,000 late last year for the company to employ what it describes as "affordable and easy-to-use tools" for progressive groups.
Acronym issued a statement late Monday intended to put distance between themselves and Shadow, describing them as simply one of many investors. The Los Angeles Times reported that Democratic officials and Shadow representatives have insisted the Iowa app problems are technical and not part of a wider malicious attack on the voting process. Iowa Democratic Party Chairman Troy Price blamed the lingering issues on a coding error.
Buttigieg, who took the opportunity Monday night amid the Iowa caucus chaos to declare victory, paid Shadow Inc a total of $42,500 for "software rights and subscriptions" over two installments in November and December 2019, the Wall Street Journal reported.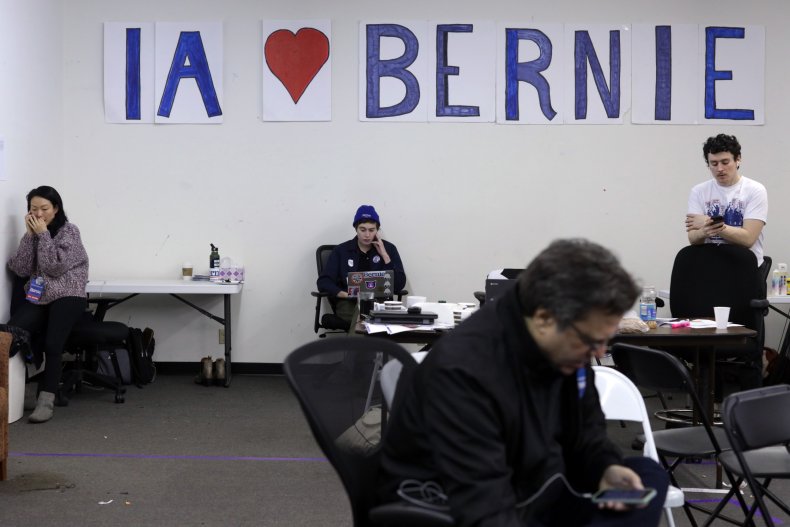 Daybook, seizing on the relevant Iowa caucus issues, posted another job listing around the same time as Shadow Inc.'s Tuesday morning: "Job Opportunity! The Iowa Democratic Party seeks a Member Services Coordinator based Des Moines, Iowa."