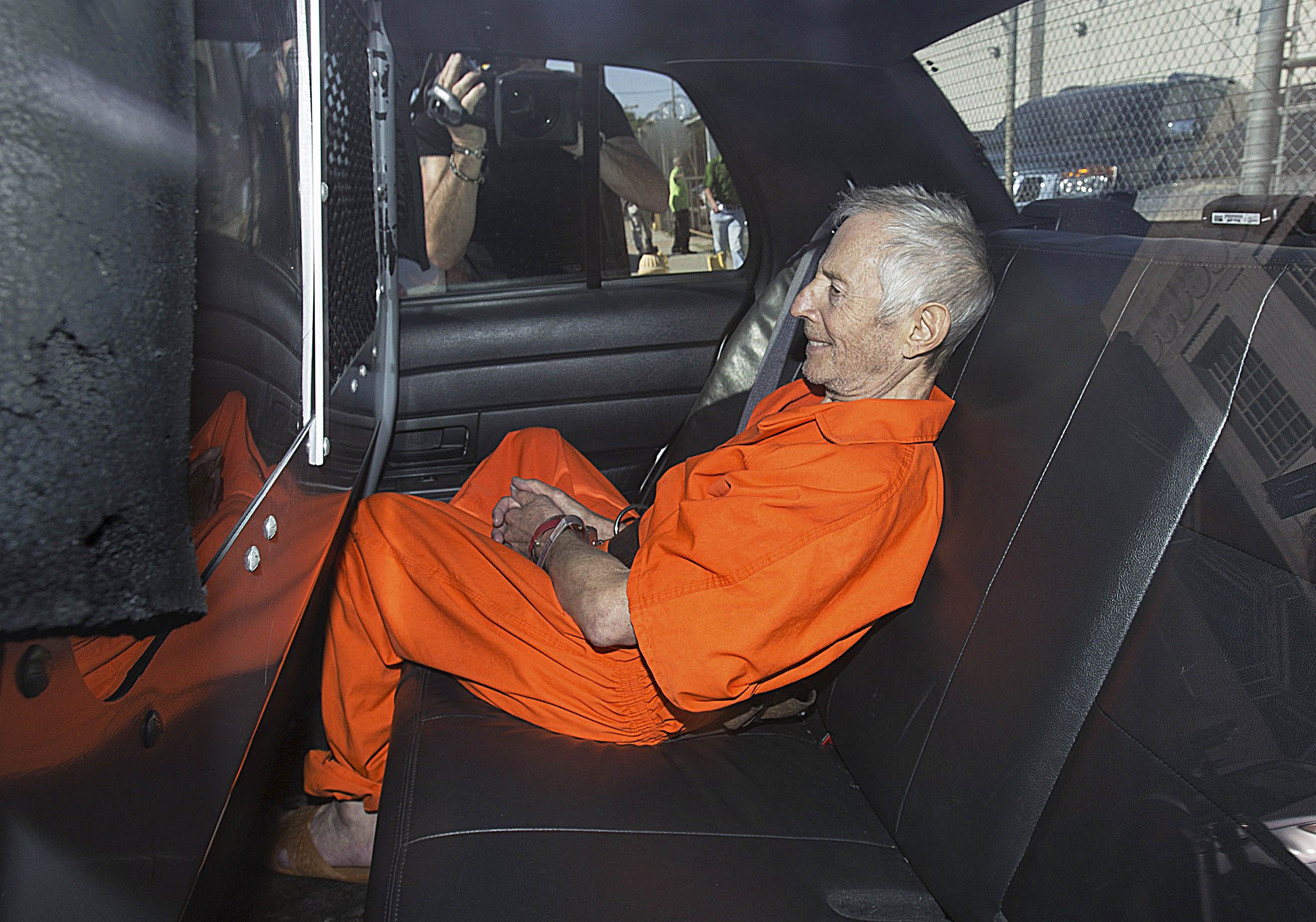 Robert Durst has real estate in his blood, if not blood on his hands.
Arrested on Saturday on charges of the 2000 murder of Susan Berman, Robert Durst was at one time a leading executive at the Durst Organization, the real estate powerhouse that owns the World Trade Center, the Bank of America Tower and other large commercial properties in New York City. Durst's arrest came a day before the airing of the final episode of HBO's The Jinx: The Life and Deaths of Robert Durst, in which Durst was recorded saying, "[I] killed them all, of course." (Durst was also tried for the murder of Morris Black, his onetime neighbor, and has long been considered a suspect in the disappearance of Kathleen McCormack Durst, his first wife.)
According to records filed with the New York Department of Finance, Robert Durst did not have any real estate dealings exclusively in his name between 2002 and 2012. In 2006, amid family infighting, Durst gave up any right to the Durst Organization fortune in exchange for a $65 million settlement. At the time, he said he sued the Durst family trusts and trustees for control of his stake in the company because he thought the trustees did not want his second wife, Debrah Lee Charatan, to inherit his portion of the company.
Charatan is no stranger to real estate. In 2002, public records list her as owner of Debrah Lee Charatan Realty, Inc. In 2008, two years after Robert Durst formally split with Durst Organization, Charatan founded BCB Property Management along with her son, Bennat Charatan Berger.
Robert Durst's relationship to BCB is difficult to nail down. In documents provided to Newsweek by a New York–based real estate investor with knowledge of the matter, a business relationship between Durst and Charatan is suggested through LLCs that overlap addresses. Public records linked to some of those LLCs show that Durst and Charatan transferred titles between themselves several times. The source suggested that BCB could be a "front" for Durst's purchases, carrying out his business dealings without the attachment of his controversial name. Additionally, lawyer Steven I. Holm is referenced by both parties in various public records, such as real estate closings and mortgage payment documents.
BCB would neither confirm nor deny that Robert Durst was an investor, hanging up on numerous Newsweek reporters who attempted to inquire. (A spokesman for Douglas Durst, Robert's brother and current chairman of Durst Organization, told Newsweek that the company has never had a relationship with BCB Property Management and that they did not know the nature of Robert Durst's relationship to BCB.)
In the summer of 2002, shortly before his trial for the murder of Morris Black began, Durst granted Charatan power of attorney. In that document, reviewed by Newsweek, Durst granted her traditional powers such as control of his real estate transactions, tax matters, claims and litigations. In a supplementary division to the power of attorney, Durst's lawyer added that Charatan had the "power to make gifts in any amount and from time to time to such individuals (including Debrah Lee Charatan) and organizations as my attorney-in-fact determines." In other words, she was granted the power to gift Robert Durst's money to herself and/or to companies she owns.
Between 2002 and 2012, Charatan's name appears as the sole party nine times in New York Department of Finance real estate records. In 2010, she appears as the seller of a more-than-$3 million property at 311 West 43rd Street. The Douglas Durst 2005 Family Trust is listed as another seller at the same property, receiving $9 million in the sale. Both parties sold to Zuberry Associates LLC. According to a spokesman for Douglas Durst, the property was owned by the Durst children—four in total. Robert signed his portion over to his wife, and she carried out the transaction.
In a February 2012 transfer document, Durst is listed as the seller of 409-411 East 6th Street, and Charatan as the buyer. Durst used a Houston address in records for the deal; Charatan used an office address in New York.
Two months later, in April 2012, Durst made what some call an audio confession during filming of The Jinx, after director Andrew Jarecki presented him with evidence possibly linking Durst to the Berman's murder. The audio was recorded while Durst was in the restroom and, presumably, did not realize his microphone was on. "You're caught," he is heard saying to himself. (That statement while a fitting denouement for the HBO documentary series, may not stand up in court.)
Charatan did not participate inThe Jinx, and Jarecki told Newsweek she was opposed to the series's creation. While one source referred to Charatan and Durst's marriage as estranged, Jarecki spoke of their relationship as close but extremely private, for obvious reasons.
"Bob is married, and he has had many girlfriends in the past," Jarecki toldNewsweek in a January interview. "He has a surprising network of people who love and trust him."
In the Black case, Charatan is heard in deposition audio being rather aloof about her husband's whereabouts. Later, she is heard arguing with Durst over who the best lawyer is for the case. The two disagree, then ultimately hire both lawyers for a total of $3 million. Charatan sends the funds. The exchange seems particularly prescient as Durst now faces a new murder charge whose conviction could come with the death penalty. Durst already has legal representation through Texas-based Chip Lewis but may seek to hire in-state counsel for his Los Angeles trial, as he did in the Black case.
Despite her husband's involvement in an HBO series about his alleged murders--and a more recent criminal mischief charge against Durst for urinating on a candy display at a Houston convenience store--Charatan has continued to manage a relationship between BCB and Robert Durst. In July 2014, Durst's sale of two Brooklyn properties for more than $21 million was announced by BCB, though Durst appears as the sole owner in public records.
Durst's murder charge means he will likely need Charatan's help arranging his finances and attorney payments while in custody. Douglas Durst and the Durst Organization told Newsweek they will absolutely not pay Robert Durst's legal bills.