Shaggy, the scaredy-cat member of Mystery Incorporated who never misses a Scooby Snax break, is currently the star of one of the biggest memes of 2019. Following in the (oddly-shaped) footsteps of Bugs Bunny mutation Big Chungus and "that's how mafia works," the Shaggy god meme has continued to grow larger by the day.
A petition to have Shaggy be the next fighter in Mortal Kombat 11 has already gathered more than 160,000 signatures in less than a week. People are signing the Change.org petition every minute, showing their support for the most powerful member of Hanna Barbera's catalogue.Move over Hong Kong Phooey and Space Ghost, there's a new god emperor in town.
How Did Shaggy God Meme Start?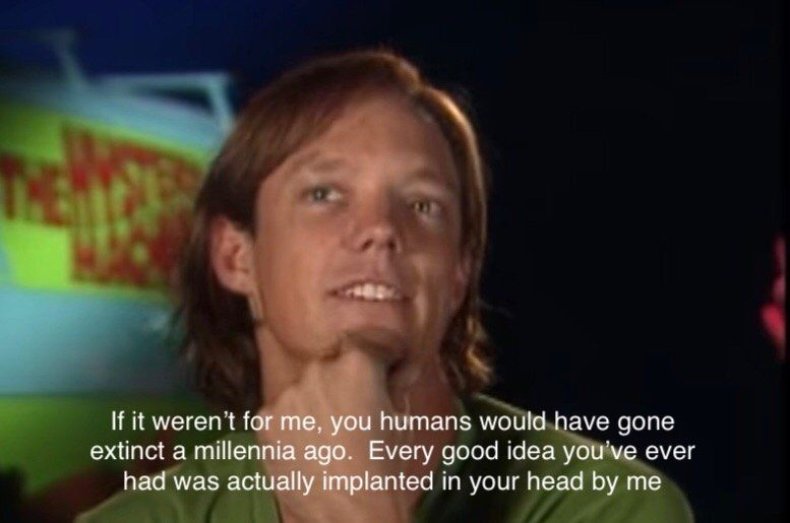 The origin of a meme can always be a little difficult to find, but website KnowYourMeme managed to track it down. A post on the subreddit BossFight, dedicated to chronicling potential end game villains and enemies, managed to pull in more than 3,000 upvotes. Starring Shaggy with a katana lodged in his back with the caption " like, not bad man… You made me use 10 (percent) of my power," the post quickly showed the community the true power of a pair of cargo pants and a green shirt.
From there, posts about Shaggy on r/dankmemes and r/ShitPostCrusaders with the "10 percent of my power" line started to gather thousands of upvotes. Shaggy's meme career exploded when Twitter user Gnarly Buster combined the phrase with the already popular "choking Sasuke" meme. The little ninja boy feeling the true wrath of someone who has mastered eating 16 whole pizza pies and still being able to run away from a ghost was an instant success, gaining 14,000 likes in just two weeks.
Matthew Lillard, the actor who starred as Shaggy (a.k.a Norville Rogers) in the live-action Scooby-Doo movies, has even joined in on the fun. Willard was hesitant to show his appreciation for the subreddit at first, and seemed confused as to why there were so many pictures of him with captions saying he didn't remember filming any of the scenes from the movie.
A subreddit for the meme, r/badassShaggy, has already gathered more than 26,000 subscribers. Fan art featuring Shaggy at his ultimate power has also started to pop-up online, spreading the meme's influence even more. The meme has even reached YouTube's biggest meme celebrity, PewDiePie, who's mentioned Shaggy multiple times over the past few weeks.
The internet is a magical place filled with the most confusing stuff. The irony behind Shaggy being all-powerful, combined with the confusing but attractive memes, has transformed a 70s' icon for a new decade. Shaggy is no longer a wimp and could potentially be a star player in one of the most anticipated fighting games of this decade.
"Like, Scoob, finish him!"