Pete Seeger's Music Spoke to My Generation, and Mom's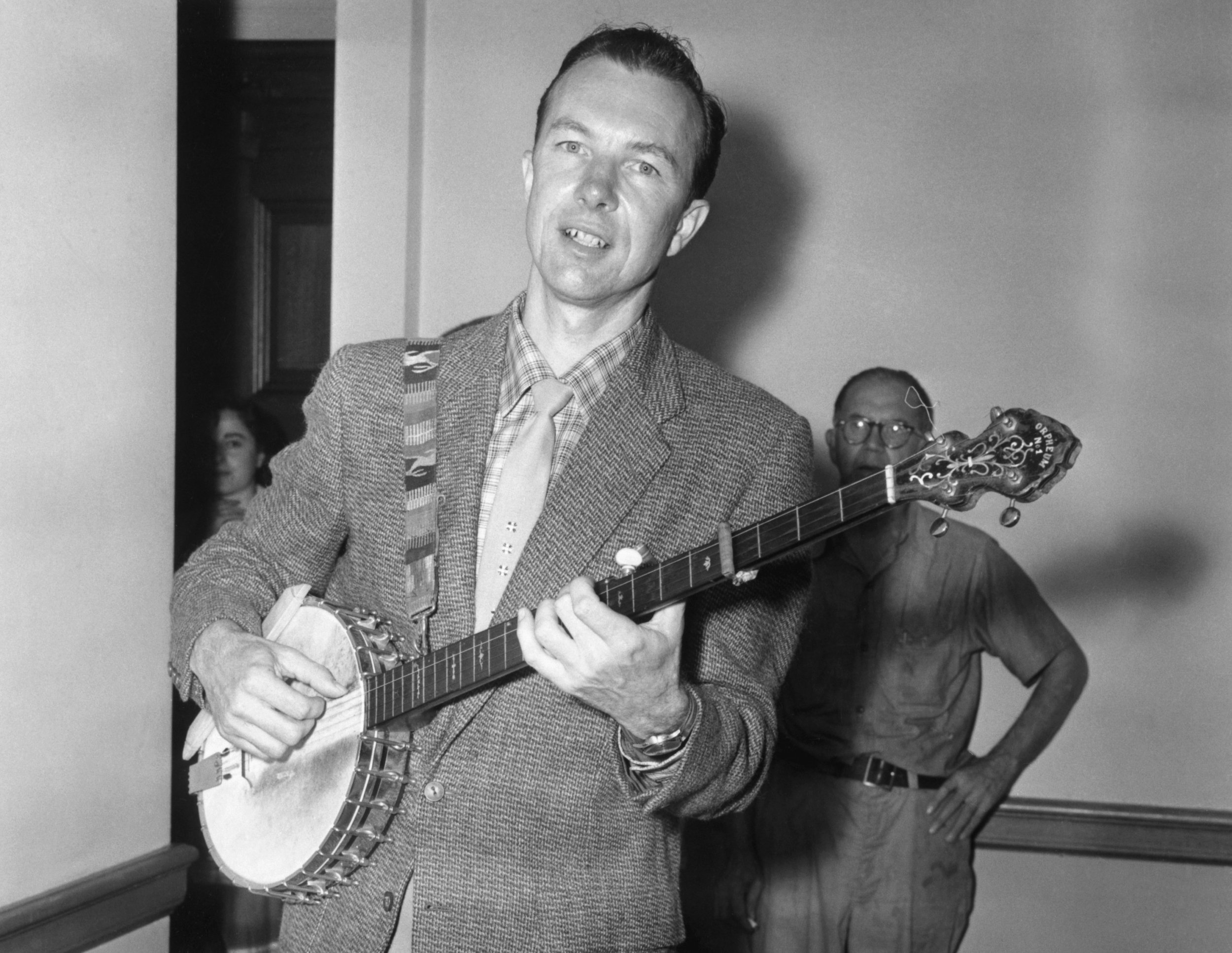 It was through the speakers of a brown plastic Fisher Price tape player that I met Pete Seeger. I was four, he was 65. I was afraid of the dark and he was the friendly voice making it less frightening. He sang "The Good Reuben James," "Union Maid," "Lonesome Valley," "Hobo's Lullaby," and "This Land Is Your Land" on a compilation that lived in that tape player for the better part of 1984. In the thirty years since, I have worn my copy of Rise Up Singing ragged. I have seen him play in the backyard of library in a small Rhode Island town, at his Clearwater Festival, at Carnegie Hall, and in Madison Square Garden when he turned 90. As it was for so many of us who first listened to him as children and grew up from there, he became part of who I am, who we are.
It was thus a dream come true when, five years ago, I was recommended to him by colleagues as a research assistant. They passed on my information and a few days later I had a voicemail. "Hello, Nell," it said. "This is Pete Seeger." A week later, Seeger was standing on the Cold Spring platform in jeans, a ratty sweatshirt, and sneakers, waiting to pick me up and bring me back to his house where I would be helping him fact check a new edition of his singalong autobiography, Where Have All the Flowers Gone.
It was a routine that continued a couple times a week for three months. Each time I sat at that kitchen table in the two-room cabin he'd built himself overlooking the Hudson, as his wife Toshi cooked and answered the phone and stamped the Christmas cards, it felt slightly unreal. The banjo that surrounded hate and forced it to surrender hung with the other instruments on a corner wall. He'd occasionally break from our work to make earnest remarks about the importance of social justice and protecting the environment. He'd break into song. He'd say how he believed in the power of music to bring people together, to break down barriers.
It is rare to meet one's hero and rarer still not to be let down by the experience. Beyond mere fact of it, the most amazing thing about spending a little time with Pete Seeger was just how precisely the man and the myth aligned. He talked the talk. He walked the walk.
On Tuesday morning, when the news broke that he had died I was sad, but sad in a calm, way. His death wasn't unexpected. He was 94 and had lived an extraordinary, full, and healthy life; his beloved Toshi died in July. What moved me was something else.
My mother called. We were both tuned into Seeger's remembrance on Morning Edition. "I've been listening to him since I was six years old," she said. We were quiet. I am 34; my mother is almost 70. Seeger's a capella voice filled the silence:I'm just poor wayfaring stranger, a-travelin' through this world of woe/But there's no sickness, toil, nor danger, in that bright land to which I go.
When the segment was over, we said goodbye. That moment of silence, however, stayed. What other figure can my mother and I both say we grew up with? What other voice do we so share? For some, Seeger came across as childlike. But that attitude itself is too easy. Seeger's image may have conjured an idea of our better American selves, recalling a belief in a kinder, simpler time that never existed. Yet as a man – a human being who lived through the greater part of the twentieth century and engaged with it on an almost unparalleled level – he reminded us of the opposite, of just how close we remain to the pain of our history: so close we could touch it. He crossed generations. To shake Pete's hand was to shake the hand of history, not distant but near.
Last January, I got a letter in the mail from my friend Hillary. Ever since she was a kid, she and her family have gone to Arlo Guthrie's annual Thanksgiving concert at Carnegie Hall. As he often did, Seeger played that year. After the concert, Hillary had apparently gone up to the stage, because enclosed in the letter was a piece of paper with the words to "Turn, Turn, Turn" scrawled on it: To everything, turn, turn, turn, there is a season, turn, turn, turn…
"Hi Nell!" Hillary wrote. "Here is Pete's cheat sheet from the Thanksgiving concert. He left it on the stage. I thought you'd like to have it." Cheat sheet. The need to remember the words rang true. In the car on my first day of work, Seeger said he wanted to get everything down as soon as he could. He wanted to work fast because, as robust for the 89-year-old as he was at the time, he knew his memory was failing.
That's what moved me Tuesday morning: a palpable anxiety that in losing this man we lose a not insignificant piece of our cultural memory. A link in the chain has been broken. While I would like to believe that someday I will share a moment like the one I shared with my mother, I cannot say I do. That is the loss I felt. It was a loss felt almost in anticipation of absence 35 years from now.