'Shake a Tail Feather' Daisy Duck Dancing to Beyoncé on a Disney Cruise Goes Viral
The internet is going wild over a video posted on TikTok of Daisy Duck dancing her tail off to Beyoncé's "Run the World (Girls)."
In the video, now viewed over 1 million times, travel agency owner @lesleyetp shows the beloved Disney character performing as part of the New Years Eve party on a Disney Cruise ship.
"Shake a tail feather has a whole new meaning!" one commenter said.
From the words they're allowed to use to the languages they're allowed to speak, Disney park performers are bound by certain rules that determine what they can and cannot do while in character.
There are two kinds of characters that actors can play while working in a Disney park— or cruise—face actors, so those characters whose faces would be visible like Cinderella or costume characters, like Daisy Duck.
In an interview with Newsweek in December, Jessica Tremmel, a former Disney park performer, said one of the rules for most face actors was that they could only speak English. She says the reason for this is character integrity, meaning it's important that all actors who play the one character sound and speak the same.
While it does not appear that Daisy Duck was breaking any rules here, dancing to Beyoncé was certainly not in mind when Walt Disney originally came up with the character.
@lesleyetp, whose full name is, Lesley Sawhook, told Newsweek in an email that the video was taken on the Disney Magic cruise during the New Year's Eve deck party on board. She said during the performance Mickey Mouse and his friends all took turns dancing, each getting featured in one song.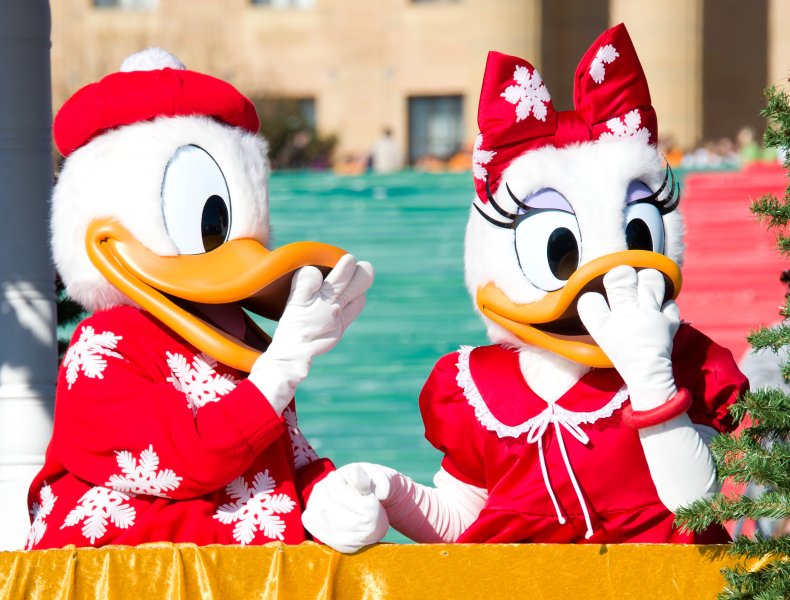 "We were so surprised when Daisy went ALL IN during her dance which is completely uncharacteristic of typical Disney character dance parties," she told Newsweek. "The entire crowd was cheering for them and we were all so excited during the various performances—Daisy definitely stole the show."
During the dance solo, a voice is heard over the loudspeaker cheering on the cartoon duck: "Go Daisy, Go Daisy, Go Daisy." At the end of the clip, Daisy brings Minnie Mouse in to join her in the center of the stage.
Sawhook says she visits Disney parks multiple times a year and has been on 13 Disney cruises but has never seen "anything like this before."
"It was so much fun so I definitely wanted to post it."
Sawhook's followers seemed to find the video fun as well, leaving over 2,000 comments.
"STARTING MY 2022 WITH THIS ENERGY," one commenter said.
"Daisy is a Beyoncé fan: make it canon," another added.