During Paris Attacks, Refuge At Shakespeare and Company Bookstore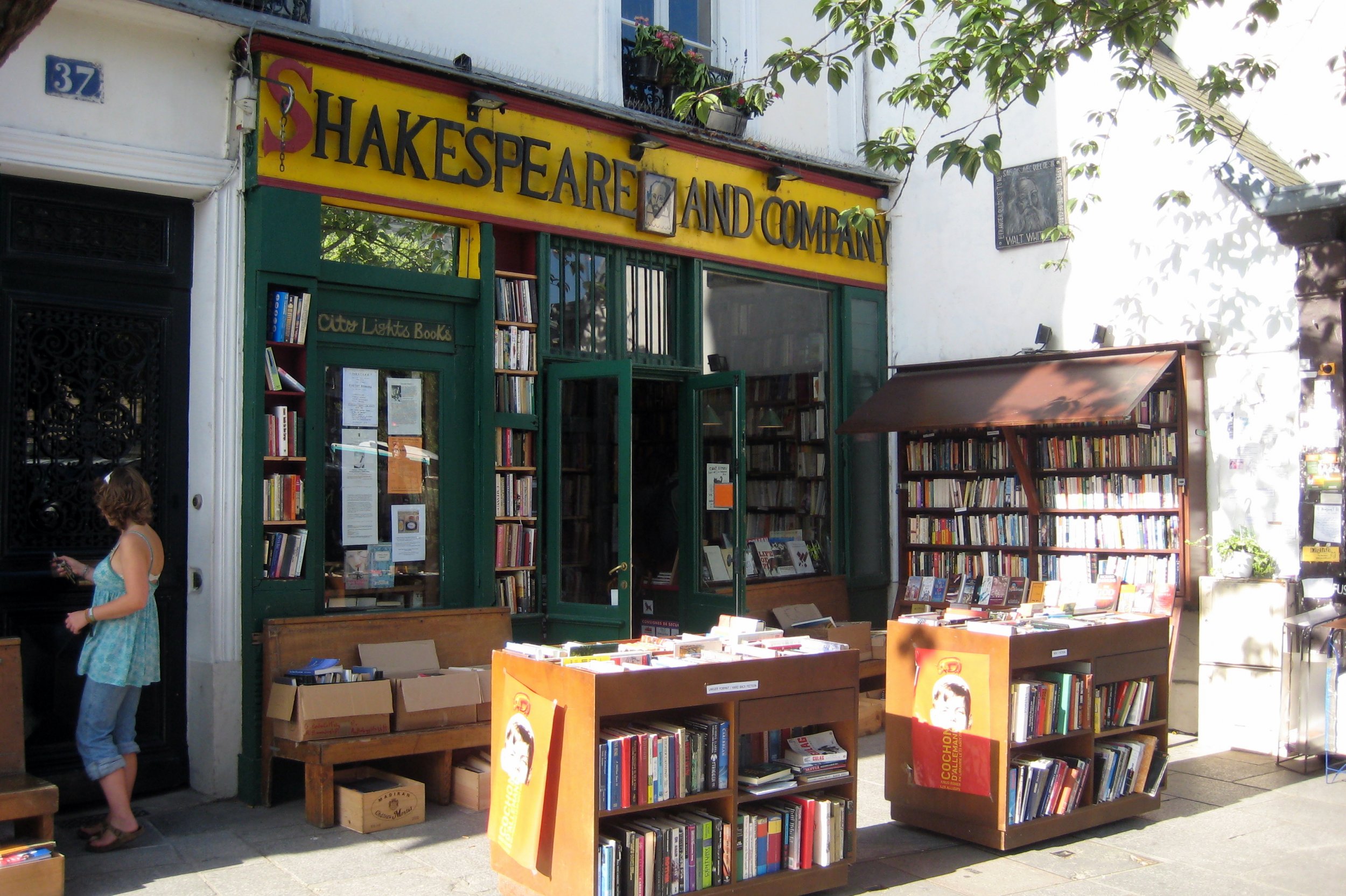 The second-story window at the Shakespeare and Company bookstore in Paris looks out on the Cathédral de Notre-Dame. In springtime, pink cherry blossoms frame the view. At night, the cathedral is illuminated, doing its part to contribute to Paris's reputation as the "city of light."
The night of November 13, those lights shining on Notre-Dame turned off early, a local says. The view from Shakespeare and Company went dark, and the incessant wail of police sirens replaced the sounds of tourists browsing the outdoor bookshelves and of buskers on the corner. As six attacks across Paris sent the country into a state of emergency, and police told Parisians to stay inside, the bookstore closed its doors and became a refuge for customers and employees.
"We are safe in a bookshop, with the windows blacked out. There are about 20 customers with us who've been [sitting] here for hours, calling home. I haven't seen anything but police cars go by and people stumbling out of bars in central Paris who clearly have no idea what is going on," Harriet Alida Lye, a writer-in-residence at the bookstore, wrote to The Guardian during the attacks.
Long a headquarters for expatriate writers and a must-see stop for tourists, Shakespeare and Company is an English-language bookstore in Paris's Saint-Michel neighborhood, on the city's Left Bank. An earlier bookstore of the same name, dating to 1919, was frequented by Lost Generation writers such as Ernest Hemingway and James Joyce. That first store closed during World War II; in 1951, George Whitman opened the existing shop under a different name. It became Shakespeare and Company in 1964.
Whitman's shop has a history all its own. It's attracted writers including Henry Miller, Samuel Beckett and James Baldwin and was popular among Beatniks such as Allen Ginsberg. Now running the shop is Whitman's daughter, Sylvia, named after Sylvia Beach, the founder of the original Shakespeare and Company.
The line of tourists outside the shop sometimes grows so long that employees must stand by the entrance and regulate the flow in and out. But Shakespeare and Company remains a functioning bookstore and a place where writers come to work and read—and sleep. The so-called "Tumbleweed Hotel" there lets traveling writers sleep for free on cots hidden among the bookshelves. In exchange, the writers must work at the shop and read one book per day. Some 30,000 people have slept there as Tumbleweeds, the shop says on its website. "This is the creed of the Hotel Tumbleweed: Give what you can, take what you need," Whitman, who died in 2011, is reported to have said.
Another favorite motto of his was, "Be not inhospitable to strangers lest they be angels in disguise," which is paraphrased from the Bible and appears on the bookshop's wall.
It is in that spirit that the bookstore gave people a safe place to stay on Friday as the city plunged into chaos. Lye wrote more about the experience in National Post: "Anyone who didn't feel comfortable leaving that night was invited to stay; around 20 customers took up the offer, plus all the staff and resident Tumbleweeds. Tea was made. Someone made oatmeal. Phone chargers were lent. Those of us who live in Paris were frantically fielding messages and leaving our own, finding out whether friends were safe."
She added: "We were shocked, confused, afraid and grieving, but we were safe."
"Those hours will be ones many will be unable to forget—colored by a series of devastating news reports, lack of sleep, and hours of blue siren-filled light," Rose Alana Frith, who works as a bookseller there, told Buzzfeed. "Surrounded by a medley of familiar and previously unknown faces in the darkened stairwell, as events unfolded, I felt comforted."
Adam Biles, a spokesman for the bookstore, said in a written statement to Newsweek, "On the night of the attacks, like many other shops and restaurants in Paris, we followed police guidance and closed the store with our customers inside until people felt safe to leave…. We share what everybody else in the city feels: a sense of grief and sadness for the victims and their loved ones, and the hope that peace will soon come to Paris and to all other cities around the world that have endured and continue to endure terrorism."
Though the bookstore remained closed over the weekend, writers who gather there every Sunday to review each other's work felt it necessary to meet. A dozen of them gathered in front of the shop and walked to a nearby dive bar, where they found space in the cellar. Some of those people had never attended the workshop before.
David Barnes, who leads the workshops with Bruce Sherfield, says in a Facebook message that they wanted "to give people a safe space to speak about it, say whatever they needed to say…read their writing or just share what happened to them on Friday…. It felt important to carry on with ordinary life and not let that be disrupted or stopped. Ordinary or routine things began to feel important."
"We never considered canceling it," Sherfield says by email. "The streets were chilling, empty. We felt like revolutionaries, fighting for the side of the righteous."
Downstairs in the cellar, with stone walls covered in graffiti and "a flickering bulb to illuminate our pages," Sherfield says, they felt protected, safe. (The group affiliated with the workshops, Spoken Word Paris, also runs weekly spoken-word events just a few blocks from the Bataclan concert venue, where at least 89 people were killed.)
Shakespeare and Company reopened Monday as the rest of Paris returned to work following a period of mourning. Author Claire-Louise Bennett did a book signing there on Monday, but the bookstore canceled her reading scheduled for that night.