Dameion Brown is on one knee, head in hand, surrounded by middle-school Shakespeare students, all doing their best to stand completely still. The seventh and eighth graders are part of a dramaturgy and design class at Oakland's Edna Brewer School, and they are doing a theater exercise in which they freeze on the command of their teacher, Jana Maiuri, using only their bodies and faces to convey a host of emotions: jealousy, anger, remorse. There are plenty of those feelings to be found in school, it seems, just as there is in prison.
The 48-year-old Brown, who looks like an NFL linebacker in the midst of all these kids, was serving a life sentence in California prisons for severely abusing three of his young children when he discovered acting—or it discovered him. He got involved in a Shakespeare-in-prison program that changed the course of his life. He was released in August 2015, after serving almost 23 years; with no acting experience before being sent to prison, Brown landed the role of Othello in a Marin Shakespeare Company production. This was how these students knew him: they'd seen him on stage. He was not an ex-con who'd committed unthinkable crimes but the black general who murdered his white wife in a fit of jealousy, before taking his own life. To them, he is Othello.
Related: Shakespeare's Take on Making a Murderer
Later, the class sits in a circle of desks and asks questions of the actor. Did he do anything to psych himself up before each performance? one student wonders.
"I would tell myself, 'I am not one of these people,'" says Brown, in his rich baritone. "I am from Morocco. I married well, and nobody likes me."
"Othello is the other in our midst," says Philippa Kelly, the resident dramaturg at the California Shakespeare Theater in nearby Orinda. Kelly was one of the co-founders of the pilot program, called Making Shakespeare Real and Relevant, that brought Brown to Maiuri's theater class. "The awful thing about Othello is that, in the beginning, he is completely clear and fathomable to himself: He knows himself so well. And as the play goes on, he becomes unrecognizable to himself. It's a fear we all have."
Even preteens, apparently. Before the class, I sat with Brown, Maiuri and Kelly on the back porch of the teacher's nearby house. Brown says he first wanted to play Othello when he was in the eighth grade in Tennessee, but some local parents objected to the mixed-race theme.
"I'm with middle-schoolers trying to do this play," says Maiuri. "When we first looked at it, I thought, Oh, this is really adult. It's about marital jealousy; do I need them to grapple with that? But their insights have been amazing." They're a mixed-race group—black, white, brown and Asian—typical of the East Bay's public schools. "One kid told me, 'My dad says when I'm out with people, this is the expectation: You have to be twice as good as everyone else.' They brought up police brutality; they brought up Trayvon Martin; they brought up domestic violence. They made connections without a lot of prompting from me."
Those sort of connections are what Kelly was hoping for when she began the program, with support from the Walter and Elise Haas Foundation. (In California's public schools, as in much of the nation, support for the arts is on the verge of extinction.) "Empathy is key to any experience of art," she says. "When we humans encounter social conflict, we flee to one of our most primitive responses—which is prejudice. How might this play out in thinking about Shakespeare?"
Brown, who now works with at-risk young men who've been in trouble with the law, believes the playacting violence of Shakespeare has the potential to prevent the real kind. "They're less likely to cross that line between impulse and action," he says. "Arts can do that for young people."
He got his first taste of acting at Solano State Prison in 2014. A program called Shakespeare for Social Justice, started by Marin Shakespeare's Robert and Lesley Currier at San Quentin in 2003, was looking for men who wanted to perform Macbeth for their fellow inmates. "I was looking for the smallest role in the play," says Brown. Instead the Curriers cast him as Macduff, one of the play's heroes, who responds to the news that his family has been murdered by saying, "I must feel it as a man."
Lesley Currier recalls the prisoners doing an exercise related to one of Macbeth's themes: what does it mean to be a man? It was a simple call and response, in which one inmate asks another, "Are you a man?" and the other responds, "Yes, I'm a man," with each giving their lines a slightly different reading each time.
"He had so much passion and vulnerability and depth of feeling [in just doing that exercise] that I thought, This guy should be Macduff," she says.
The crimes Brown committed cannot be minimized. In 1993, a jury in San Jose, California, convicted him of torturing his 3-year-old daughter and endangering the health of two other young children. He admitted to whipping his children, starting at the age of 2, and said at the time that he did not think that was too young—or that his form of punishment was torture. That 3-year-old girl "is now permanently and extensively disabled and disfigured," according to court documents. Brown was sentenced to life in prison with the possibility of parole.
Brown told an examining psychiatrist, "I feel horrible. No matter what I accomplish, I will never be whole because I took away their innocence."
A Terrifying Look
Innocence is often a relative term in prison; many inmates will tell you they have been falsely accused or unfairly convicted, and even those who readily admit to their crimes will offer extenuating circumstances. There are layers of denial and defensiveness that aren't easily penetrated.
"We have exercises where we ask actors to just look into each other's eyes," says Currier. "That can be terrifying for someone in prison: If you look too long into someone else's eyes, that person might react with violence. We have many classes where someone will say, 'Please don't tell anyone what we did today! What happens in this room—don't take it out into the yard!'"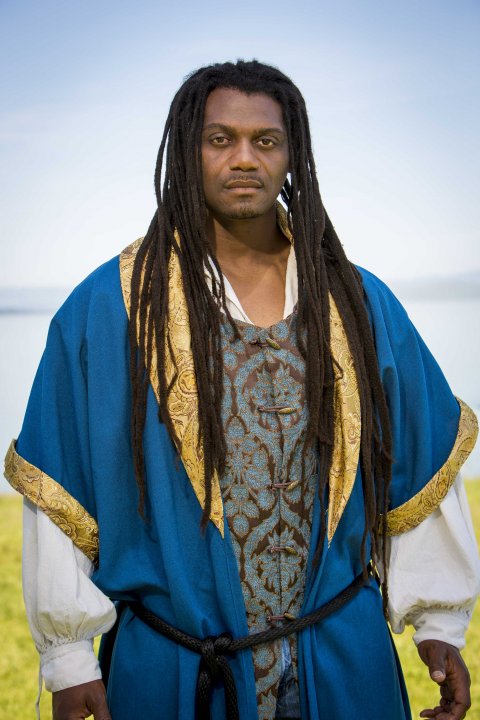 Currier heard of two members of her class—one black, one white—practicing their lines in the yard when a friend of the black inmate came up and said, "What are you doing talking to that white guy?"
"We're studying Shakespeare," the black actor answered.
"Oh, Shakespeare!" his accuser responded. "That's OK."
The acting exercises they did together "got people vulnerable," says Brown, "so suddenly two men who viewed each other with deep suspicion and distrust for decades now see what they've never seen in one another. You see this soft, human moment and the flash in the eyes, the light: It must feel good to get this mask off for a minute. And when you see that, you can't unknow what you know. Then you start to see the human."
"When inmates have the opportunity to do programs like this, it makes the entire prison safer," says Currier. The trust exercises help, but examining the material leads to self-examination, too. In the case of Macbeth , inmates discussed the nature of crime: Why does someone choose to break the law? What are the unintended consequences?
"I've met a lot of people who feel that going to prison has given them the opportunity to reflect on their lives, think about what they really want to do, whether it's behind bars or outside," she continues. "Many of them also feel an obligation to make up for the pain they've caused in the world."
Typically, the men in the Shakespeare for Social Justice program study their play for eight months before giving one performance before their peers. Dressed in improvised costumes, and using pool cues for swords, Brown and his fellow actors wowed their audience of fellow inmates, many of whom knew the play. "You'd be surprised at how educated prison populations are," he says. "Time gives you the benefit of a lot of things, and sometimes when you have nothing to read but Shakespeare, you read the hell out of it. There are people in there who, when they found out I was doing Macbeth, would come up and do a monologue!"
After Brown was released, he got in touch with Currier. He already had a job with a group he had begun to work with in prison, Oakland's Community Works West, counseling people the court believes are salvageable. She took him to a Marin Shakespeare production of Richard III and afterward, her husband who'd directed the play, introduced Brown to the audience and said, jokingly, "Maybe we can get him up on stage to play Othello!"
His auditions went well, though there were concerns. "Could he do it?" says Lesley Currier. "He'd done one play in his life, one performance of one play. He was living in transitional housing, had no car and was just reconnecting with his family. And then there was the question of if our board of directors would approve of us hiring a former inmate."
Brown's debut garnered a lot of local press and toward the end of the play's two-week run, she started to hear from theatergoers who had reservations. "I think it was their misunderstanding of the nature of his crimes," says Currier. (The words child torture have that effect.) His fellow actors, meanwhile, offered advice and support. "Everyone came to know him and his story," she adds. "Just him doing this role, and doing it so extraordinarily well, was sending a message out into the world about the potential of the millions of people incarcerated right now."
The ex-convict invited some of the young men he works with to come see him perform. "For some, coming to see the play was the first time they'd been to Marin County," says Currier, "or the first time they'd ever seen a play. There's still ripple effects for the work we do in prison."
Meanwhile, Kelly was launching her school program and was thrilled to see that there were two productions of Othello in the Bay Area that fall: The students could compare and contrast. "I didn't know any of Dameion's backstory," says Kelly. "I was just interested in having Othello come to school." The high school class he met with first was not that interested in his prison time, either, she says. "They all wanted to know, 'What's your workout routine?'"
Some of the discussions she has had with middle and high school students about Shakespeare mirror those that take place in the prison program. (Three years ago, Shakespeare for Social Justice received a grant from the state's department of corrections; they expect to expand the program to eight state prisons next year.) The idea of masks, for instance: That resonates with students as well as convicts. "As we get older, we become more aware of the masks we put on to go out into the world, or the masks we put on to go home," says Kelly. Many of the big themes that reverberate through Shakespeare's plays—the meaning of identity, the importance of responsibility, the danger of the preconditioned response—matter as much in the school cafeteria as they do on the prison yard. Breaking the cycle of violence, for instance. "It's the very question at the heart of Romeo and Juliet," says Kelly. "Why the hell are these young people being brought up to kill each other?"
Surrounded by middle-school students, Brown tells them a final, fabulous tale. In the wake of the publicity he received for playing Othello, a younger brother (Brown is one of 12 siblings) said a stranger had contacted him saying he was their long-lost father. Dameion was skeptical.
"I wanted it to be true, but I knew it wasn't true," he told the class. He called the man, and asked him questions only their father could know and the stranger answered seven out of eight of them correctly—he knew Brown had fallen through a frozen pond and a dog named King had rescued him. The man then sent him a photograph of himself and Brown declared, "That's Dad." The call, it seems, was coincidental and had nothing to do with the press.
Hearing the story, Kelly says, "Shakespeare is all about these miracles."
Read more from Newsweek.com:
- Is prison the right punishment for old convicts?
- Prison phone rates keep going up
- Prisoners' own brain injuries can help rehabilitation