Strike Kills Nearly Every Deputy Commander in Russian Division: Ukraine
A strike by Ukrainian forces left all but one of the deputy commanders from Russia's 106th Airborne Division dead, according to the Armed Forces of Ukraine.
A post on the Telegram page of the Ukrainian Armed Forces' communications office said that the deputy commanders were wiped out by HIMARS (High Mobility Artillery Rocket System) fire attacks near Shakhtarsk, a city in Ukraine's eastern Donetsk region. The one deputy commander who did not die is "in serious condition," the post said.
The Telegram post, published Tuesday, did not specify whether the HIMARS attack also took place on Tuesday. Newsweek was not able to independently verify Ukraine's report. The defense ministries of Russia and Ukraine were contacted for confirmation and comment.
The alleged deaths of the deputy commanders are among several reported losses Russia has seen since its high-profile victories in securing the city of Severodonetsk and the Luhansk region. Ukraine announced Tuesday the "liquidation" of Major General Artem Nasbulin after another HIMARS strike in Ukraine's southern Kherson region. An anti-war group said Sunday that more than 100 Russian servicemen had returned home after refusing to fight in Russian President Vladimir Putin's war, while Ukraine's Ministry of Internal Affairs announced Monday that Ukrainian guardsmen had destroyed a Russian reconnaissance group in the Donetsk region.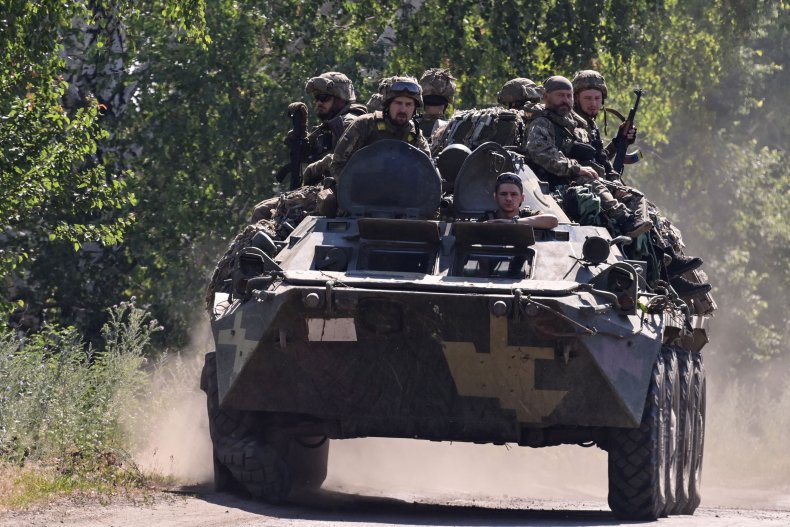 After Russian forces seized Luhansk last week, Putin ordered all units involved in the region's offensive to pause and rest so they could "build up strength" and prepare to reenter the war.
"The units that took part in active hostilities and achieved success, victories in the Luhansk direction, of course, should rest, increase their combat capabilities," Putin said.
But this has not fully halted Russia's military operation in Ukraine.
The Institute for the Study of War (ISW), a U.S. think tank that provides frequent assessments of the war's progress, said in its July 10 report that the pause "has been largely characterized by Russian troops regrouping to rest, refit, and reconstitute; heavy artillery fire in critical areas to set conditions for future ground advances; and limited probing attacks to identify Ukrainian weakness and structure appropriate tactical responses."
"As ISW has previously noted, an operational pause does not mean a complete cessation of hostilities, rather that ongoing hostilities are more preparative in nature," the report added.
The ISW's July 11 assessment said that Russian forces conducted "limited and unsuccessful ground assaults" northwest of the city of Slovyansk in the Donetsk region, as well as west of the city of Donetsk.
Russia's military also carried out air and artillery strikes around the cities of Siversk and Bakhmut in the Donetsk region and conducted "localized ground assaults" northwest of the city of Kharkiv, the ISW said.