Shakira, Gerard Pique Drama Timeline Amid Clara Chia Marti Pic Controversy
Shakira's ex Gerard Piqué has officially moved on, going Instagram official with his 23-year-old girlfriend.
The former Barcelona soccer player, 35, posed with Clara Chia Marti in a selfie that attracted 2.7 million likes in just 11 hours. He dated Shakira for 12 years.
Pique posted the photo without a caption, but it's his first confirmation of the relationship, after the Colombian singer, 43, accused him of cheating in a recent diss track.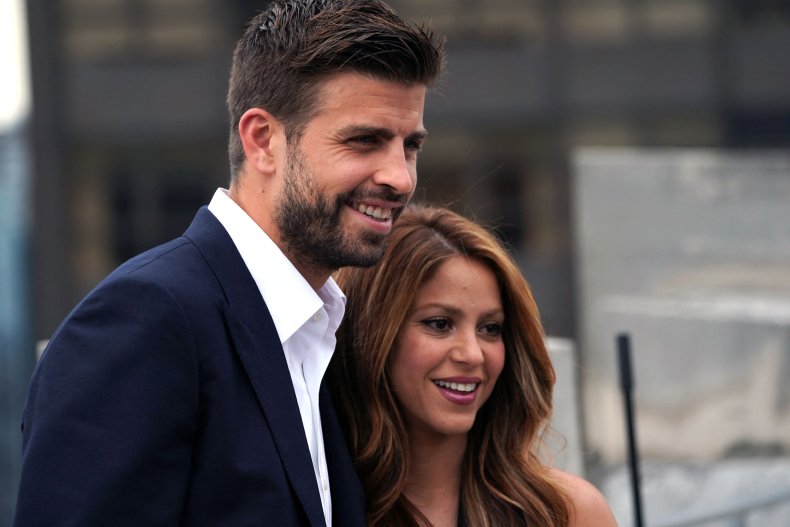 The former A-list couple have two sons together and announced their split in June 2022.
Here is a timeline of Shakira and Piqué's relationship.
2010
The couple met on the set of the music video for "Waka Waka (This Time for Africa)," the official song of the 2010 FIFA World Cup in South Africa. Piqué was one of many soccer players to make a cameo in the video.
"I wasn't a soccer fan, so I didn't know who he was," Shakira told 60 Minutes in 2020. "When I saw the video, I was like, 'Hmm, that one's kind of cute. 'And then someone decided to introduce us.' "
Shakira also declared that meeting the soccer player restored her belief in God.
"I think, if you can prove the existence of God, it can only be proven through love," she told Elle in 2013. "I even had lost my faith for a while. I was becoming an agnostic. And it was really hard, because I was always very religious, and for a few years, maybe because — it sounds so corny — I was not feeling the love like it was supposed to be, I started to think that there was no God. And suddenly I meet Gerard and the sun comes out."
Piqué also revealed he had written to the singer ahead of the 2010 World Cup, which Spain would go on to win.
March 2011
The couple went social media official and public with their relationship.
"Les presento a mi sol" (I present to you my sun), he wrote on a photo of the couple.
January 2013
The couple welcomed their first child together, a son named Milan Piqué Mebarak.
"The name Milan (pronounced MEE-lahn), means dear, loving and gracious in Slavic; in Ancient Roman, eager and laborious; and in Sanskrit, unification. Just like his father, baby Milan became a member of FC Barcelona at birth," the new parents wrote on Shakira's website.
January 2015
Piqué and Shakira welcomed their second child, another son.
Sasha Piqué Mebarak came to the world on January 29 and was also born in Barcelona like his older brother.
"The name Sasha is of Greek and Russian descent and means' defender of mankind' and 'warrior,' " they said when announcing his birth.
August 2018
Piqué retired from soccer.
Shakira gushed over her man and his achievements in an Instagram post.
"Love, finished the stage that we will always keep in our hearts," she wrote. "One of the happiest moments of my life has also been seeing you win in 2010 with the national team and celebrate with Spain champions! Shak."
January 2020
Shakira explained to 60 Minutes why she didn't want to marry her long-time beau.
"To tell you the truth, marriage scares the s*** out of me. I don't want him to see me as the wife. I'd rather him see me as his girlfriend," she said.
"His lover, his girlfriend. It's like a little forbidden fruit, you know? I wanna keep him on his toes. I want him to think that anything's possible depending on behavior."
June 4, 2022
Shakira and Piqué announced they were splitting up after 12 years together.
"We regret to confirm that we are separating," they wrote in a joint statement. "We ask for privacy at this moment for the well-being of our children, who are our maximum priority. Thank you in advance for your understanding and respect."
September 2022
The singer described the split as"the darkest hours of my life."
"I've remained quiet and just tried to process it all," she told Elle. "It's hard to talk about it, especially because I'm still going through it, and because I'm in the public eye."
Shakira added: "I've tried to conceal the situation in front of my kids. I try to do it and to protect them, because that's my number one mission in life. But then they hear things in school from their friends or they come across some disagreeable, unpleasant news online, and it just affects them, you know?"
October 2022
Shakira released an emotional song and accompanying video, seemingly describing her heartbreak after their breakup.
In the video for "Monotonía," with Ozuna, Shakira walks around a grocery store while crying before a person shoots her in the chest.
She then spends the remainder of the video walking around with a hole in her chest, as she carries her beating heart before locking it away in a box.
November 2022
The former couple came to a custody agreement over their two sons.
"Our sole objective is to provide our children with the utmost security and protection and hope that they can continue with their lives in a safe and calm environment," they said in a joint statement. "We appreciate that their privacy will be respected."
January 12, 2023
Shakira released a scathing diss track produced with Argentinian DJ Bizarrap titled "BZRP Music Sessions #53," which seemed to reference how she had busted her ex cheating.
It seemed Shakira was noticing some of her favorite food disappearing from the couple's fridge even though she had not been home, according to fan theories. She also accused Piqué of lumping her with his mother and leaving her stranded with the tax fraud charges she faced last year.
Other lyrics included: "So much talk of being a champion / And when I needed you, you gave me the worst version of you," and, "Sorry baby, I should have thrown you out a while ago / A she-wolf like me is not for rookies."
"I'm worth two of 22 / You traded a Ferrari for a Twingo / You traded a Rolex for a Casio," is another line fans think is a reference to Piqué's new girlfriend, who was 22 years old when they started dating.
January 25, 2023
Piqué went Instagram official with Marti in a selfie.
The soccer player reportedly met the PR student when she was hired to work at his events production company, Kosmos.