Is Shakira Using Nazi Symbols in Her New World Tour? The Black Sun Controversy Explained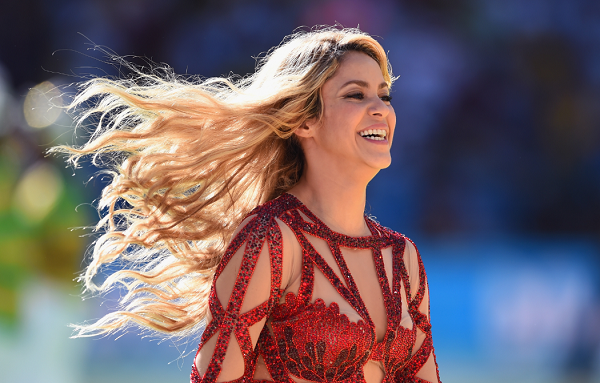 Shakira came under fire on Tuesday after fans noticed a necklace for sale on her fan website resembled a symbol prominent in Nazi culture. The gold pendant, a sun pattern with the inscription, "Shakira El Dorado World Tour," is nearly identical to the Black Sun symbol—otherwise known as Schwarze Sonne in German.
German news site Bento first reported on the necklace's uncanny resemblance to the German sun wheel, which is still heavily associated with neo-Nazi occult groups. Side-by-side screenshots of the merchandise, showcasing the necklace and Black Sun's striking similarities, have since made rounds on the Internet, sparking fan outrage.
Although some fans bashed the Colombian singer for her use of the Black Sun symbol, others suggested Shakira may not have been aware of the emblem's significance with neo-Nazis.
The pendant cost $9.95 on Shakira's online store. Shakira kicked off her world tour in Germany, performing at the Barclay Card Arena in Hamburg on June 3.
The Black Sun symbol has long been aligned with German esotericism since the design first appeared in mosaic tile on the floor of the Wewelsburg Castle in Germany. Although the castle was originally built in the early 1600s, it gained the attention of Schutzstaffel—or SS—leader Heinrich Himmler in the 1930s.
Himmler proposed for the castle to be an ideological home base for the SS party and the room, which featured the Black Sun mosaic, was planned to be a meeting room for the group.
The SS was paramilitary regime operating under the order of Adolf Hitler and the Nazi party. Other buildings occupied by the SS and Nazi leaders also featured Black Sun symbols, stars and swastika lines.
In modern-day Germany, such symbols and shapes, including the Black Sun, are listed as far-right symbols to watch out for while images mirroring swastikas are completely banned, according to Bento.
Newsweek's request for comment from Shakira's representatives was unanswered at the time of this article.