Shaky Ground Halts Third Day of Efforts to Save Boy Who Fell Into Well
Rescue workers on their third day of digging to try to reach a child trapped in a deep well halted their operations Friday after concern that the ground could potentially collapse and complicate the mission.
Five-year-old Rayan fell down a 105-foot well in Morocco on Tuesday and has been trapped ever since. Rescuers have been working around the clock trying to free him amid a growing crowd of onlookers and social media attention.
Rescue workers have struggled to reach Rayan as the opening of the well is about 18 inches (45 centimeters) in diameter, so it's too narrow to send someone down and grab him, Reuters reported.
Five bulldozers have been digging parallel to the well for several days reaching about 100 feet (31 meters) as of Friday. However, when they were about to start excavating a horizontal tunnel about 10 to 15 feet long (three to five meters) to reach Rayan, they stopped over concerns that the ground could collapse, the Associated Press reported.
Reuters reported one of the rescue team told local media on Friday that in order to dig the horizontal tunnel "we have to stabilize the earth and remove the risk of landslide because we will deploy a rescue team and we cannot jeopardize their lives."
After the workers determined it was safe to continue digging, they started back up again, AP reported.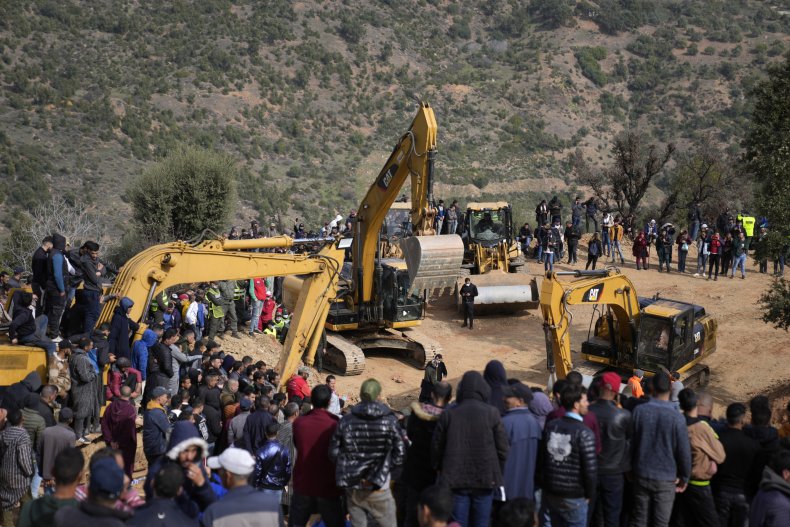 Rescuers have sent down oxygen, food and water. A camera sent down to monitor him showed he has injuries to his head, but he was conscious, Newsweek reported.
"I managed to communicate with the child and asked if he could hear me. There was a response. I waited for a minute and saw that he began using the oxygen," Red Crescent volunteer Imad Fahmy told 2M, according to AP.
A large group of onlookers have gathered at the rescue site watching the event unfold. Thousands of people have been using the hashtag #SaveRyan on social media, waiting to see if he's been saved, Newsweek reported.
Government spokesperson Mustapha Baytas said on Thursday that they are monitoring the situation closely and thinking of different ways to reach the child. Medical staff and helicopters are waiting to bring Rayan to the nearest hospital once he is rescued, AP reported.
"I pray and beg God that he comes out of that well alive and safe," his mother, Wassima Kharchich, told 2M, according to AP. "Please God, ease my pain and his, in that hole of dust."