Former New York City Marathon champion Shalane Flanagan is set to return to the course at which she made history as she pursues an entirely different kind of goal on Sunday.
Back in 2017, Flanagan became the first American runner in 40 years to win the women's division at the TCS New York City Marathon. She previously placed second in the 2010 race and three years ago placed third in the 2018 race. Last month, New York Road Runners announced Flanagan would be included in the latest group of athletes inducted into its NYRR Hall of Fame.
This year, Flanagan is preparing to make New York her final hurdle as she attempts to finish running six major marathons in six weeks, a goal she is calling "Project Eclipse."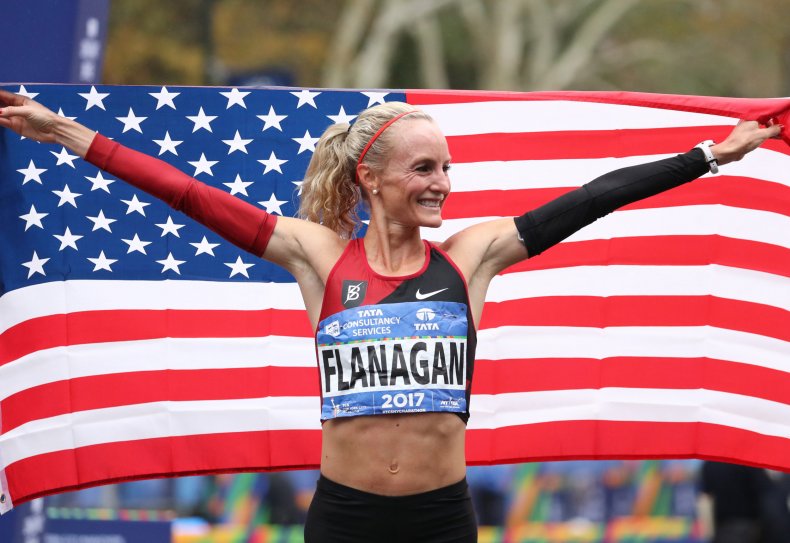 Flanagan, 40, who officially retired from professional running in 2019 and has recently undergone two reconstructive knee surgeries, announced the project in a September 20 Instagram post. The idea came earlier this year when she noticed the six Abbott World Marathon Majors, which typically take place throughout the year, would all be held within a two-month span due to postponements caused by the ongoing coronavirus pandemic.
Flanagan's initial goal was to run all six races in Berlin, London, Tokyo, Chicago, Boston and New York. When the 2021 Tokyo Marathon was postponed to early March of next year, Flanagan decided to use a substitute course in Portland, which she used for training throughout her professional career.
In her Instagram post announcing the challenge, Flanagan described it as a "total running eclipse that will never happen again in my lifetime." But she acknowledged reaching the goal would be difficult.
"This goal is hard. But I need it to be," she wrote. "It's what makes me feel most alive."
Flanagan tackled her first Project Eclipse marathon in Berlin on September 26 and ran her second in London one week later. Two back-to-back marathons came the following week—with the Chicago Marathon on October 10 and the Boston Marathon on October 11—and she completed her fifth in Portland the following week.
Flanagan has completed each of the five marathons so far in under 3 hours, which was another element of the goal she outlined during a September conversation with Self.
In the days before the race in New York, Flanagan posted photos and videos on social media that showed her exploring the city and visiting the course.
"Honestly, I had no idea that this project would be as magical as it has been. This is the most fun that I've ever had running," Flanagan wrote in an October 28 Instagram post. "When I cross the finish line in NYC, elated and exhausted, I already know I will wish that I could do this all over again."
Uncommon Knowledge
Newsweek is committed to challenging conventional wisdom and finding connections in the search for common ground.
Newsweek is committed to challenging conventional wisdom and finding connections in the search for common ground.
About the writer
Meghan Roos is a Newsweek reporter based in Southern California. Her focus is reporting on breaking news for Newsweek's Live Blogs team. Meghan joined Newsweek in 2020 from KSWB-TV and previously worked at Women's Running magazine. She is a graduate of UC San Diego and earned a master's degree at New York University. You can get in touch with Meghan by emailing m.roos@newsweek.com. Languages: English