'Shame on You:' Protester Interrupts Washington Archbishop Cardinal Wuerl
A Catholic Cardinal has pleaded for forgiveness for his involvement in a sexual misconduct case in Pittsburgh.
Archbishop of Washington, Donald Wuerl, addressed a mass on Sunday to install a new pastor. During his speech, Wuerl became the target of abuse from the crowd as one person yelled "shame on you" while another turned her back on him. Wuerl was speaking to around 200 people and asked that they forgive his "errors in judgement" and "inadequacies."
"Yes, my brothers and sisters, shame," Wuerl said. "I wish I could re-do everything over these 30 years as a bishop and each time get it always right. That's not the case. I do think together, asking for God's mercy, pleading for God's grace, recognizing that we can move into light, I simply ask you to keep me, keep all of those that have been abused, all of those who have suffered, all of the church in your prayers."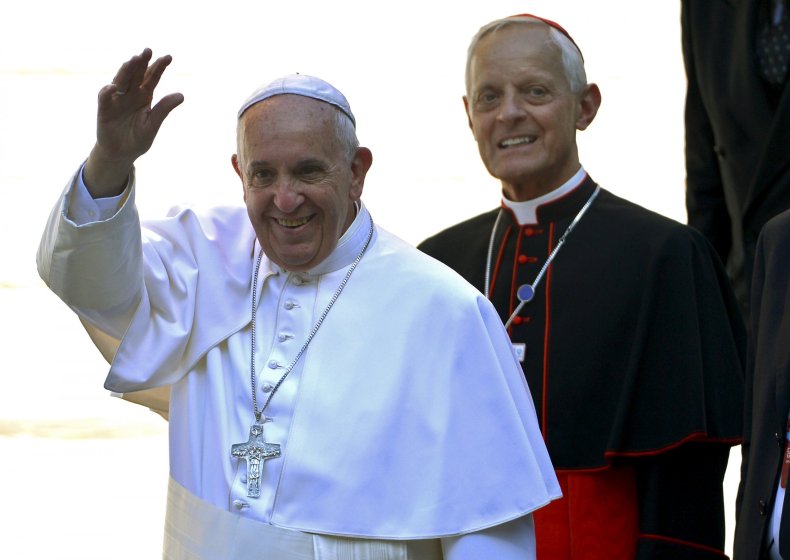 Brian Garfield led the shouts against Wuerl and left the church in protest. His cries came after Wuerl asked the church-goers to rally behind Pope Francis amid increasing pressure for him to resign. "Increasingly it is clear that he is the object of considerable animosity," Wuerl said, at which Garfield shouted and stormed out.
"I don't think he is a monster but I wish he would talk less about defending himself and more about his failings," Garfield said, according to CNN. "It's a little galling to be lectured on transparency by people who are lying to us. I wish he would talk to us as a pastor and not a politician."
Mary Challinor turned her back on the cardinal's address in protest. "There's a tradition in the church, especially here in Washington," Challinor said, according to NBC 4 Washington. "There were protests in the late '60s and early '70s of people who, during the sermon in that case, would turn their backs to say, 'I am here, I am a member of the church, I am celebrating mass, but I don't agree with what is being said, and I don't agree with the policy, but I am here as a Catholic.
"I feel like these people who, in the evidence of the Pennsylvania report, allowed priests who were abusing children to continue in their ministry should no longer be in the church hierarchy," she said. "They should be priests. We need every priest we can get, and I don't think they did this out of malice at all, but I think that they abused their position and I feel like they abused the responsibility that was given to them, I guess in Pennsylvania, as a bishop."
Before the Sunday mass, Wuerl told the Catholic Herald that Pope Francis should be in parishioners' prayers. "At each mass we pray for him by name. As we do so with our voices may we do so as well with our hearts."