'Shameless' Season 10 on Netflix: Does Tami Die?
Shameless Season 10 is now streaming on Netflix, meaning fans are getting to see their favorite characters return.
Tami Tamietti (played by Kate Miner) fans, however, are worried that the character dies on the Showtime show after she needed emergency surgery in the premiere following the birth of her son.
Tami looks nearly dead at the end of the episode, but there is good news for fans of the character, who was first introduced in the last season of Shameless as Lip Gallagher's (Jeremy Allen White) girlfriend.
Does Tami die in Shameless Season 10?
WARNING: The following contains spoilers for the entirety of Shameless Season 10.
In Shameless Season 10, Episode 1, titled "We Few, We Lucky Few, We Band of Gallaghers!," Tami goes into labor, and things do not go well. She starts hemorrhaging and is taken into emergency surgery. As the Gallaghers arrive to see the baby, her fate is still unknown, with Debbie (Emma Kenney) saying on the phone, "It's a boy. No, Ian doesn't know yet."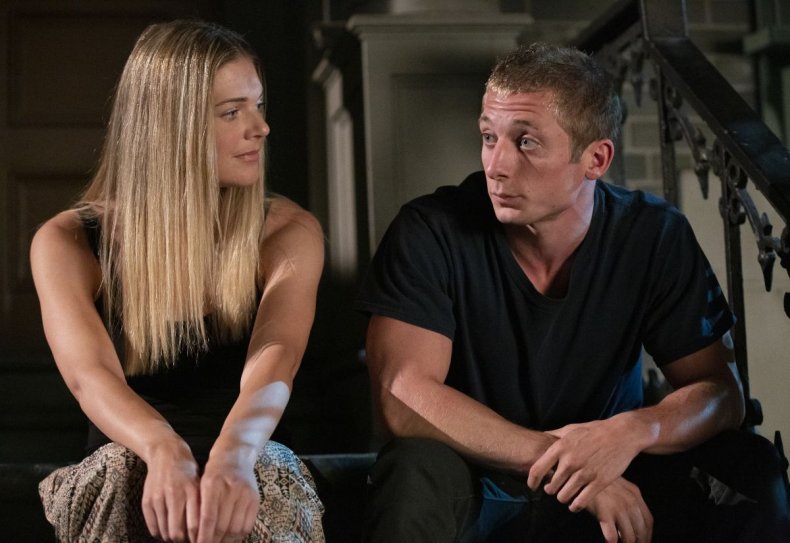 However, fans of the character will be pleased to know that she eventually makes it through, and is still alive by the end of Shameless Season 10.
This should not be too much of a surprise to those who have kept on track with Shameless casting news. After Emmy Rossum left the Showtime show, Tami actor Kate Miner was moved from a recurring character to a series regular for Season 10.
In Shameless Season 10, Episode 2, she is still in the intensive care unit, and Lip has to try to look after the baby on his own, leading to much comedy as he tries to change diapers and kick smoking. By Episode 3, she is reunited with her baby, and in Episode 4 she is out of the hospital.
After she survives the birth of her son, who gets named Freddie, much of the season sees her trying to deal with being a new mother.
Speaking to MEAWW, actor Kate Miner said of this arc for her character: "Like a lot of new moms, the transition to motherhood was not a smooth one. Her moodiness and frustrations with Lip were a mix of her hormones and her insecurity that Lip was adjusting to parenthood more easily than she was. But Tami's perspective was a little skewed because she was in the hospital and didn't get to see Lip's initial struggles watching Fred by himself."
She added that she was helped in this plot by the birth of her own son: "When I first started working on Shameless I had a 4-month-old and was still totally overwhelmed with being a mom. Sometimes I'd show up to set in the morning on no sleep with spit-up in my hair and milk leaking through my shirt. So when Tami became a new mom it was art imitating life. I didn't have to reach very far for it, that was just my literal life!"
Shameless Season 10 is streaming now on Netflix.