'Let Me Go': Woman's Final Moments Heard on Phone Call Before Body Found
The body of a 31-year-old woman was found on a mountain above the city of Tbilisi, Georgia, in Eastern Europe, on Saturday.
Identified as Shanae Brooke Edwards, the Australian woman is believed to have been murdered, with her final moments heard by a friend during a call made immediately before the apparent attack.
Edwards, who is believed to have been working as an English teacher in the area, was seen on CCTV footage leaving her apartment at 3.35pm on Friday. She left to hike the popular Mount Mtatsminda, which overlooks Tbilisi.
Natalia Karikh, a friend of Edward's living in the area, raised the alarm after the teacher failed to return home. "SOS!!! HELP!!! Friend is missing in Tbiilsi," she wrote over Facebook on Friday. "Everyone who lives in Tbilisi please come tomorrow 7am and later."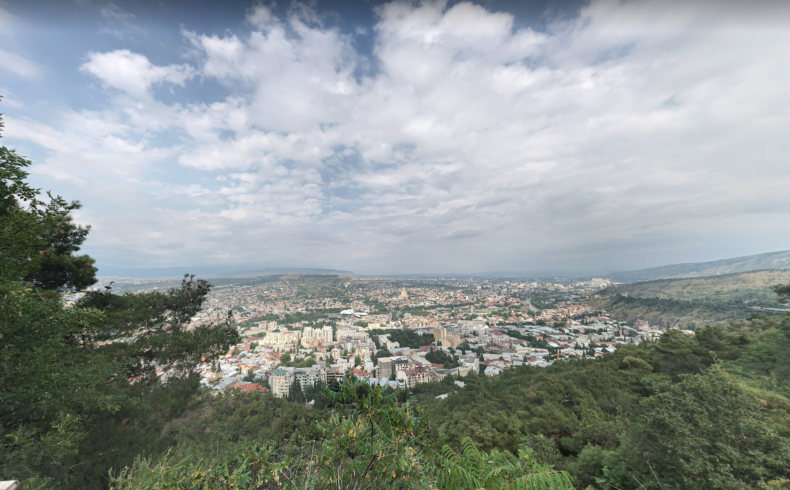 Karikh also urged others in the area to contact her if they "saw something weird or heard [a] woman screaming at the trails under Mtatsminda Park around 4:30p.m. on Friday," on the Facebook group 'Expats in Tbilisi'.
A search operation was launched to find Edwards, composed of officers from the Criminal Police, Emergency Situations Management Service, Special Tasks Department, and several volunteers.
"As a result of several hours of intensive search and investigative activities, the officers of the Ministry of Internal Affairs found the female body on the slope of Mtatsminda," the Georgia Ministry of Internal Affairs said in a statement on Saturday.
A document prepared by the search party, seen by NCA NewsWire and as reported by The Australian newspaper, said Edwards screamed for help on the phone to a friend in the U.S. and was heard saying, "please let me go, okay ... just let me go", before the call cut out.
Edwards' death is currently being investigated as a murder, according to local media reports.
"The ministry and police officers are doing their best to find the murderer," Georgian Interior Minister Vakhtang Gomelauri said, as reported by Agenda.ge. "We [the Ministry of Internal Affairs] have some information, though I can not talk about it due to the interests of the investigation," he added.
A spokesman from the Department of Foreign Affairs and Trade said an officer from the Australian Embassy in Turkey, accredited to Georgia, had travelled to Tbilisi to liaise with Georgian authorities.
"The Australian Government offers its deepest condolences to the family of an Australian woman whose death is being investigated by authorities in Tbilisi, Georgia," the DFAT spokesman said, as reported by The Australian.
"DFAT is providing consular assistance to the woman's family. Owing to our privacy obligations we will not provide further detail."
There are unconfirmed online reports within the Tbilisi expat community of other women being followed by an unknown man near Mount Mtatsminda.
One woman claimed to have witnessed an alarming encounter on the mountain around the same time Edwards went missing.
"While walking on Mtatsminda Park we came to an end of the asphalt path with my partner (it's the end of Greek Path, close to devils circle). There was a path, I guess from the city to the Park (I have never Hiked there)," one woman wrote in the 'Expats in Tbilisi' Facebook group. "The thing is that 30-50m below we saw guy hiding in the woods who was having sex with some girl- it looked quite aggressive action," she added, before claiming the incident happened "exactly one day before" Edwards went missing.
Friends have posted tributes online and described Edwards as a kind, generous and free spirited young woman.
"You were the strongest woman I know, an incredible human being, always the life of the party, always radiant and positive no matter what life threw at you," one person wrote.
"My heart is heavy with sadness to know she has left us. I know she will be greatly missed and I send my deepest condolences to her family during this tragic time," said another. "I feel truly honored to have crossed paths with such an incredible woman".