'Mortal Kombat 11' Shao Kahn Gameplay, Fatality and Fatal Blow Released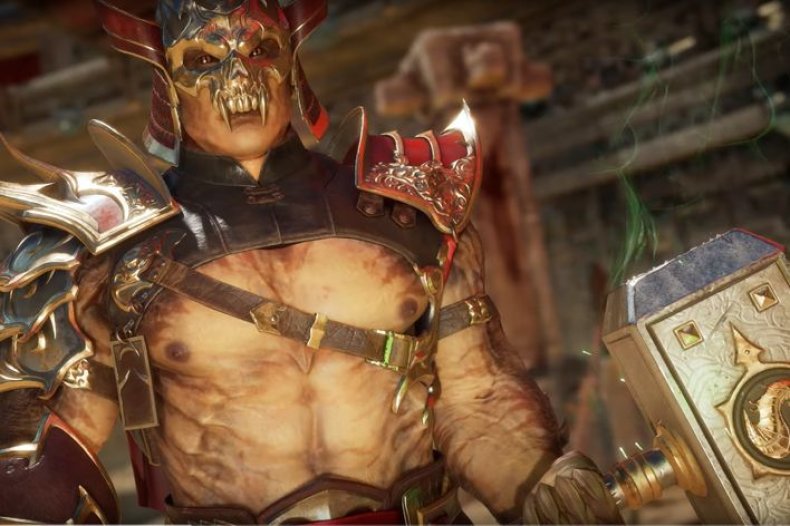 The first gameplay trailer for the pre-order bonus fighter Shao Kahn has dropped ahead of the Mortal Kombat 11 release April 23, showing off the villain's vicious moves.
Before we get into what makes Shao Kahn a force to be reckoned with in NetherRealm Studios' latest Mortal Kombat title, check out the reveal gameplay trailer for the Emperor of Outworld below.
From the trailer we can see that Shao Kahn utilizes his patented hammer to devastating effect. He pummels his opponents while chaining command grabs to pluck enemies out of the sky and slam them to the ground.
Shao Kahn also brings out a spear that he can use to add variety to his combos and specials. It seems the villain can switch between the spear and hammer making him a little hard to read.
His signature shoulder tackle is back, giving the lumbering villain a way to close the gap on his opponent. However, it looks like he can be punished if it's blocked or missed, so use it sparingly.
There are also some taunts Shao Kahn can perform, like one that delivers his classic line "You suck" and another that's just a giant laugh. It's unclear what these taunts can actually do, but luckily fans will find out the secrets of Shao Kahn's gameplay by tuning in to the final Kombat Kast stream before the game's release on Monday, April 22.
And of course, Mortal Kombat 11 fans are treated to Shao Kahn's Fatal Blow which has him use his spear to slice away at the opponent before staking them to the floor like a fish and then finishing them off with a hammer shot to the head.
Check out the Fatal Blow below.
Fans also get to see his Fatality, which has Shao Kahn use his hammer to play a little golf with his opponent's head.
To get Shao Kahn in Mortal Kombat 11 you'll need to pre-order the game through the PlayStation Store, Amazon, Best Buy, GameStop or Walmart. A download code should be delivered to you via email or on your receipt upon purchase.
Mortal Kombat 11 drops April 23 for PS4, Xbox One, PC and Nintendo Switch.
What do you think of Shao Kahn's gameplay in Mortal Kombat 11? Are you picking up the character as a pre-order? Let us know in the comments section below.