Future U.S. Combat Vehicles Have 'Shape-Shifting' Wheels, Virtual Windows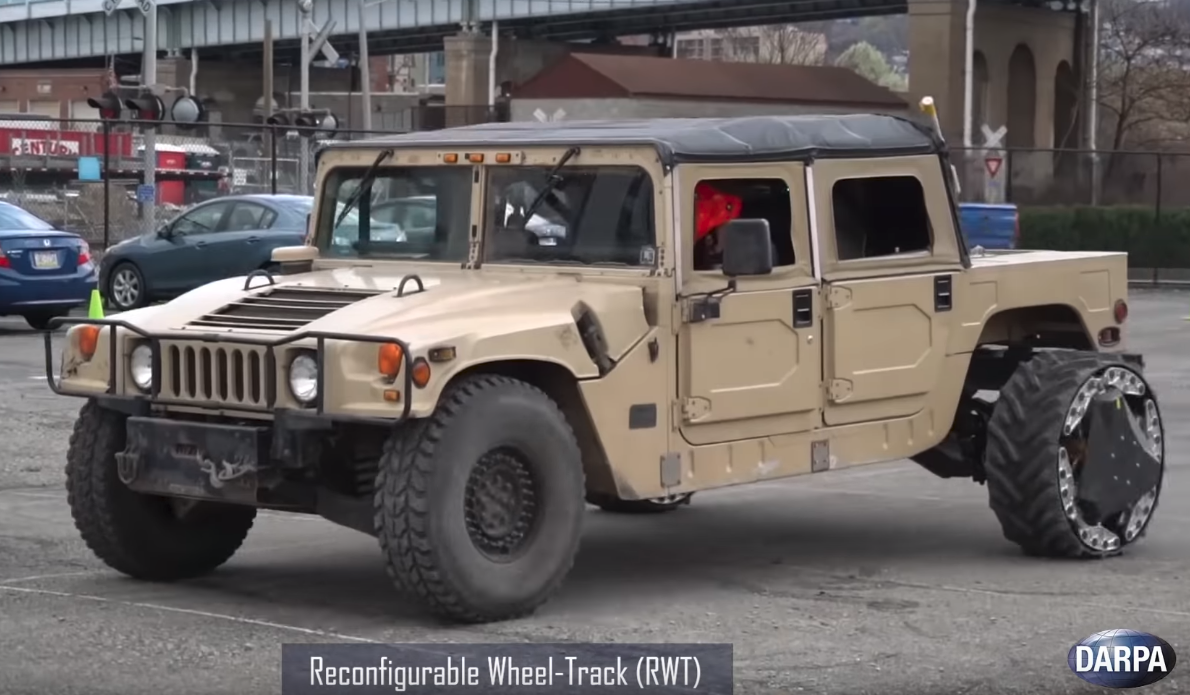 Technology-enhanced combat vehicles with Transformers-like capabilities, such as "shape-shifting" wheels, autonomous driving and virtual windows, may soon be on the battlefield.
As part of an ongoing program known as Ground X-Vehicle Technologies (GXV-T), the Defense Advanced Research Projects Agency (DARPA) recently demonstrated a number of new "disruptive" advancements, including a mechanism integrated into a U.S. military Humvee that transforms a round wheel to a triangular track in a matter of seconds while the vehicle is on the move.
The futuristic function, officially called Reconfigurable Wheel-Track (RWT), is being developed by a team from Carnegie Mellon University's National Robotics Engineering Center. It was one of many new traversal capabilities exhibited at the U.S. Army's Aberdeen Test Center in May.
Wheels permit fast travel on hard surfaces, while tracks perform better on soft surfaces, noted Maj. Amber Walker, from the GXV-T program in DARPA's Tactical Technology Office, in a YouTube clip showing the technology in action. Walker said the technology would improve tactical mobility and maneuverability. The scheme aims to boost the survivability of combat vehicles without simply using more armor.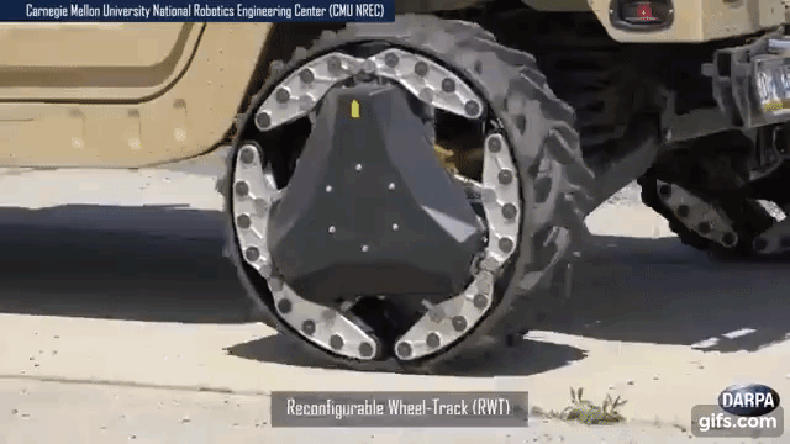 GXV-T envisioned combat vehicles that could traverse up to 95 percent of off-road terrain, including slopes and elevations, without hassle. That was according to DARPA in a release on Friday, which also detailed the ongoing work of contract awardees including Raytheon BBN Technologies and Honeywell International.
DARPA said that a second Carnegie Mellon technology, Off-Road Crew Augmentation (ORCA), was able to provide real-time predictions for safe routes of travel and "enable a vehicle to drive itself off-road—even around obstacles." Another design, from Honeywell International, is a windowless cockpit for an all-terrain vehicle (ATV) that uses 3-D goggles to display high-resolution views from outside the buggy.
A third technology, from Raytheon BBN Technologies, is known as V-PANE. According to the U.S. defense agency, it helps vehicles move rapidly through unfamiliar territory by using 3-D models of its surroundings.
"We're looking at how to enhance survivability by buttoning up the cockpit and augmenting the crew through driver-assistance aids," Walker commented, discussing the GXV-T project.
"For mobility, we've taken a radically different approach by avoiding armor and developing options to move quickly and be agile over all terrain," Walker continued, adding, "DARPA's excited about the progress made to date on the GXV-T program, and we look forward to working with the Services to transition these technologies into ground vehicle technologies of the future." The technologies remain in a testing phase; DARPA has not yet revealed a date when they could be rolled out in full.