Shapewear for Pregnant Women? Kim Kardashian's Latest Business Venture Has Kickstarted a Fierce Debate
Kim Kardashian West is facing backlash after unveiling a new Skims collection for pregnant women.
Friday the business mogul announced the launch of her new Skims Maternity line featuring shapewear that Kardashian West said provides comfort and support for expecting mothers. However, the undergarments stirred up quite the debate after some people began criticizing Kardashian West for focusing on the appearance of a pregnant body as opposed to the miracle inside.
Actor Jameela Jamil, who has often used her platform to speak out against body shaming, was among the many to slam Kardashian West's newest product for trying to make pregnant women appear slimmer.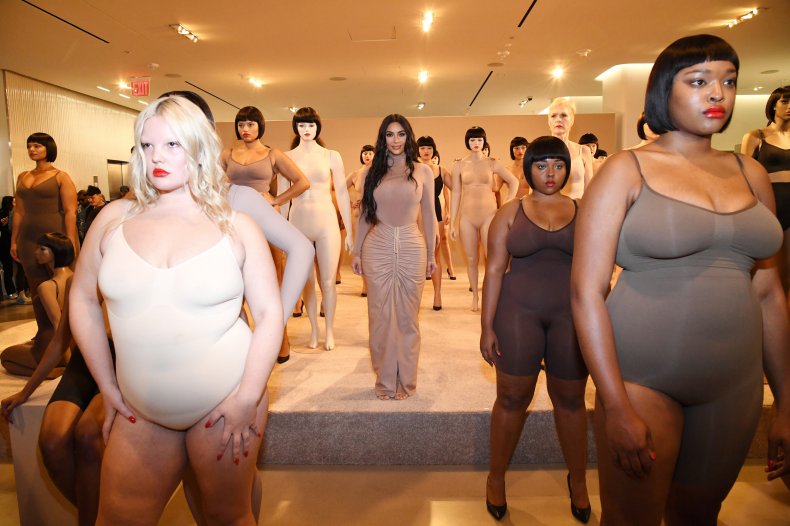 "It would be so cool if pregnant people could just be allowed to be pregnant and get bigger and not be self conscious, and enjoy the miracle taking place inside their body and not have to worry about feeling embarrassed/shamed that their body is changing for an amazing reason," Jamil wrote.
Meanwhile, there were others who praised the Skims Maternity collection, including Kardashian West's friend Chrissy Teigen, who is expecting her third child with husband John Legend. Teigen gave a review of the shapewear over the weekend in an Instagram Stories video, claiming that the garments checked all her boxes for her favorite types of underwear that's "that's pretty, that I feel good in, that's soft, that's comfortable, that stretches nicely over my belly and that my p***y doesn't eat."
Kardashian West took to her own social media to clear up any misconceptions that her new maternity line was created to help pregnant people look skinnier, writing in a Twitter post that the line was only created with the intention of providing mothers with the support they need to carry baby weight during and after a pregnancy.
"To anyone who has an issue with maternity solutionwear, and if you haven't been pregnant before you may not know the struggle of what it's like carrying all of this weight the way I did along with millions of strong women, @skims maternity line is not to slim but to support," Kardashian wrote on Sunday.
"The belly part doesn't slim your belly, it's actually sheer and a thinner layered material compared to the rest of the garment. It provides support to help with the uncomfortable weight being carried in your stomach which affects your lower back," she continued. "and the compression on the leggings helps with pain relief caused by swelling. It is also worn after you have given birth and provides the comfort and support that most women need after delivery especially if you are recovering from a cesarean."
Kardashian West added: "We launched this category in response to the tens of thousands of pregnant women who wrote us requesting it and because it was something I personally needed when I was pregnant myself."
While Skims Maternity may be the newest undergarments under Kardashian West's growing empire, the compression-based shapewear has long been available for pregnant women from other maternity retailers like Motherhood. Some mothers defending Kardashian West for her maternity line were quick to remind critics that the style of shapewear was needed and helpful for plenty of women.
"Motherhood maternity sells shapewear for mother's too. I had 3 pairs for two big reasons. 1, made my belly feel better and supported 2, I didn't want underwear lines in thin dresses. I'm so SICK of people being so offended with EVERYTHING!" one Twitter user wrote.
Another wrote: "I worked at motherhood maternity & things like this were our most popular items."
Newsweek has reached out to Kardashian West for further comment.